Art to talk about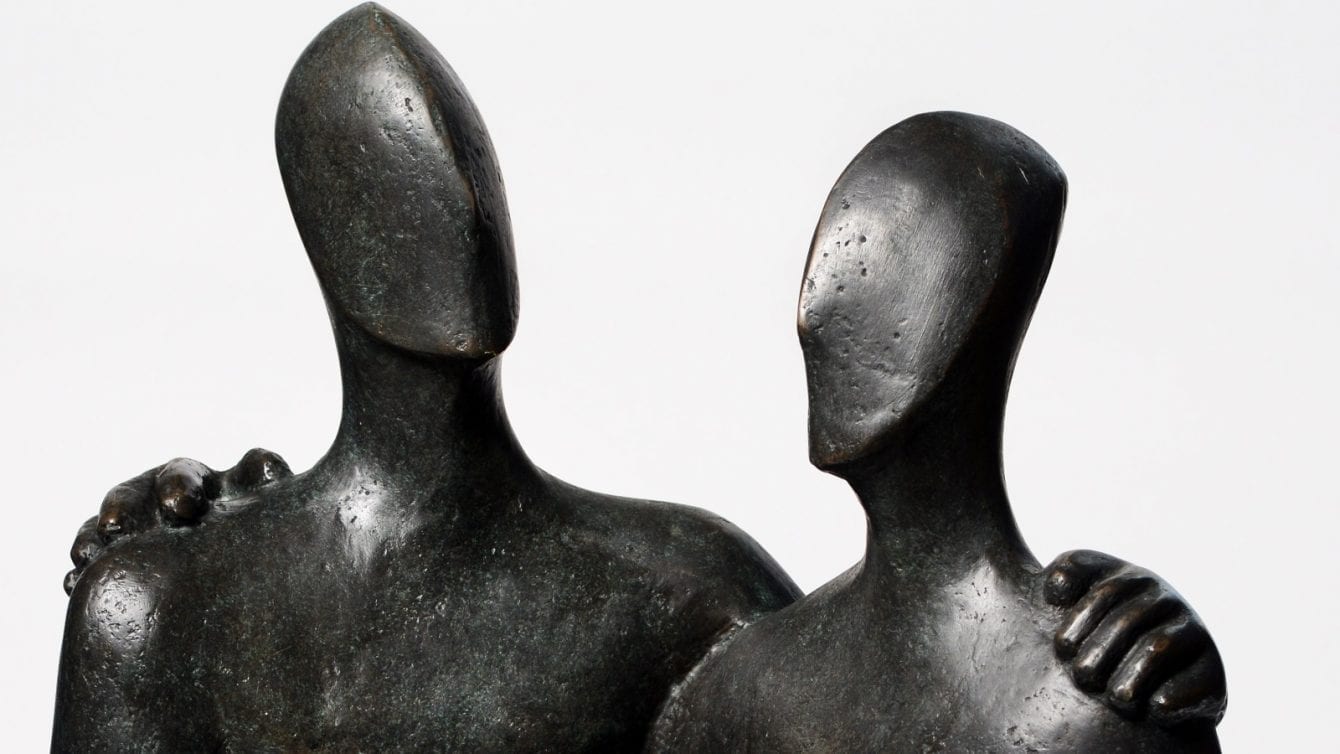 Artists rarely work in complete isolation. Over generations, collaborations are an exciting part of creativity, and the creative chemistry between artists often sparks something new says Oxford Gallery Owner, Sarah Wiseman: in 'Dialogues', this month's exhibition at her North Oxford Gallery, see the work of ceramicist Linda Bloomfield and painter Sarah Spackman who share a key artistic influence – the Italian painter Giorgio Morandi whose pared-back still life paintings are renowned for their tonal subtlety. Exhibiting together, their work explores individually the same organic shapes, and smooth surfaces such as eggs or shells. Since meeting and become colleagues and friends several years ago, Linda's bottles and vessels have regularly appeared in Sarah's paintings. In 'this exhibition they are housed in specially-made shelves, installations inspired by still life painting, the differing heights and shapes of each piece of ceramic glazed in creams or greys that gleam softly are placed in playful arrangement and an inspired combination alongside Sarah Spackman's paintings for which she arranges her still life on a shelf at eye-level in her light-filled Oxford studio, pairing elements of vibrant colour used discerningly with muted tones.
And there are stills of very different flavours across the city centre for Photo Oxford 2017, an exciting celebration of photography at a number of collaborative venues this month. While the images in these exhibitions capture a moment through a lens and hold them still for the viewer, they're guaranteed to get your mind and tongue racing: the curators of this 'edition' of Photo Oxford, Tim Clark and Greg Hobson, present a series of explorations into the complex and often contradictory relationship between photography's capacity to both conceal and reveal, considering the characteristics of this unique link to notions of perception and reality, truth and knowledge as well as photographers' frequent use of the camera to lay bare what would otherwise remain unnoticed. Highlighting stories, signs and memories that would otherwise be hidden or obscured, Photo Oxford 2017 includes 'Russian Criminal Tattoos: A Lexicon of Crime', a record of the shadowy underworld of Russian prisoners' tattoos by Sergei Vasiliev's and Arkady Bronnikov in The Gallery at The Old Fire Station on George Street. Taken between the mid-1960s and the mid-1980s, these photos were used by Soviet police to understand the language of tattoos in addition to acting as an aid in the identification of criminals in the field.
For an insight into life closer to home, with a new body of work photographer Martin Parr documents the behind-the-scenes student antics and rituals, ceremonies, and age-old traditions in Oxford that still hold significance today, as well as more routine activity such as sporting events, clubs, societies and tutorials, that for many outside these elite establishments, will remain a secret which whilst illuminating does not resort to political statement or critique. These can be seen in the Blackwell Hall of the Weston Library on Broad Street.
Meanwhile, in their spacious warehouse gallery OVADA (Oxfordshire Visual Arts Development Agency), Dutch artist Mariken Wessels resets the boundaries of the personal and private, in 'Taking Off. Henry, My Neighbour' an exhibition which the presents the extraordinary photographic archive – carefully catalogued, labelled and cross-indexed –  of a couple, Henry and Martha, who together embarked on a collaborative project together in the 1980s which tells of a failed marriage, sexual frustration and voyeurism.
And equally visceral, in the Barn Gallery of St John's College on St Giles, another exhibition, Edgar Martins' Siloquies and Soliloquies on Death, Life and Other Interludes, offers a poignant study of the contradictions and problems inherent in the depiction of death, as well as on language and semiotics. As the artist deploys both documentary photography approaches and fiction and in turn, this series of photographs and text is a process of unveiling, rather than the presentation of straightforward, factual accounts.
Also seeking to communicate ideas about human anatomy, from both an aesthetic and a learning perspective, and to address a conflict between the often emotive nature of the subject matter in a objective and scientific approach, over in The Jam Factory on Hollybush Row, painters William Andris Wood and Helen Whitley both draw on and illustrate the understanding of unseen structures in the structure of the human form and that which brings three-dimensional objects in their environments to life both in reality and on a two-dimensional surface whilst in the neighbouring space of the Restaurant Gallery, you can enjoy both pieces by and photographs of the work of the accomplished sculptor Beatrice Hoffman which add a talking point to the space. Her pieces, in which sharp angles are juxtaposed with smoothness whether figurative or abstract, have a striking strength and simplicity yet are an emotive experience exploring the interface of mythology, philosophy, psychology and spirituality particularly through abstracted heads which are 'still, with life'.
Some places to see good art this month
Dialogues: Sarah Spackman and Linda Bloomfield (runs from 9th September until 30th September)
Sarah Wiseman Gallery, 40-41 South Parade, Summertown, Oxford OX2 7JL
Photo Oxford 2017 – multiple venues including:

Russian Criminal Tattoos: A Lexicon of Crime (runs from 8th–23rd September)
The Gallery at The Old Fire Station, Gloucester Green, Oxford OX1 2AQ
Martin Parr: Oxford (runs from 8th  September – 22nd October)
Blackwell Hall, Weston Library, Broad Street, Oxford OX1 3BG
Mariken Wessels: Taking Off. Henry, My Neighbour (9th–24th September)
OVADA, The Warehouse, 14a Osney Lane, Oxford OX1 1NJ
Edgar Martins: Siloquies & Soliloquies on Death, Life & Other Interludes (8th– 24th September)
Barn Gallery, St John's College, St Giles, Oxford OX1 3JP
Soft Machines: William Andris Wood & Helen Whitley (runs from 5th September until 17th October)
Sculptures by Beatrice Hoffman (runs until 9th October) The Jam Factory, Hollybush Row, Oxford OX1 1HU
Across the county there is a wealth of art on show in Oxfordshire this month – for a list of galleries and art venues that host a variety of changing exhibition programmes visit www.artweeks.org/OGN.