Palace Cleaners Reach Finals of Tourism Superstars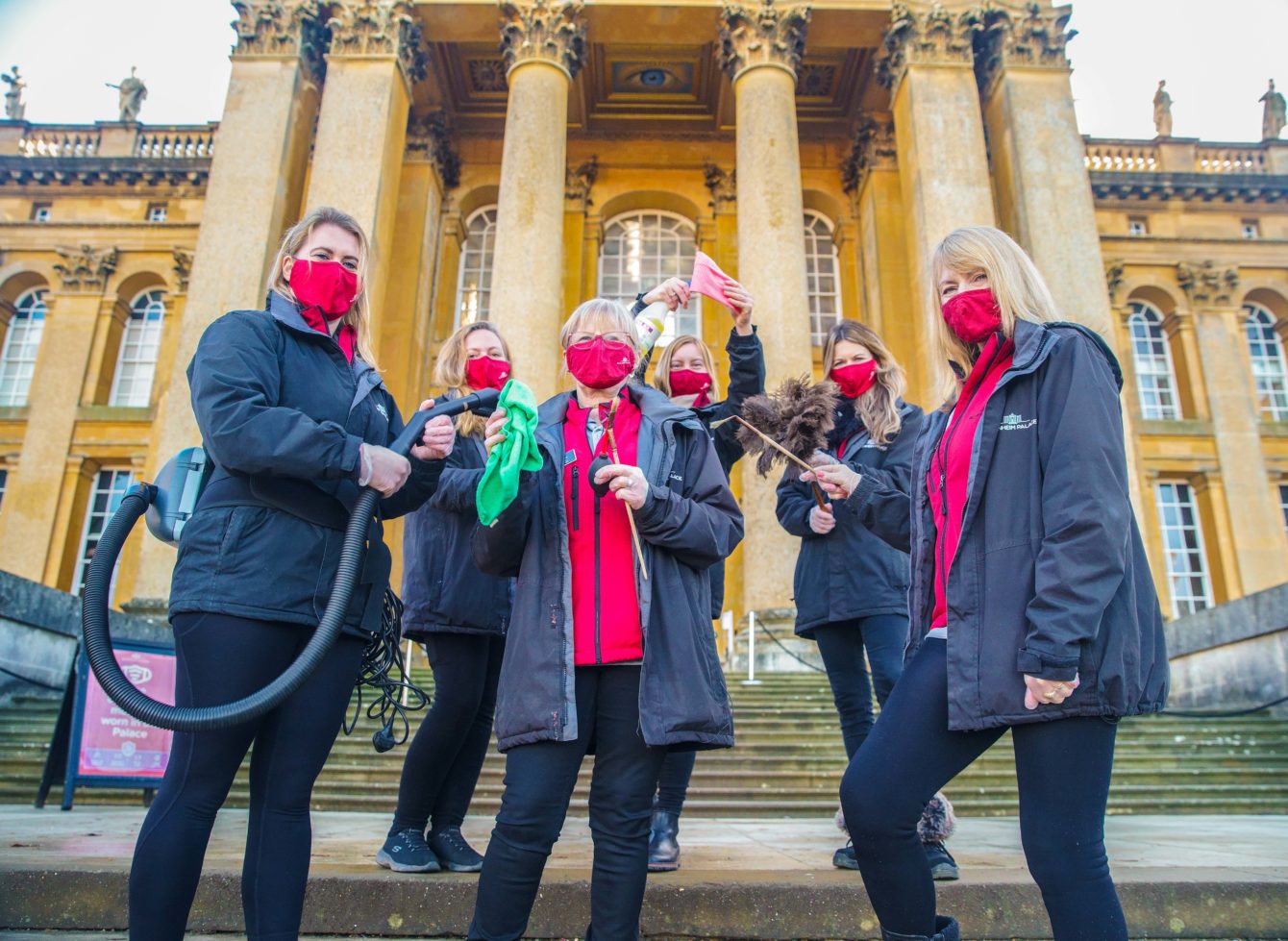 Blenheim Palace's dedicated team of cleaners has been nominated to become VisitEngland's Tourism Superstars of 2022.
The six-strong team of Sonia Serna, Alison Darke, Ewelina Krawiecka, Charlotte White, Dorota Tarasek and Nell Clarke has reached the final of the annual event.
Now in its tenth year, VisitEngland's Tourism Superstar competition celebrates the dedication and passion of those working in the tourism industry.
This year's competition also recognises the amazing efforts made by teams across the industry in the face of the pandemic.
"Our incredible cleaning team take on board jobs that only a very few people are willing to do, and they work incredibly hard to make sure the Palace always lives up to the high standards that our guests deserve," said Blenheim Palace's Deputy Collections Manager Carmen Alvarez, who nominated them for the award.
"Throughout the pandemic cleaning and disinfecting became a huge part of the reason we were able to open our doors to visitors between lockdowns, and they made sure our guests felt safe and happy to come back.
"As well as cleaning, they also play a vital part in monitoring this historic building and the priceless artworks, furniture and objects it contains.
"This side of their role was also an important one during the lockdowns as they had to look after more than 100 separate rooms as well as the staff areas – often working in isolation.
"They created their own rotas to make sure they didn't miss a thing and they stayed on throughout caring for the collection, checking environmental levels, keeping away pests and dust accumulation," she added.
Run in partnership with the Mirror newspaper, the competition recognises and celebrates those in the industry who go the extra mile to ensure tourists in England have an amazing and unforgettable visitor experience.
Blenheim Palace is among 10 finalists for the Tourism Superstar 2022 title. The public can watch short films from each of the candidates on the Mirror website where they can also vote for their favourite finalist. Voting is open until 22nd March 2022.
• To vote for the Blenheim Palace cleaning team go to https://www.mirror.co.uk/travel/uk-ireland/tourism-superstar-2022-meet-10-26203980 .
ENDS
Issued on behalf of Blenheim Palace. For more information please contact Niamh O'Sullivan at NO'Sullivan@blenheimpalace.com or Ellen Gray EGray@blenheimpalace.com .
EDITOR'S NOTES: WeTransfer link to short video interviews with the cleaning team (with and without subtitles) – https://we.tl/t-SxBVh1qsBJ
About Blenheim Palace
Home to the Dukes of Marlborough since 1705, Blenheim Palace was designated a UNESCO World Heritage Site in 1987.
Set in over 2,000 acres of 'Capability' Brown landscaped parkland and designed by
Vanbrugh in the Baroque style, it was financed by Queen Anne, on behalf of a grateful nation, following the first Duke of Marlborough's triumph over the French in the War of the Spanish Succession.
Today it houses one of the most important and extensive collections in Europe, which includes portraits, furniture, sculpture and tapestries.
Blenheim Palace is also the birthplace of one of Britain's most famous leaders, Sir Winston Churchill, and it was his father who described the vista on entering the Estate from the village of Woodstock as the 'finest view in England'.