"Burrowing Bunnies" Trail at Westgate Oxford this Easter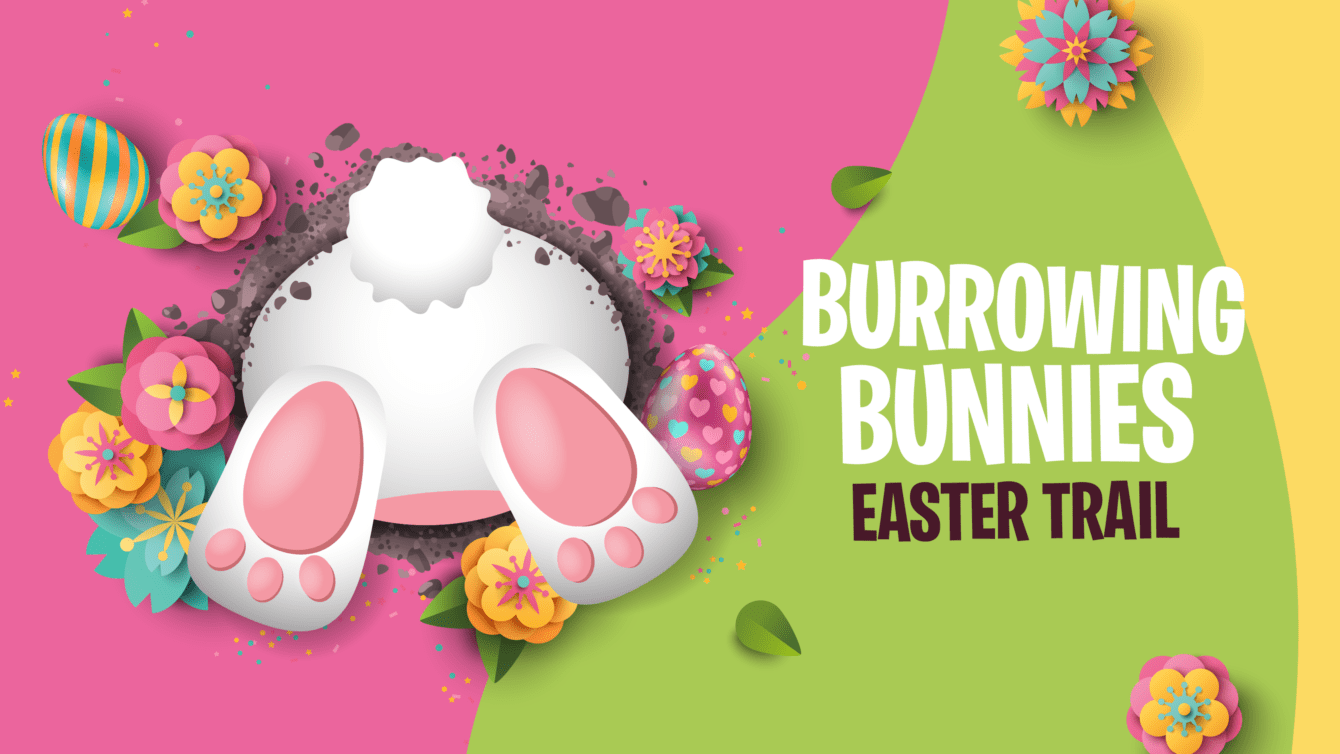 Westgate Oxford is the ultimate destination for all the family this Easter, with a whole host of fun activities for all ages, and an exciting Easter trail to discover.
Westgate Oxford will be unveiling their new "Burrowing Bunnies" Easter trail on 8th April -families can search the centre to find the 5 bunnies that have been to visit, including a giant bunny in Leiden Square! Guests can pick up a free trail map from the Guest Experience desk on the upper ground floor and return to the desk once they've ticked all 5 bunnies off their list to collect a sweet Easter treat! The Burrowing Bunnies trail will be open 8th – 24th April (inclusive).
Brendan Hattam, Centre Director at Westgate Oxford, said: "We are delighted to launch our new "Burrowing Bunnies" Easter trail at the centre. We think the trail will add an extra element of seasonal fun to our guests' visits, and we are certain it will be a great success."
Other Easter holiday activities available at Westgate Oxford include:
• Visit the balloon dogs art exhibition from Whatshisname's POPek series in Leiden Square
• Adventure awaits in the exciting escape rooms at Escape Hunt
• Enjoy the three nine-hole crazy golf courses at Junkyard Golf Club
• Sit back and relax in front of the big screen at Curzon Cinema
• Indulge in a delicious treat at The Shake Lab
Following an installation in Covent Garden last year, the UK's leading art retailer Castle Fine Art has brought the internationally acclaimed collection from the artist known as Whatshisname to the streets of Oxford. Westgate Oxford will now play host to two of the artist's larger-than-life balloon dog sculptures, whilst raising vital funds for animal charity, Blue Cross.
The dynamic installation showcases a large-scale exhibition of balloon dogs from Whatshisname's POPek series, of which table-top versions are available to buy exclusively from Castle Fine Art. The two monumental sculptures have been installed in the Westgate Oxford shopping centre, showcasing 'Stretching Balloon Dog' and 'Downward Balloon Dog' for visitors to see.
Commenting on the installation, Brendan Hattam, Centre Director at Westgate Oxford, said:
"We are delighted to be the new home for Whathisname's playful balloon dog sculptures, in collaboration with Castle Fine Art. The giant sculptures are a great addition to the centre and bring a vibrancy to Leiden Square. We encourage our guests to share their pictures with the dogs on social with the hashtag #castle4bluecross, which donates £1 to charity partner Blue Cross for every image shared."
Find out more about the Oxford exhibition, and the brand-new collection of limited-edition sculptures by Whatshisname, at www.castlefineart.com
Keep the kids entertained with an exciting adventure in one of the interactive escape rooms at Escape Hunt. In this nail-biting experience, you have 60 minutes to find and solve a series of clues to escape…no pressure! There are loads of different games to choose from such as Alice in Puzzleland, Doctor Who, or a pirate adventure with Blackbeard.
Escape Hunt is suitable for children aged 8+, who must be accompanied by a guest aged 16+. For bookings and further information, visit https://escapehunt.com/uk/oxford/.
Fancy a spot of (crazy) golf? Enjoy three mashed up 9-hole crazy golf courses at Junkyard Golf Club created from pre-loved and reclaimed random junk. Groups can putt their way through all sort of bizarre holes; think mad slides, a hall of mirrors, UV garage and more! Under 18s are only permitted on Sunday to Friday before 6pm and must have an over 18 present with them.
For bookings and further information, visit https://www.junkyardgolfclub.co.uk/oxford/.
Curzon Cinema has been in the film industry since 1934 and pride themselves in creating a memorable experience for a broad range of people. The highly anticipated "Fantastic Beasts: The Secrets of Dumbledore" will be showing throughout the school holidays for older children.
All tickets must be booked online, so please visit https://www.curzon.com/venues/oxford/ to secure your seats.
The Shake Lab's Easter themed sweet treats will kerb the cravings of both adults and children this April, with 2 limited-edition menu items. The "Malteaster" shake is topped with mini bunnies and chocolate egg crumb, whilst their Crème Egg ice cream sees half an Easter egg, filled with ice cream, chocolate drizzle and finished with two halves of a Cadbury's Crème Egg. Both will be served until 20th April.
Westgate Oxfords' Easter opening hours are as follows:
Good Friday: 10:00 – 18:00
Easter Saturday: 09:00 – 20:00
Easter Sunday: All stores are closed, whilst restaurants and leisure facilities remain open. Please check directly with restaurants and leisure facilities before making your journey to avoid disappointment.
Easter Monday: 10:00 – 18:00
ENDS
IMAGES: https://www.dropbox.com/sh/09vilqhykpjpbtk/AADSTrpOUzPUiSSoy044qHKTa?dl=0
Please contact:
This information has been distributed on behalf of Westgate Oxford by Umpf. For further information please email westgate@umpf.co.uk or call 0800 4 10 20 10
NOTES TO EDITORS:
Westgate Oxford
Westgate Oxford is a sophisticated retail and leisure destination, attracting world-class retailers and leisure facilities to the world-renowned and historic city of Oxford.
With over 100 prestigious global brands and more than 20 eclectic restaurants, bars and cafes, Westgate Oxford offers a unique retail experience in the heart of Oxford.
Find out more at www.westgateoxford.co.uk
About Landsec
At Landsec, we strive to connect communities, realise potential and deliver sustainable places.
As one of the largest real estate companies in Europe, our £10.8 billion portfolio of well-connected retail, leisure, workspace and residential hubs. From the iconic Piccadilly Lights in the West End and the regeneration of London's Victoria, to the creation of retail destinations at Westgate Oxford and Trinity Leeds, we own and manage some of the most successful and memorable real estate in the UK.
We aim to lead our industry in critical long-term issues – from diversity and community employment, to carbon reduction and climate resilience. We deliver value for our shareholders, great experiences for our customers and positive change for our communities.
Find out more at landsec.com