Historical characters come to life in official launch for families at the Museum of Oxford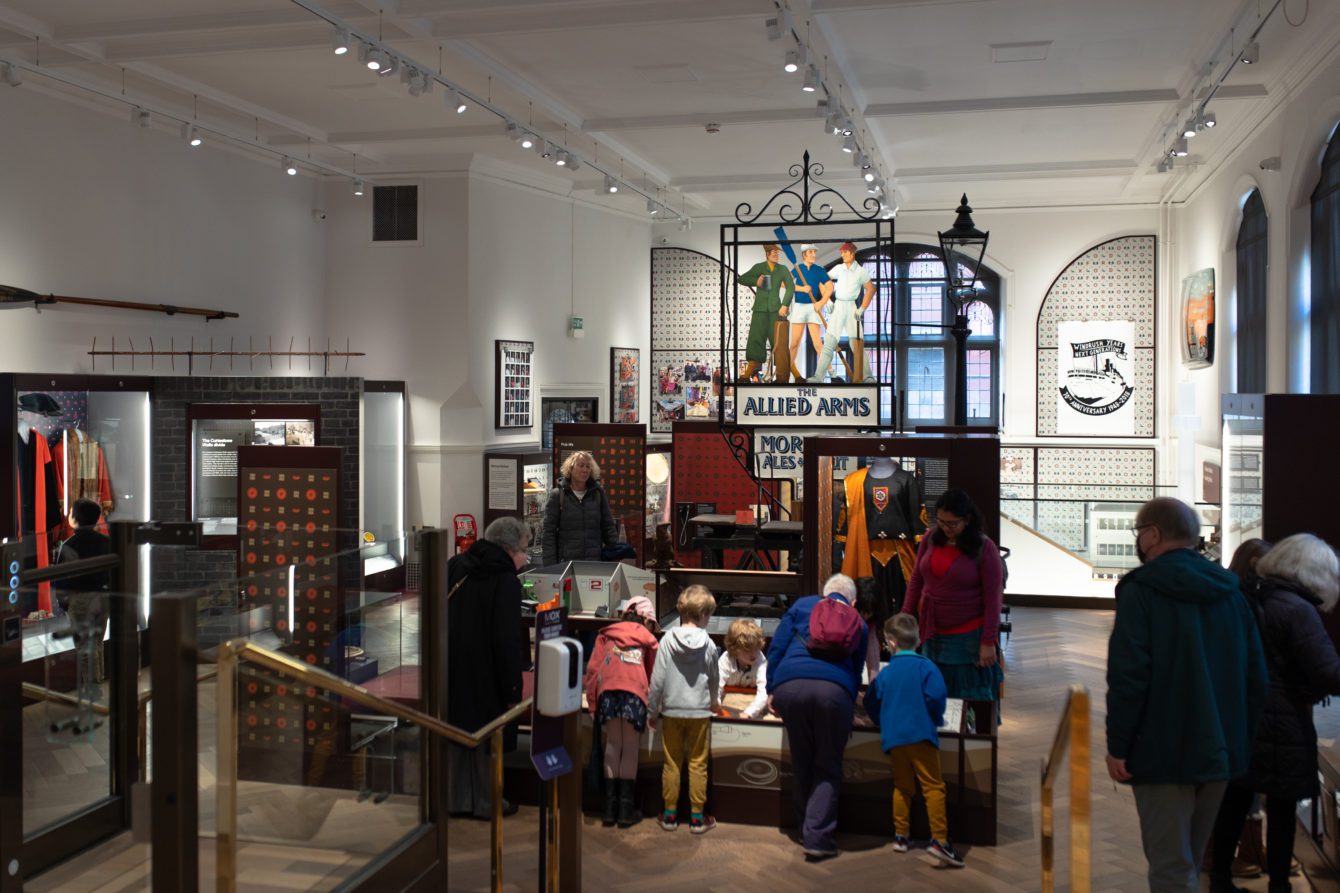 Have you ever wanted to roam around a museum at night to witness the exhibits come to life? No need to fear the dark as the Museum of Oxford is teeming with characters from across history at the Rewind Time family day on Saturday 9 April.
The team, History Needs You, will be populating the Museum taking the roles of key players in Oxford's story, interpreting exhibits, hosting workshops and entertaining visitors. One of these, a professor 'of useless knowledge' will be welcoming visitors and introducing some of the heroes of Oxford's history in person.
Meet Eleanor Jourdain (1863-1924) one of thee first women to lecture at the University of Oxford, and an active supporter of education and votes for women. She will talk about the Suffragette movement with stories, badge and poster making and teaching suffragette songs.
The grown-up Alice Liddell (1852-1934) will be there. Although known for being the inspiration for the 'Alice's Adventures in Wonderland' books by Lewis Carroll, as an adult, she was a member of the Voluntary Aid Detachment during World War One. You can help her make and apply surgical dressings.
Explore the science of aerodynamics with Hardit Singh Malik (1894-1985), the first Indian Royal Flying Core (later RAF) pilot, a diplomat, civil servant and first-class cricketer. Try your hand at the paper aeroplane competition and get cricketing tips from a master.
The academic Franciscan friar Roger Bacon (1212/20-1292) was inspired by Greek and Arabic science and wrote on mathematics, optics, alchemy and astrology. He invites you to join him in his experiments with lenses. What will you be able to see?
Saint Frideswide (650-727) is the patron saint of Oxford and the University. She sits at a table carefully illuminating a scroll of paper. Her story is told in medieval texts, and she will show you how to make beautiful, illuminated manuscripts of your own.
A merry band of musicians transport us through time with ballads and melodies, wandering into the street and around the Museum, playing and singing. They know a lot about instruments and will show you how they have changed over time and how they are made. Let them teach you a few old songs.
Scribes, artists, makers, scientists and shopkeepers from the past pop up throughout the museum to talk about the exhibitions, demonstrate their skills and invite you to try them for yourself.
Alongside these historical figures, present day artists will be at the museum including Rana Ibrahim, Founder and Director at Iraqi Woman Art and War. She will be positioned by an exhibition on Iraqi culture and will show you how to write your name in beautiful Arabic calligraphy.
There will be lots of chances, throughout the day, to take part in activities led by local artists such as making mosaics, art, dance and music all for free in the Museum's new galleries.
Comment
"The Museum of Oxford is a wonderful treasure of a place where unexpected stories about the city can be discovered. The Rewind Time family day is going to be an exciting occasion for everyone and anyone to explore the galleries, meet some wonderful characters and learn about our culture and history."
Councillor Mary Clarkson, Cabinet member of Culture, Leisure and Tourism
About the event
Rewind Time family day, on 9 April 9, is a free, celebration drop-in event funded by the National Lottery Heritage Fund. Everyone attending will be given a passport to enter the museum. Each character will add a mark to the passport which, when combined will reveal a secret message. Everyone who completes the message will win a prize.
Families are warned that Rewind Time will be seriously entertaining as their children will be beguiled by local history and stories from the past. Adults travelling around the museum are likely to find themselves joining in.
To find out more about Rewind Time visit museumofoxford.org/
ENDS
Image: Copyright Paul Nelson
Notes to Editor
Contact details
(Please note that any replies directly to this Press Release will go to an unmonitored inbox. Please contact email address provided)
For more information, images and interviews please contact:
Gill Jaggers, Museum of Oxford Gill.jaggers@gmail.com, 07961 922301.
Images/extra media
Images can be downloaded here https://we.tl/t-Dzv4ShdBrJ
Image details:
Professor1.jpg – Professor of useless knowledge
Professor2.jpg – Professor of useless knowledge
Rewind Time poster.png – Large format event poster
AliceLiddell2.jpg – Adult Alice Liddell in her volunteer nurse's uniform
FrancisLewis2.jpg – A draper who worked at Cope's in early 1900s Oxford
Alice Liddell.jpg – illustration of Alice Liddell
Confluence Collective – Music performance at the Museum of Oxford
Family digging in the archaeological dig copyright Paul Nelson.jpg
Gallery 1 Paul Nelson.jpg – Image of Gallery 1
Gorget smol.jpg – young person wearing a gorget facsimile
Hardit Malik.jpg – illustration of Hardit Mailik, first Indian RAF pilot
St Frideswide.jpg – illustration of St Frideswide, the patron saint of Oxford
Editors' Notes
History Needs You
History Needs You is a history and heritage consultancy working with museums, heritage organisations, schools, colleges and universities. They work to make history and heritage accessible, fun, engaging and inclusive. Combining broadcasting on radio and television with writing, film making, training, consultancy, research, talks, performing/living history, and events and workshops for all ages and across all cultures, they bring history and heritage to life in a unique and powerful way.
https://www.historyneedsyou.com/
About Museum of Oxford
The Museum was established in 1975 in what was previously the city's main library within the Town Hall building. Its purpose is to tell the history of the city and its people through objects and stories from pre-history to the present day.
The Museum re-opened on 11 October 2021, following a multi-million-pound refurbishment that extends exhibition space for interactive displays, permanent and temporary exhibitions, new objects, stories and oral histories, as well as providing Museum Makers, a community space for hands-on activities, group events and an opportunity to see museum staff and volunteers at work behind the scenes.. Support and funding came from the National Lottery Heritage Fund, Oxford City Council and Arts Council England as well as major donors, trusts and foundations, companies and individuals.
A full, official re-opening takes place this Easter now that Covid restrictions have been lifted. The Museum will still be prioritising the safety of its visitors and suggesting that face masks be worn, and social distancing observed.
In 2020 the Museum won the inaugural Sustainable Project of the Year Award sponsored by the National Lottery Heritage Fund for the exhibition Queering Spires. The exhibition looked at the history of the LGBTIQA+ spaces in Oxford and was co-created by an LGBTIQA+ steering group and added to by visitors to the exhibition.
About Oxford City Council
Oxford City Council is the democratically-elected local authority for Oxford.
In partnership with others, we provide a wide range of services – including planning, housing, community centres, parks and waste collection – for approximately 152,000 residents, 106,000 people who work in Oxford and the millions of people who visit our world-famous city every year.
We have set four key priorities, all of equal importance and all interconnected:
• to enable an inclusive economy, where everyone has access to sustainable business and employment opportunities
• to deliver more affordable housing, including a new generation of council homes to help meet our acute housing shortage
• to support thriving communities, reducing the stark inequality between our city's richest and poorest residents
• to tackle the climate emergency by pursuing a zero-carbon Oxford
Our vision is to build a world-class city for everyone.
Oxfordshire has a two-tier system of local government, which means services are provided by two different councils. Oxford City Council provides local services for the city, while Oxfordshire County Council is responsible for strategic, countywide services such as roads, schools and social care.