Conservators Reveal Cleaning Secrets of Britain's Greatest Palace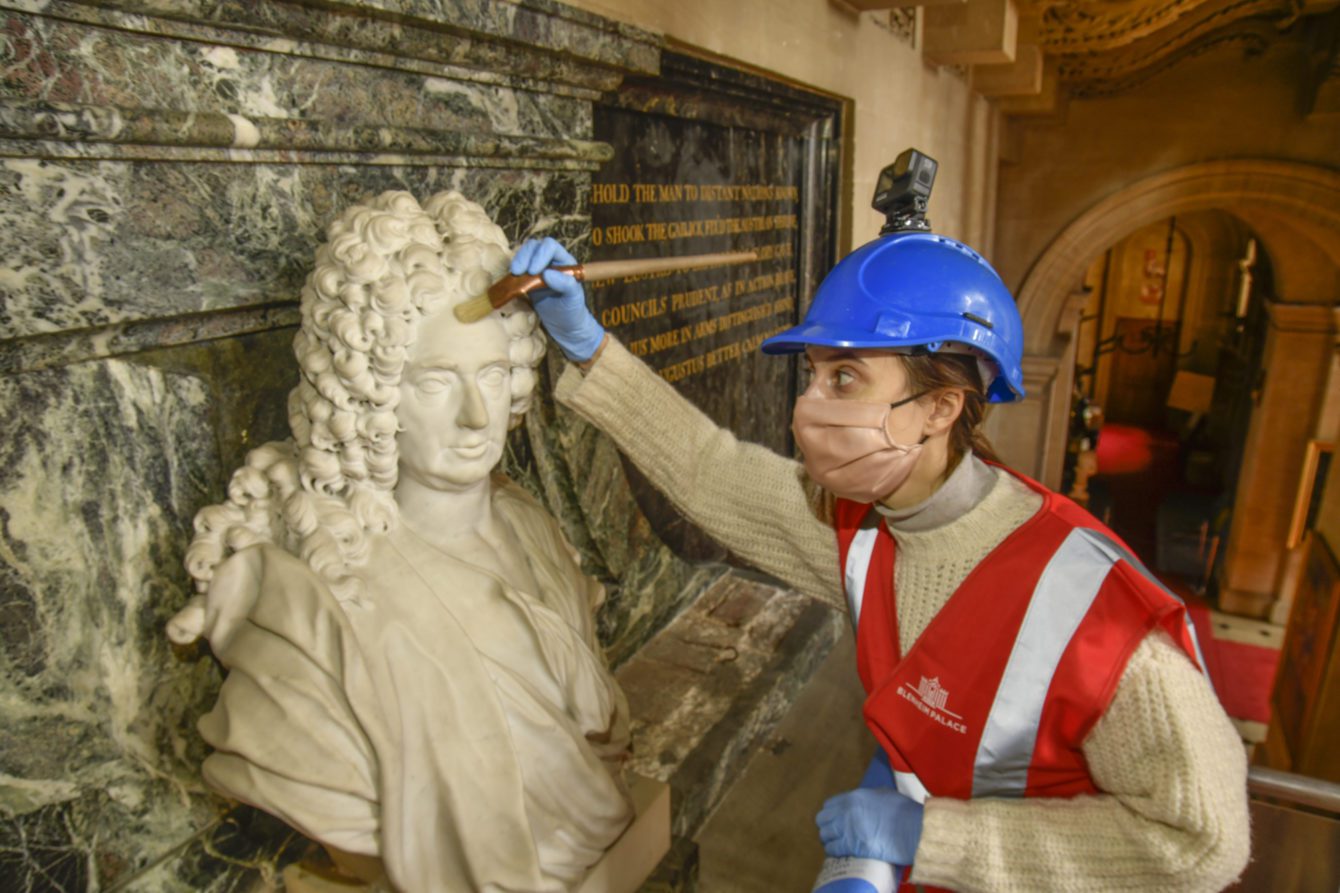 New Year is traditionally the time to make a start on some serious house-cleaning. Now visitors to Blenheim Palace can pick up some top housekeeping tips from the experts responsible for keeping 'Britain's greatest palace' looking spick and span.
A team of conservation cleaners is hard at work on a 'deep clean'– a painstaking procedure that has been taking place each year since the Palace first opened its doors to visitors in 1950.
As part of the process, Blenheim is running twice-daily tours on selected dates throughout January and February to provide the public with an insight into what it takes to keep a stately home looking its best.
Although the techniques, equipment and conservation procedures have changed over the decades, the cleaning process itself still takes six weeks with a team of up to six people working daily.
"Each room has to be carefully stripped of all the furniture and artefacts and vacuumed from floor to ceiling," said Carmen Alvarez, Deputy Collections Manager at Blenheim Palace.
"The floors are then cleaned and polished. Whilst this is taking place, the rest of the team inspect and assess each item before it is returned to the room.
"We use a variety of tools from museum vacuum cleaners with HEPA filters to natural bristle brushes such as hogs' hair or goats' hair, depending on the object we are cleaning.
"Polishes are kept to a minimum, as they can build up over time and we do not use aerosol sprays. Stubborn dirt is removed by distilled water," she added.
The Oxfordshire UNESCO World Heritage Site houses one of the most important and extensive collections in Europe, which includes portraits, furniture, sculptures, and tapestries.
Specific items being cleaned include:
– 40 busts and sculptures
– 28 Marble tables
– 10,000 books
– 18 clocks
– 38 pieces of armour
– 200 pieces of porcelain
• Tours are running twice a day until 16th January and then again from 7th to 18th February. The tours are included as part of the admission, take place at midday and 2pm, and last for around 45 minutes. For more details visit www.blenheimpalace.com .
ENDS
Issued on behalf of Blenheim Palace. For more information please contact Samantha Vaughan on 07469 129 743 or svaughan@blenheimpalace.com or Niamh O'Sullivan at NOSullivan@blenheimpalace.com .
About Blenheim Palace
Home to the Dukes of Marlborough since 1704, Blenheim was designated a UNESCO World Heritage Site in 1987.
Set in over 2,000 acres of 'Capability' Brown landscaped parkland and designed by
Vanbrugh in the Baroque style, it was financed by Queen Anne, on behalf of a grateful nation, following the first Duke of Marlborough's triumph over the French in the War of the Spanish Succession.
This year is the 300th anniversary of the 1st Duke's death and it is being marked by a series of special events and exhibitions.
Blenheim Palace is also the birthplace of one of Britain's most famous leaders, Sir Winston Churchill and it was his father who described the vista on entering the Estate from the village of Woodstock as the 'finest view in England'.