Handel Messiah – Queen's Choir & Academy of Ancient Music
December 3, 2021 @ 7:00 pm - 10:00 pm
Event Navigation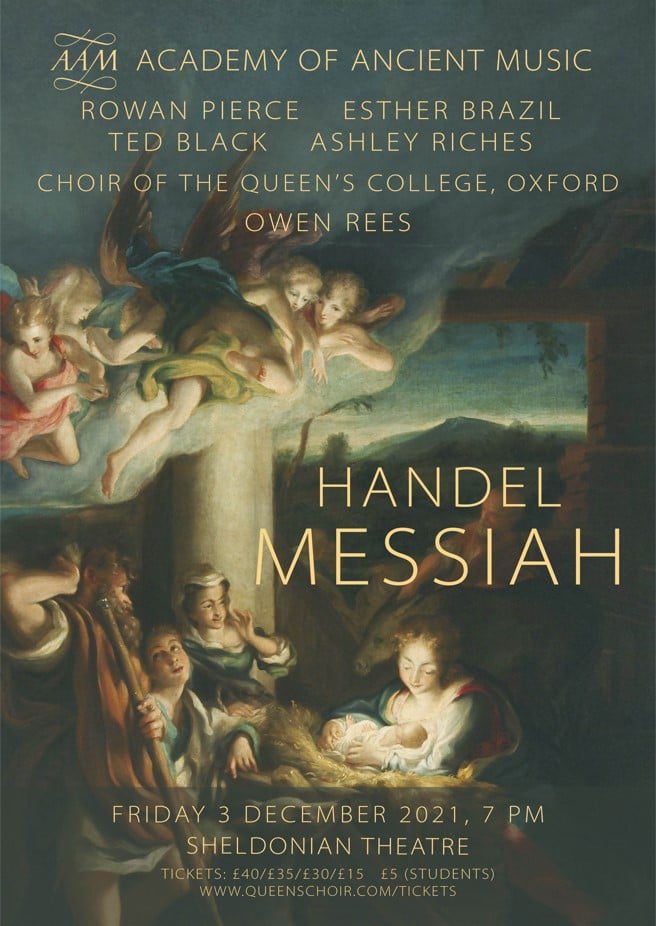 We are excited to announce that ticket sales are now open for our annual sell-out Messiah, this year on Friday 3 December at 7pm in the Sheldonian Theatre, Oxford. Early booking is advised – our last performance sold out months in advance!
Handel's Messiah lies at the very heart of Christmas musical festivities. The oratorio follows Christ's life from the prophecies of the Old Testament through to his birth, passion and resurrection, and the final conquest of sin with the promise of eternal life. Handel uses his consummate skill as an opera composer to inject vivid colour and intense drama into his score. First heard in 1741, it remains just as popular today as it did in Dublin nearly 300 years ago. Arias of mesmerising beauty and triumphant courage sit alongside virtuoso choruses of stunning power – including the famous 'Hallelujah Chorus'.
After our first much acclaimed Messiah together in 2019, Queen's Choir will again be joining forces with the Academy of Ancient Music, a combination of the finest choral singing and an orchestra with a worldwide reputation for excellence in baroque and classical music. We are being joined by an impressive line-up of soloists – some of the country's finest Handelian singers – Rowan Pierce soprano, Esther Brazil mezzo-soprano, Ted Black tenor and Ashley Riches bass. The performance will be conducted by Owen Rees, Director of Music at The Queen's College, hailed as 'one of the most energetic and persuasive voices' in this field.
For tickets, which range from £40 – £5, please go to https://www.queenschoir.com/tickets
Related Events