Sibel Tuzun Live In Oxford
May 15 @ 7:30 pm - 9:30 pm
£30
Event Navigation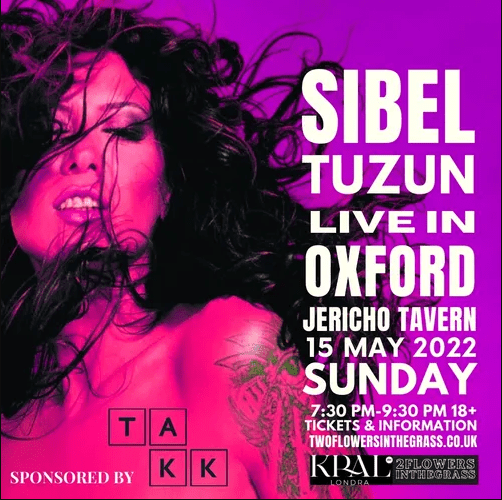 Join us for night of live music with renowned Turkish singer Sibel Tuzun.
Sibel Tuzun is a Turkish pop/rock/jazz singer and songwriter currently based in London.
It has been 30+ years since she started her professional music career in Istanbul back in the 90s, and Sibel is continuously and passionately pursuing music in its various forms and genres. Sibel has released albums in pop and alternative rock genres during her long career. She attended the Royal Academy of Dramatic Art (Musical Theatre) in London and performed in various musical performances and plays. During her musical path, Sibel explored jazz tunes, too and sang in various international jazz festivals. Sibel represented Turkey in the Eurovision Song Contest in 2006 (both as a singer and a songwriter).
Sibel is not only an impressive vocal artist but also a great entertainer. Her high-energy, good-vibe performances blending Eastern and Western tunes and styles are creative, captivating, and fun. Sibel has a rich repertoire with music from Turkey and around the world; she sings in various languages (including English, Turkish, Spanish, and Greek) and performs worldwide.
Sibel has recently started her stage performances again in various venues in the UK. She is coming to Oxford to perform popular Turkish and international songs as well as a medley of the Eurovision entries. She is looking forward to sharing good music and create joyful memories.
Related Events