Experience Oxfordshire Celebrates English Tourism Week 2022 with Extensive Promotional Programme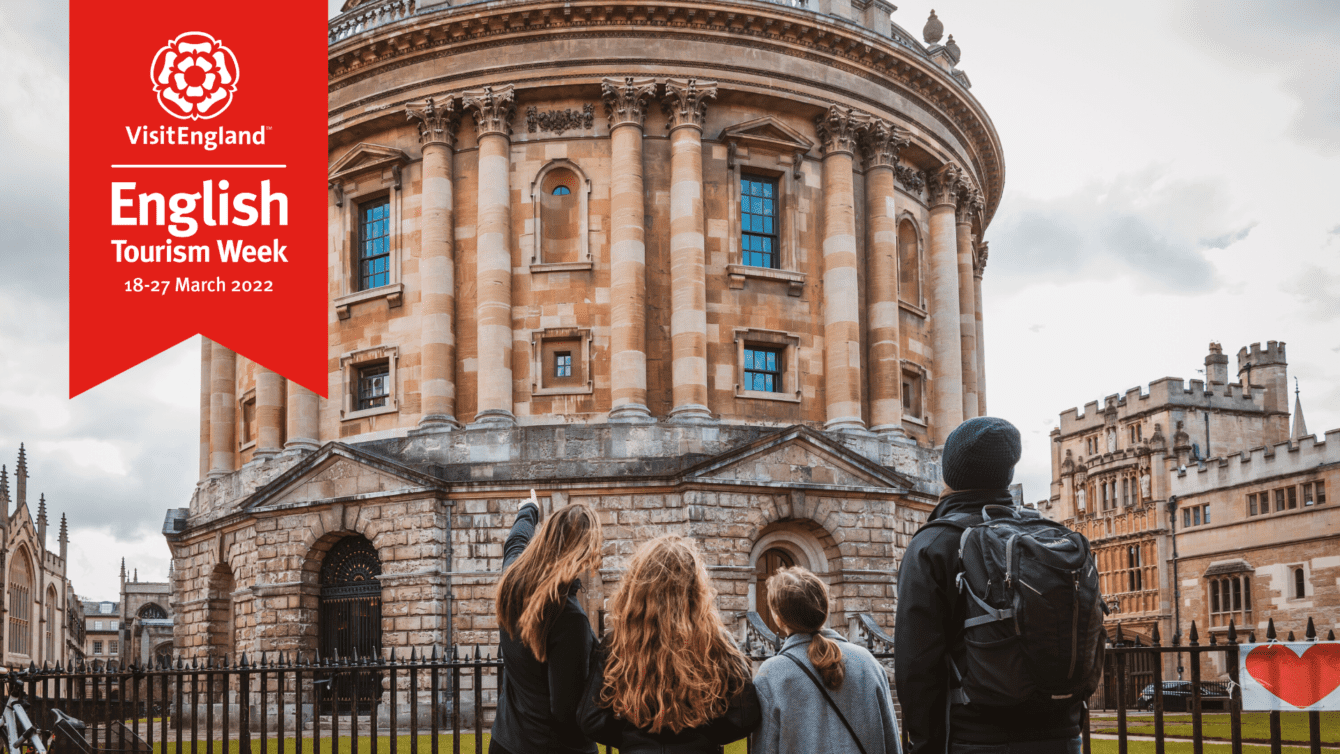 Experience Oxfordshire will be promoting the county's tourism offer extensively during English Tourism Week 2022 (ETW), the annual national celebration of the tourism industry.
Coordinated by VisitEngland and taking place from 18 to 27 March 2022, ETW highlights the sector's economic importance and promotes the innovation, quality and range of experiences on offer in England. In addition, this year, ETW focusses on the range of jobs and careers available in the sector.
Kicking off at Twickenham, at Excursions 2022 the Experience Oxfordshire team will be showcasing the county at this annual travel trade event for buyers of UK day trips, short breaks and group holiday opportunities; mid-week the team will engage with over 35 international travel buyers keen to hear the latest from Oxfordshire as part of ExploreGB, VisitBritain's largest travel trade event. On Friday 25 March, all six of Oxfordshire's MPs will join the Experience Oxfordshire team at venues across the county to hear the latest news from owners and operators on how they are building back their business in 2022.
Throughout the week Experience Oxfordshire is also offering 15% off all the award-winning Oxford Official Walking Tours, a great way to explore the city of Oxford.
Hayley Beer-Gamage, Chief Executive of Experience Oxfordshire said:
"In 2019, over 30 million trips were made to Oxfordshire and the visitor economy was supporting over 42,000 jobs, contributing over £2.5 billion a year to Oxfordshire's economy. The impact of the pandemic has had a devastating effect on local businesses across the county. It's therefore vitally important that Experience Oxfordshire takes every opportunity to communicate the wealth of fantastic visitor experiences available in our county, to ensure that the destination remains top of mind amongst tourism buyers, bookers and holiday makers.
" Experience Oxfordshire will also continue to raise the profile and value of the visitor economy amongst stakeholders to galvanise support for destination recovery as we work towards increasing its value contribution back to pre-pandemic levels".
Tourism Minister Nigel Huddleston said:
"English Tourism Week celebrates the enormous contribution our brilliant tourism sector makes to the economy and I'm looking forward to supporting this year's events.
"I encourage people to explore the huge range of opportunities available – from finding a new and rewarding career to exploring the exciting range of experiences, events and destinations on offer."
VisitEngland Director Andrew Stokes said:
"English Tourism Week shines the spotlight on an industry which supports millions of jobs and local economies right across England, as well as encouraging people to discover and explore the outstanding tourism products, destinations and experiences right here on our doorstep.
"This year the week is also dedicated to supporting our industry as it rebuilds, showing that it is open and ready to welcome visitors back to the experiences they have missed during the pandemic.
"We're also using the week to highlight the range and variety of jobs across the industry and to encourage people to consider a career in tourism. From tour operating, destination marketing, hospitality and hotel management to business events, visitor attractions and policy development, our people-focused sector has a huge amount to offer employees."
You can get involved and follow Experience Oxfordshire's English Tourism Week activity by following:
Twitter – @ExperienceOxBiz and @ExperienceOx
Facebook – Experience Oxfordshire
Instagram – @experienceoxfordshire
LinkedIn – Experience Oxfordshire
To claim 15% off an award-winning Oxford Official Walking Tour, go to www.oxfordofficialwalkingtours.org and insert code ETW22 at checkout.
**ENDS***
NOTES TO THE EDITOR:
Experience Oxfordshire is the official Destination Management Organisation (DMO) for Oxfordshire. We are the trading arm of the parent charity, Experience Oxfordshire Charitable Trust, and are a not-for-profit partnership organisation that is committed to the promotion, management, and development of Oxfordshire as a great destination to live, work, visit and do business whilst improving growth and productivity across the visitor economy. The DMO provides essential business advice and support to visitor economy businesses across Oxfordshire.
For more information on the value of Oxfordshire's visitor economy go to https://www.experienceoxfordshire.org/partner/partner-benefits/research-and-insights/
Contact:
Name: Lesley Wright
Email: press@experienceoxfordshire.org
Call: 01865 686433
www.experienceoxfordshire.org/partner
• For more information about English Tourism Week please see: https://www.visitbritain.org/english-tourism-week
• For the latest employment statistics from the Office of National Statistics see VACS02: Vacancies by industry.
• See VisitEngland's latest Domestic Consumer Sentiment Research
• VisitBritain's latest estimates for domestic tourism in 2021 and its inbound tourism forecast for 2022 are available here: https://www.visitbritain.org/2021-tourism-forecast
For more information on English Tourism Week 2022 please contact Charlotte Sanders at VisitEngland: charlotte.sanders@visitengland.org or 07500 555 651