Once Upon a Unicorn at Fairytale Farm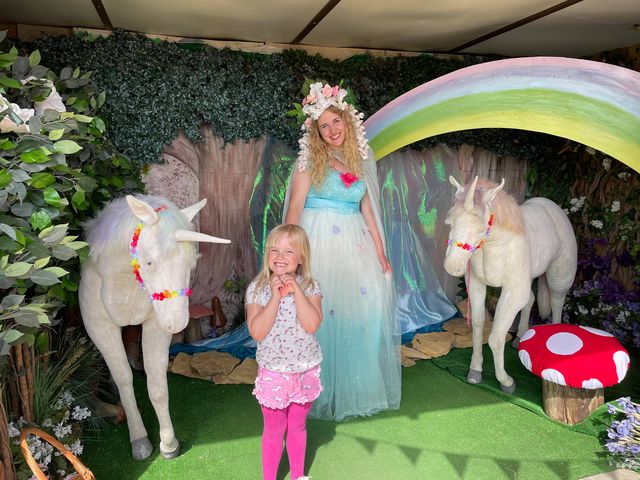 Fairytale Farm is excited to announce that this late May Half Term school holidays we will be once again sprinkling some colourful magic around the Farm with our 'Once upon a Unicorn' week.
Farm owner, Nick Laister, says: "Our Once Upon a Unicorn event last year was one of the most popular events we have ever held at Fairytale Farm. So we thought that we would do it again this year with even more fun and magic in 2022".
Nick continues: "Here are just some of the activities that will be taking place:
Ribberty Rabbit Crafting will be joining us again so you can get mythically crafty in the Craft Corner.
Join in our 'How to Train a Unicorn' trail activity and discover some useful training tips!
Meet the Unicorn Queen and share the training tips you've discovered to receive an 'Apprentice Unicorn Trainer' award.
Learn how to sing and dance to the Unicorn Queen's whimsical tune and pose for a photograph with the Queen and her enchanting unicorns under the rainbow.
Oh yes, and if you come dressed up in anything unicorn-related you will receive a sweet treat on arrival!"
The event will run every day from Saturday 28th May through to Sunday 5th June 2022.
ENDS
Information for Editors
No special tickets are required for this event. Standard admission tickets should be purchased from here: https://fairytalefarm.digitickets.co.uk/event-tickets/27111?catID=26500&.
Photographs can be provided on request.
Fairytale Farm can be found on the A44 (Oxford to Chipping Norton road), just outside Chipping Norton. The address is Fairytale Farm, Southcombe, Chipping Norton, OX7 5QH. Tel: 01608 238014. Email: info@fairytalefarm.co.uk.
It is a farm park visitor attraction based around seven zones: Jack's Yard; the Enchanted Walk; Fairy Dell; Dino Valley (opening soon); Huff & Puff Adventure Playground; Alfie & Friends Animal Zone; and Wilderness Walk.
Our website is www.fairytalefarm.co.uk. You can also find out more at our Facebook page: https://www.facebook.com/fairytalefarm/
Tickets can be bought online here: https://fairytalefarm.digitickets.co.uk/tickets
Nick Laister is available for interview.
The farm is open every day except Christmas Day, Boxing Day and New Years Day.
Fairytale Farm is a member of Experience Oxfordshire, Cotswolds Tourism, Shakespeare's England, Tourism South East, Tourism For All and the National Farm Attractions Network.