Daddy Cool: Father's Day Celebrations at The Coconut Tree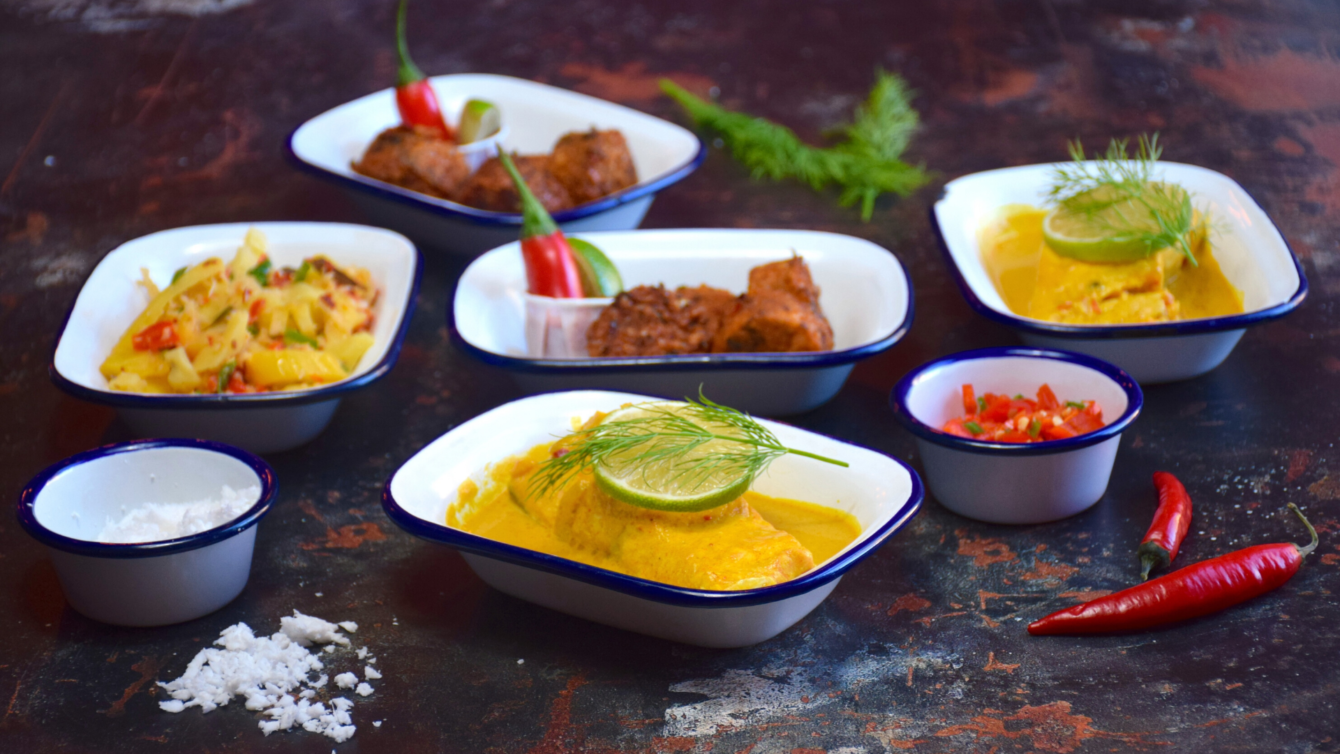 Pioneering Sri Lankan street food restaurant The Coconut Tree is raising a toast to say 'Isthuthi' (thank you) this Father's Day.
From midday until 9pm on Father's Day, dads (and carers) can enjoy an ice cold Sri Lankan Lion Beer on the house. The offer is valid on all advance bookings.
Operations Director, Rashinthe Rodrigo, said "We're big on family at The Coconut Tree, and want to celebrate all that dads do for their families. This is something to say a little thank you, from us to them."
The Coconut Tree delivers an authentic Sri Lankan experience through tapas-style small plates and sharers of vibrant street food, inventive 'Cocotails' and a warm atmosphere where all are welcome. The crowd-pleasing menu is full of options for meat-eaters, veggies and vegans alike.
The Coconut Tree recently introduced three new street food inspired dishes to the menu:
Isso Wade (GF) £4.95
Madly popular in Colombo, these crispy prawn fritters with warm spices and lentils pack a punch. Great for dipping into our Sri Lankan curries.
Kos Mallum (GF) (VG) £6.95
A vegan treat – tender Jackfruit is stir fried with fragrant chillies, garlic & onion.
Salmon, say whaaat? (GF) £9.95
The Coconut Tree specialises in authentic street food with the occasional seasonal twist – like this one; a take on the UK's favourite fish, the salmon takes on coconut milk infused with garlic, onion, turmeric, curry leaves & chilli.
The new dishes are now on offer at the group's nine restaurants, based in Cheltenham, Bristol, Oxford, Cardiff, Bournemouth, Reading, Bath and Birmingham.
For more information and to book a table for Father's Day visit: https://www.thecoconut-tree.com.
ENDS
For Press Enquiries
Jane Cook: hello@talktojanepr.co.uk
NOTES TO EDITORS:
Website: www.thecoconut-tree.com
I: thecoconuttreeuk
T: @CoconutTreeUK
F: TheCoconutTreeUK
The Story So Far
The Coconut Tree is more than just a bar and restaurant. They are a family. Take a handful of Sri Lankan boys, a couple of others along the way – watch them invest everything back into the business as they 'shape Sri Lankan eats in the UK'!
THE COCONUT TREE MANTRA
Don't expect a napkin, it's a roll of paper towels;
Do expect an explosion of flavours in our dishes and sweet and fiery cocktails;
Do expect candles in half coconuts;
Don't expect a massive food bill, but do expect to spoil yourself with drinks;
Do expect warm Sri Lankan hospitality – and don't expect the volume to stay down for too long!
Highlights & Awards
South West Tourism Awards, Best Casual Dining – Winner 2022
Bath Life Awards, Best Restaurant – Finalist 2022
 Cardiff Life Awards, Best Restaurant – Finalist 2022
 Bristol, Bath & Somerset Tourism Awards – Winner – Best Casual Dining 2022
 Bristol Life Awards – Winner – Best Bar 2021
 VIP Caterers at the British Grand Prix at Silverstone & Henley Royal Regatta 2021
 Cardiff Life Awards – Finalist – Best Restaurant 2021
 Bristol Life Awards – Finalist – Best Restaurant 2021
 So Glos Awards – Winner – Best Restaurant 2020
 Bristol Life Awards – Finalist – Best Restaurant 2020
Ox in a Box Awards – Finalist – Best Veggie / Vegan Restaurant 2020
 The Vegetarian & Vegan Awards – Finalist – V Friendly Restaurant of the Year 2020
Cardiff Life Awards – Finalist – Best New Business 2020
Restaurant Magazine R200 Awards – Finalist – Best UK Operator 2020
MTM Awards – Finalist – Best Restaurant 2020
Gloucestershire Live – Winner – Best New Gloucestershire Business of the Year 2020
International Icon Awards – Finalist 2019
Bath & Bristol Crumbs Magazine Awards – Finalist 2019
Bristol Life Awards – Winner – 'Best New Business' & Finalist – 'Best Bristol Business' 2019
Bristol Life Awards – Winner – 'Best New Business' & Finalist – 'Best Bristol Business' 2019
OpenTable – Winner – Diner's Choice Award 2018 (Oxford & Cheltenham)
Soglos Lifestyle Awards – Winner – Gloucestershire Restaurant of the Year 2018
Cotswold Life Magazine – Finalist – Customer Service Award 2018
Cheltenham Business Awards – Winner – Best Restaurant and Bar Sept 2018
Observer Food Monthly Awards – Runner Up – Best Cheap Eats in the South West 2017 / 2018
Taste of Gloucestershire Food & Farming Awards – Winner – The People's Choice Award, Best Restaurant 2017/2018