Oxfordshire County Council – Business Support Apprentice (closing 25/08)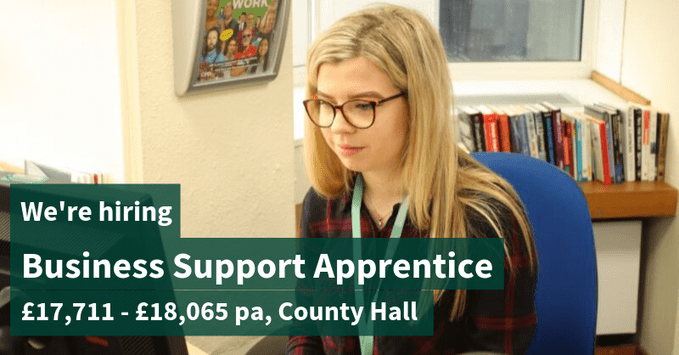 Job Details:
Salary Range: £17,711 – £18,065 per annum
Work Location: County Hall, Oxford
Hours per week: 37
Contract type: Temporary for 18 months
Closing date: Sunday 25th August 2019
Interview date: Thursday 5th or Friday 6th September 2019
Business Support Apprentice:
Oxfordshire County Council has an exciting opportunity for a highly motivated person who wants to start a career within a Business Support role. Our Business Support Apprenticeship is an entry level position in the Business Support Team. It will allow you to gain a qualification and valuable experience whilst earning a wage.
Are you:
Interested in working in a busy office environment
Organised and able to work to deadlines
Someone who is able to be flexible and work co-operatively as a team member?
If so, our Advanced Business Support Apprenticeship could be for you!
Oxfordshire County Council Business Support Team are looking for people who would like a rewarding and challenging job with excellent career prospects and is keen to develop.
As a Business Support Apprentice, you will provide efficient and effective secretarial and administrative support to the Communities Directorate. Working co-operatively as part of a team, you will assist officers and operational staff in carrying out duties. These duties are all in connection with activities in Community Operations. This would involve dealing with information of a confidential nature.
You will have the opportunity to gain a nationally recognised qualification in Business Administration, whilst also gaining new knowledge, skills and valuable work experience. You will need to be a team player, reliable, adaptable, conscientious, and able to work to deadlines. You will also have good communication skills and a commitment to ongoing self-development and training. You will need to have at least four GCSEs (or equivalent) at Grades A*- C, including Mathematics and English.
This is a trainee role designed for an individual who has little or no previous work experience in a similar job. Adjustments to the minimum English and/or maths requirements will be considered by the provider where an apprentice has either an existing or previously issued Education, Health and Care (EHC) Plan, a Statement of Special Educational Needs (SEN) or a Learning Difficulty Assessment (LDA).
By applying for this Apprenticeship and the associated training, you will be agreeing that your personal information you provide to the Council may be passed to the nominated training provider, ESFA, and the Department for Business, Energy & Industrial Strategy. Where necessary it is also shared with the Department for Education, including the Education Funding Agency and any other relevant regulator relating to the Apprenticeship.
Contact details:
Further information about use of and access to your personal data, and details of organisations with whom the ESFA regularly share data are available at: https://www.gov.uk/government/publications/esfa-privacy-notice.
If you have any queries around the sharing of your data please contact workforce.initiatives@oxfordshire.gov.uk
For further information, please email Terry.Winter@oxfordshire.gov.uk
Our Organisation is committed to safeguarding and promoting the welfare of children, young people and adults. We expect all employees, workers and volunteers to share this commitment. We will ensure that all our recruitment and selection practices reflect this commitment.
As a Disability Confident employer we guarantee an interview for disabled applicants who meet the essential criteria for the job. We also guarantee interviews to care leavers who have completed further education and who meet the essential criteria for the job. For those leaving care without any further education we guarantee an interview for our apprenticeships.
All posts, unless stated otherwise, are open to flexible working arrangements.
To stay up-to-date with the latest news and featured jobs from Oxfordshire County Council, follow us on LinkedIn, Facebook, Twitter and Instagram.