Mollie's Bristol and Oxfordshire evolves into the Cooperate Market offering Affordable space for team meetings, away days and more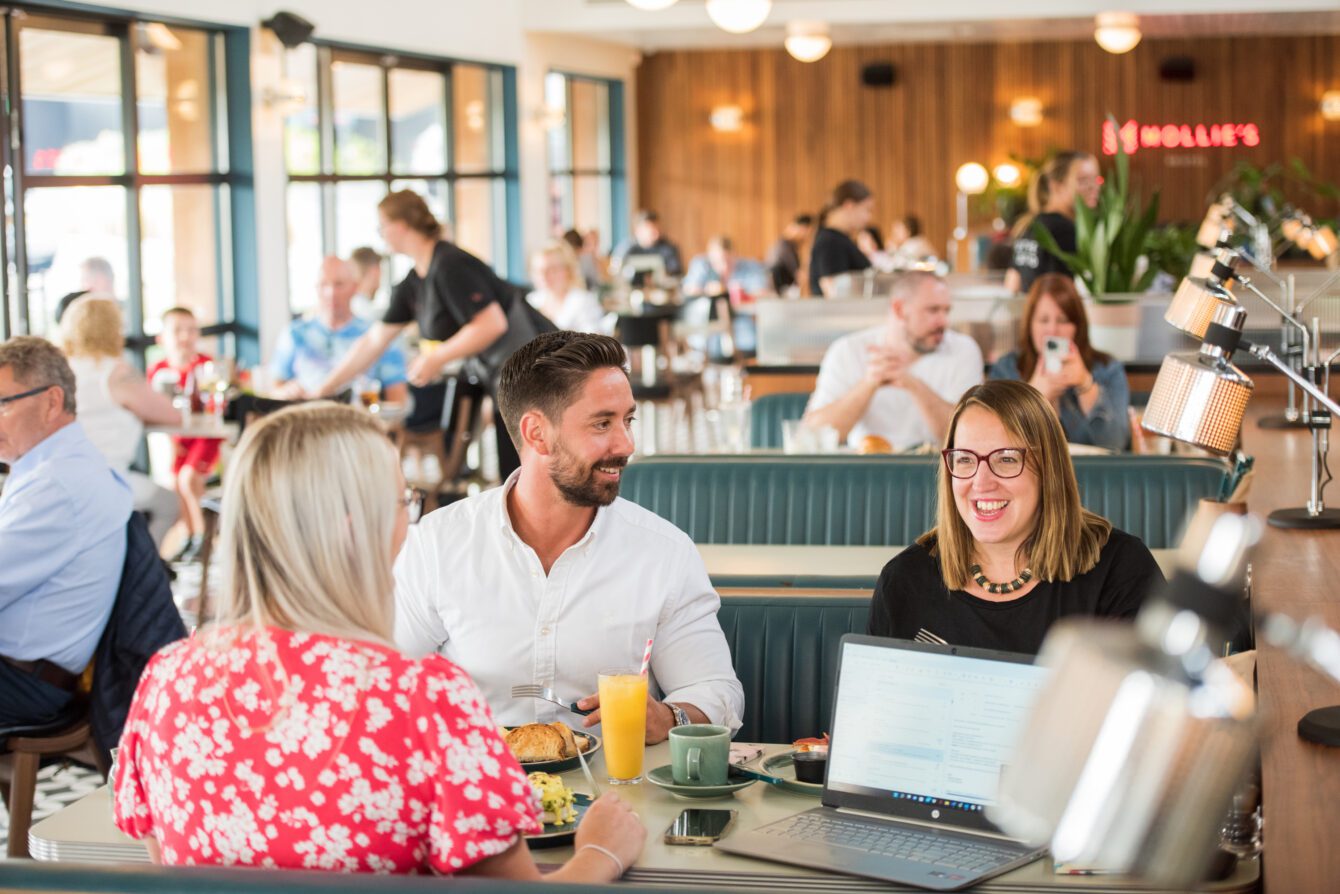 Mollie's (mollies.com), the fast-growing hotel and diner concept, moves into the business space with a range of corporate packages – available at Bristol, Oxfordshire and, later this year, Manchester (the group's third hotel opens in autumn 2023). Mollie's for Business aims to appeal to corporate travellers seeking overnight-stay packages, meeting and reception spaces, lunch locations and away-day facilities. Mollie's for Business (mollies.com/business) – a new dedicated section of the group's website – is now live.
With its unique combination of contemporary design, smart technology and affordable rates, Mollie's for Business is positioned to offer a welcome escape from the stuffy, corporate environment. Designed by the Soho House team, the Mollie's blueprint – a model that is set to roll out across the UK – offers sociable lounge lobbies with co-working stations, high-speed WiFi, free parking, outdoor spaces, and a relaxed, easy vibe: an ideal place to host a productive off-site meeting, an event, a launch or a team-building break.
Mollie's innovative technology offers an effortless, award-winning* digital-led experience. Business travellers can check in online or via the app and have their room key delivered to their phone wherever they are and whenever it suits them. Electric Vehicle charging bays can be pre-booked before arrival, free-of-charge, and there's 24-hour online chat support with the friendly reception team in multiple languages.
Preferential rates for SME businesses:
To support small, local, and emerging (SME) businesses, Mollie's offers a variety of options with significant savings when booking direct. For work or play, all bookings benefit from the high-spec contemporary design and high standards of service that Mollie's reputation is built on.
Alongside the SME packages, Mollie's also offers preferential rates to corporate bookings on high-volume reservations and group options, when booking directly with the dedicated sales team at Mollie's.
The Meet & Eat Package at Mollie's Diner:
A Meet & Eat package is available at Mollie's Diner with its cool, retro-American interiors. The package offers corporate guests a private diner booth with dedicated table service and convenient charging points.
For just £15 per person, guests can host a meeting and redeem one set menu dish and the booth for two hours including unlimited tea, coffee and water.
The Meet & Eat package is perfect for groups of all sizes, from just two guests, through to booths seating six people, or tables for up to 40. This package is available mid-week between 7am and 4pm.
The extensive menu has favourites for everyone, from diner classics to plant-based options and tasty salads. Breakfast staples (served from 7am-11.45am) include Waffles or a Pancake Stack with a range of sweet or savoury topping choices, Granola with coconut yoghurt and berries, or Scrambled Eggs and Smoked Salmon. On the all-day menu expect to find dishes such as Mollie's Cheeseburger, Plant Burger, Chilli Cheese-Dog, Mac 'n' Cheese, Caesar Salad, Eggs Benedict or Eggs Avocado.
Mollie's Exclusive Private Hire
Mollie's locations are available for exclusive-use private hire, ideal to host larger company away-days, team-building weekends or launch events, with up to 128 bedrooms at Mollie's Bristol and 79 at Mollie's Oxfordshire. When it opens later this year, Mollie's Manchester will offer upwards of 130 rooms. Mollie's Bristol diner can seat up to 170 guests and the Oxfordshire site can accommodate 150 people.
From just £70.00 for a double room per night, Mollie's corporate guests can enjoy stylish interiors and playful design features, quality food and drink, a fun and social atmosphere, friendly service, and luxury touches.
Clients and Partners
Whether corporate bookings are made in Oxfordshire or Bristol, Mollie's has partnerships with a wide range of event partners offering exciting and fun days out, and larger event spaces for hire right on the doorstep, perfect for combining with an overnight stay. Visits can be organised by the friendly Mollie's corporate team in advance of the trip.
Mollie's is already building a list of happy corporate clients. Studio Ramsay filmed at Mollie's Oxfordshire for BBC's Gordon Ramsay's Future Food Stars; Mollie's Bristol provided the location for a lifestyle photography shoot for Seat Cupra; a collaboration with Aston Martin and Ferrari dealership, Dick Lovett, created a 'Mollie's Miglia' experience for new and existing clients; Volkswagen held the UK launch of new vehicle, the ID Buzz in Oxfordshire; and cycling outfitters Rapha took over both motels as part of a member cycling experience between Bristol and Oxfordshire. Anything goes.
Mollie's doesn't have big conference rooms or dedicated meeting spaces, but we have friendly neighbours who do. In Bristol, for example, combine exclusive use or group motel-diner bookings at Mollie's with venue hire at The Wave inland surfing lake or the Aerospace aeronautics museum (complete with original Concorde).
For more information visit mollies.com/business. Corporate bookings can be made directly at Mollies.com or by contacting the team at corporate@mollies.com
ENDS
For all press enquiries please contact Palm PR:
mollies@palm-pr.com 
NOTES TO EDITORS
Mollie's (mollies.com) is a new, affordable hotel and diner concept, with rapid expansion plans to roll-out a number of sought-after, design-led venues across the UK. Bringing a contemporary, stylish take on the American roadside pitstop, its bold vision is to transform travel with its own distinctive and disruptive 'budget-luxe' offering. Cool, contemporary and comfortable interiors exclusively designed by Soho House, combined with a fun atmosphere, destination dining, personable service and innovative tech, all at an unexpectedly affordable price point, which keeps every guest in mind. Exclusive in feel but inclusive in experience, Mollie's welcomes everyone.
*Mollie's Motel and Diner won the industry's 2022 Cateys award for Best Use of Technology.