New Oxford Highlights Walking Tour Unveiled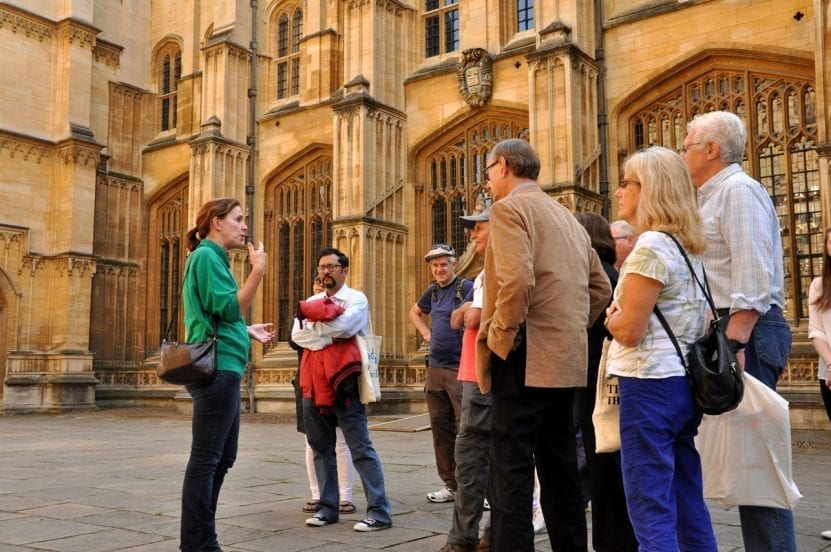 For immediate release: 23/05/17
Commencing in June, Oxford Official Walking Tours is now offering an all-new Oxford Highlights Tour, allowing visitors to the city to see all the iconic sights in just one hour.
The short tour visits key sights in the city centre including the magnificent University buildings found in the Radcliffe Square; the Bodleian Library, Radcliffe Camera and Bridge of Sighs. Designed to allow visitors to make the most of their short trip to Oxford, the tour is also excellent value, at just £7 per person.
Led by professionally trained green and blue badge guides, the tours are informative and entertaining, with guides on hand to answer any questions and make suggestions of other places to see and visit whilst in the city. Other tours on offer include a comprehensive Oxford University and City Tour, Inspector Morse, Lewis and Endeavour Tour, and C.S. Lewis and J.R.R. Tolkien Tour. Additional Harry Potter and Alice in Wonderland Tours have also been created to cater for the increase in demand coinciding with the 20th anniversary of the first Harry Potter book: The Philosopher's Stone.
Commenting on the new tour, Martin Walker, Head of Marketing and Development at Experience Oxfordshire said: "The new Oxford Highlights Tour is designed to appeal to visitors with very limited time in Oxford. The new tour will explore the Radcliffe Square and show visitors the iconic sites that attract over 5.5 million day visitors to the city every year. Each tour will be led by a professionally trained guide from the Oxford Guild of Tour Guides. After the hour long tour we hope this will give visitors the opportunity to spend more in the local economy by visiting other attractions, shopping and dining in the restaurants and cafes in Oxford."
In anticipation of a busy summer season, the first Oxford Highlights Tour commences on the 3rd of June, and runs every Saturday and Sunday at 3.15pm until the 27th of August 2017. All tours depart from the Oxford Visitor Information Centre, located on Broad Street.
ENDS
Notes to Editors:
For more information contact:
Kathryn Manning
Phone: 01865 686434
Email: kathryn.manning@experienceoxfordshire.org / press@experienceoxfordshire.org
Experience Oxfordshire is the Destination Management Organisation (DMO) for Oxfordshire. We are a not-for-profit partnership organisation committed to the promotion, management and development of Oxfordshire as a great destination to live, work, visit and do business. We have a growing partnership network of businesses spanning all parts of the visitor economy, and through effective collaboration we are all working to ensure Oxfordshire becomes a leading destination for tourism, culture and business.