Oxford Bus Company reveals latest charity bus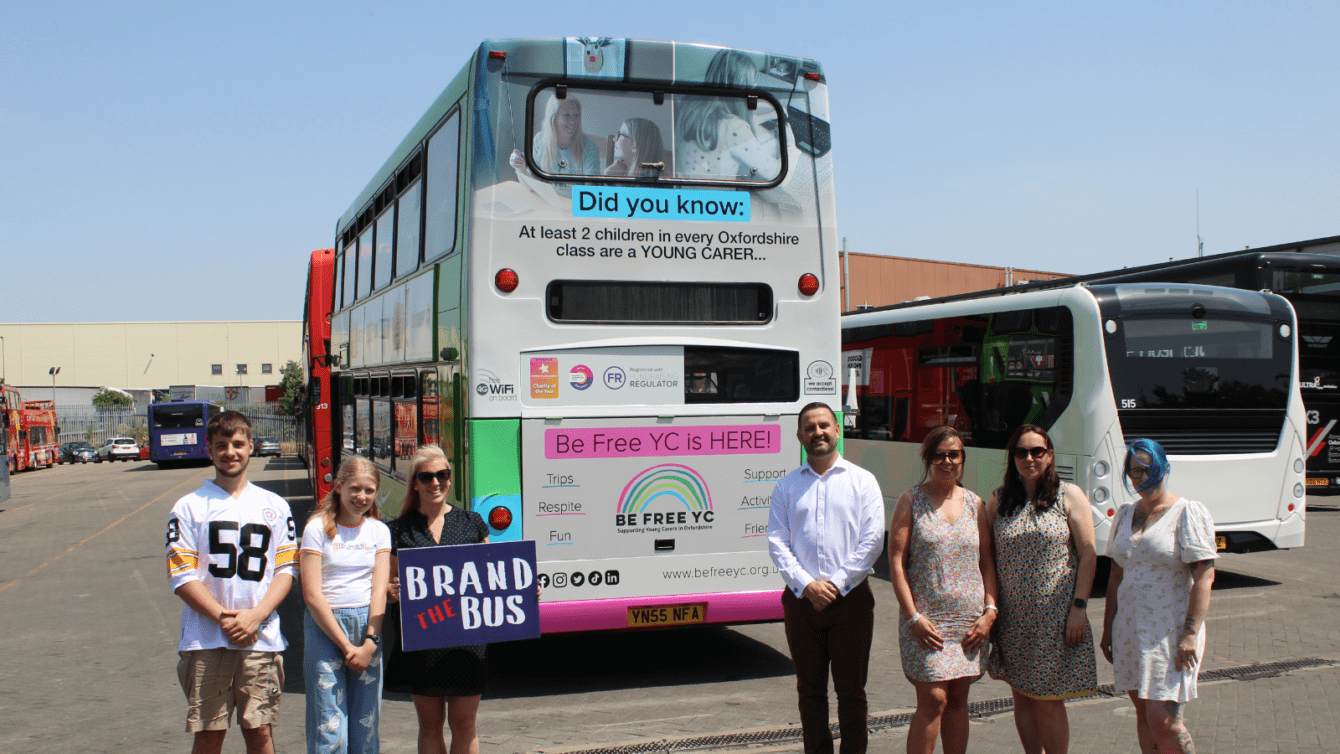 The Oxford Bus Company has launched its latest bus backing local good causes, with the rear of a double-decker emblazoned in Be Free Young Carers' branding.
Be Free Young Careers scooped second prize in Oxford Bus Company's latest annual 'Brand the Bus!' competition and received the advertising space to help spread awareness of the charity. The bus will be used across various city services in Oxford and joins a range of branded buses in operation backing good causes.
Based in Didcot, Be Free Young Carers provides support and advice dedicated to improving the lives of young carers. It operates in South Oxfordshire and Oxford and is due to expand across the county. It is the only specialist charity supporting young carers in Oxfordshire. Its support includes befriending and peer support, enabling young carers to meet, have fun and increase their self-confidence and mental well-being.
Luke Marion, Oxford Bus Company Interim Managing Director said: "We're proud to launch another charity branded bus into service as part of our community values.
"Our wrapped branded buses have helped several charities and so we extended the 'Brand the Bus!'' competition to offer a bus rear in addition to a whole vehicle. Be Free Young Carers is a vital local charity that supports so many unsung heroes in our community and it is fantastic to be able to help it spread its message further."
Sabiene North, CEO of Be Free Young Carers said: "There are at least 12,000 young carers in Oxfordshire supporting a parent or sibling. They are children fulfilling an adult role and missing out on childhood activities to care for a loved one.
"Having our brand on the bus, will make our charity visible to those that aren't already registered with us and give those that are, a sense of belonging. We provide expert advice for anything young carer related in Oxfordshire and rely on people fundraising for us so local children can get the help and support that they need. This recognition of our charity will promote our services to those that need them. Thanks to Oxford Bus Company from all our staff, volunteers and young carers, this means so much."
Oxford Bus Company has previously backed Oxford Pride, Oxfordshire Prostate Cancer Support Group, Girl Guiding Oxfordshire, Home-Start Oxfordshire and Blue Skye Thinking with new liveries for buses.
Restore was selected as the overall winner of the last competition by a judging panel from a top ten group of good causes which had earned the most public votes from 23 original entries. Be Free Young Carers won second prize, Maggie's and Read Easy Oxford won marketing support, including on-board digital advertising screens.
ENDS