Oxfordshire Welcomes Travel Industry Experts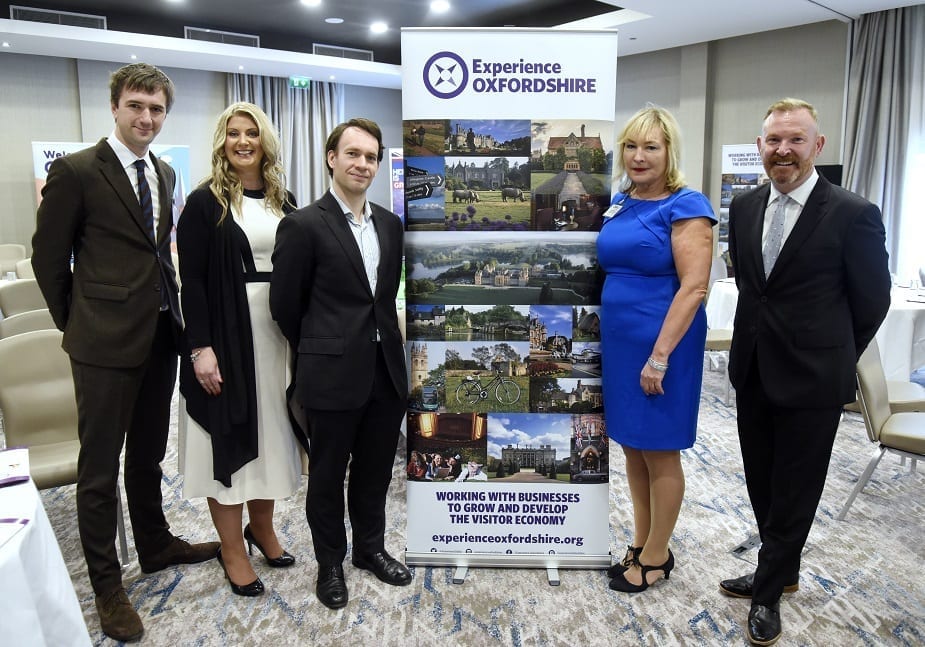 Experience Oxfordshire Press Release
For immediate release: 27/4/2018
Oxfordshire Welcomes Travel Industry Experts
Nationally recognised speakers from the across the visitor economy sector spoke at yesterday's Experience Oxfordshire annual Partner conference 'Insights from the Experts' held at Jurys Inn Oxford.
The full-day event was attended by over 100 representatives from the Experience Oxfordshire Partnership network and attracted representatives from across Oxfordshire. The morning session featured speakers from VisitBritain and VisitEngland, the Association of Leading Visitor Attractions (ALVA) and the Department for Culture, Media and Sport who shared their insight into a range of issues including the opportunities and challenges of an increasingly competitive global tourism market and attracting more international visitors to Oxfordshire from London.
The afternoon session focused on skills for tourism businesses and featured speakers from the BV&E sector, Capela China, marketing agency Umi Digital and a broadcast journalist and writer. They shared their expertise on how Oxfordshire can attract more international conferences, how the Chinese visitor market is maturing and practical tips on how businesses can improve their websites, increase sales and maximise their relationship with the media.
The insights from the Experts event was sponsored by Jurys Inn Oxford and Glide Media and chaired by Hayley Beer-Gamage, Chief Executive of Experience Oxfordshire who, commenting on the event, said:
 "It has been a pleasure to welcome such high-profile guests to join us here in Oxfordshire for this event. The quality of presentations, information and insight were outstanding and great discussion was had during the panel sessions. Events like these are a benefit of being a Partner of Experience Oxfordshire and we were delighted to welcome so many of our Partners to the event. We have all learnt something today that we will take back to help improve our businesses and attract more visitors to Oxfordshire and promote the wonderful product that we have across the County."
One of the speakers, Gary Grieve, Founder and Managing Director of Capela Training and Capela China, commented on the day:
"What a great turnout for the Experience Oxfordshire event! Tourism businesses large and small, well established and early stage, all attended in a great environment for learning and networking. It was very enjoyable and worthwhile."
Speaking of the event, Sue Edridge, Business Development Manager at the King's Centre and Experience Oxfordshire Partner, said:
"The event was excellent, and I really enjoyed the day. The insight from the Kerrin MacPhie, Head of Business Events at VisitBritain is extremely useful for the team at the King's Centre as we look to attract more large business events to the city."   
The Insights from the Experts event is a part of a programme of events, seminars and networking events for Experience Oxfordshire Partners and stakeholders.
Editors' Notes
Speakers:
Patricia Yates, Strategy and Communications Director, VisitBritain/VisitEngland
Stephen Darke, Acting Deputy Director for Heritage, Tourism and Cultural Diplomacy at the Department of Culture, Media and Sport (DCMS)
Richard Nicholls, Head of Research and Forecasting, VisitBritain/VisitEngland
Bernard Donoghue, Director, Association of Leading Visitor Attractions (ALVA)
Kerrin MacPhie, Head of Business Events, VisitBritain/VisitEngland
Alison Rice, Journalist and Broadcaster
Harry Fielder, Managing Director, Umi Digital
Gary Grieve, Founder and Managing Director, Capela Training and Capela China
Experience Oxfordshire is the official Destination Management Organisation (DMO) for Oxfordshire. We are the trading arm of the parent charity, the Experience Oxfordshire Charitable Trust, and are a not-for-profit partnership organisation that is committed to the promotion, management and development of Oxfordshire as a great place to live, work and do business.
Sponsors:
Jurys Inn Oxford is the newly refurbished Jurys Inn hotel located in Oxford, just a stone's throw away from the Oxford City Centre, and the A34. This venue has recently received a £10.8m refurbishment. With 240 stylish rooms, and 20 meetings and events rooms, Jurys Inn Oxford is the perfect base for hosting any future events.
https://www.jurysinns.com/hotels/oxford
Glide Media is one of the region's fastest growing print distribution specialists, delivering class-leading promotional services for over 15 years. They operate a vast network of leaflet display stands spanning nine counties in the South-West and Midlands. This gives them access to fantastic and diverse locations ranging from hotels to shopping centres and provides our customers with the opportunity to expose their promotions to more people, more often.
Image one: Stephen Darke, Hayley Beer-Gamage, Richard Nicholls, Patricia Yates and Bernard Donoghue.  
Image two: Harry Fielder, Gary Grieve, Kerrin MacPhie and Alison Rice.
Image three: Hayley Beer-Gamage
For more information contact:
Martin Walker
Phone: 01865 686433