Farmer and his Shire horses to embark on fundraising trip from Wales to London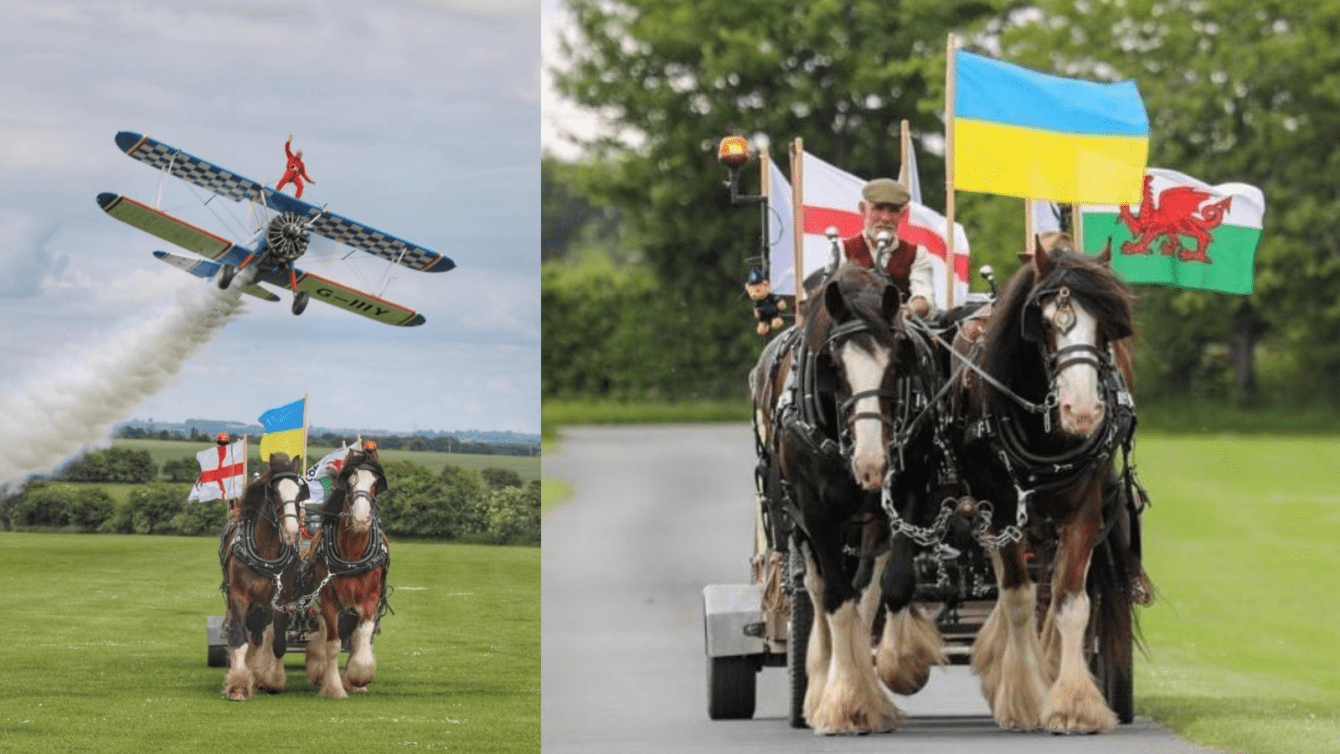 Jamie Alcock, a farmer who drove his Shire horses from his Gloucestershire farm to Elgin in Scotland in 2021 is now taking on a second challenge in 2022.
Jamie, his Shire horses, William and Millie, and Boo Boo Beithe the farm dog will start their journey at MOD St Athan in South Wales on 1 June. Travelling at an average speed of 3.2 mph, they are set to complete the 280-mile journey on Monday 20 June at Hampton Court Green in East Molesey, with a two day pit-stop at Hook Norton Brewery, Oxfordshire. All funds raised from his charity drive are going to Police Care UK, the Royal Air Forces Association and The Shire Horse Society.
Jamie was inspired to take on the 2021 challenge in memory of his brother, PC John Alcock who was an officer with Grampian Police, stationed at Elgin in Morayshire. PC Alcock sadly died in 2017, 14 years after being injured on duty in August 2003 whilst also choosing to fundraise for the Royal Air Forces Association this year thanks to a strong family link to the service.
Jamie says "I believe that the support we offer public servants like members of the RAF and the Police is very important and should be available to them no matter how long ago they served. The charities that offer this support are close to my heart. Some pay a price that they carry for the rest of their lives."
Following the huge success of last year's event Jamie is taking to the road again to meet new audiences as he makes his way across the UK from Wales to London. Stopping for three nights at Hook Norton Brewery, Jamie and team will arrive the evening of Friday 10th June, before staying the weekend and then departing for the remainder of his journey on Monday 13th June. There will be plenty of opportunity to welcome and support Jamie along his journey, and at the Brewery with a planned meet and greet on Sunday 12th June, to co-incide with the Brewery's Classic Car Rally. A popular attraction held on-site. Keep up to date with his journey via the live tracker, https://www.followmychallenge.com/live/cshc-2022/ Tracking powered by Follow My Challenge and on Facebook @coldcroftshires or Instagram @coldcroftshires.
This time Jamie hopes to beat the £60,000 raised last year and will donate 42 per cent of the money he raises to the Royal Air Forces Association, 52 per cent to Police Care UK, with six per cent going to The Shire Horse Society.
Head Coachman Nicholas Carter, of Hook Norton Brewery comments 'We're incredibly proud to be able to support Jamie and his team as he takes on this year's challenge, as an approved Shire Horse Society Centre and with fundamental links to the RAF and Emergency Services it's an honour to be able to support and welcome Jamie to the site. Visitors will be able to meet Jamie and horses over the weekend which we hope will be beneficial to his three charitable causes, before departing on Monday morning.'
To donate, you can visit Jamie's fundraising page at https://www.peoplesfundraising.com/fundraising/shirehorses2022
ENDS
NOTES FOR EDITORS
FOR FURTHER INFORMATION
About the Royal Air Forces Association
The Royal Air Forces Association (or RAF Association) is a membership organisation and registered charity that has been providing welfare support to the RAF family for over 90 years.
The Association recognises that RAF personnel and their immediate families dedicate their lives to their country, and we believe that such a sacrifice should not result in any form of suffering.
Our initiatives provide practical, emotional and financial support to tackle loneliness, isolation, worry and poverty among all generations of RAF personnel and their immediate family members.
We are a good friend to more than 85,000 members of the RAF family every year. They benefit from our wide range of services including telephone friendship, mental health awareness courses, professional childcare training for spouses, bespoke casework support, and help to secure emergency grants.
Our refurbishment of RAF contact houses enables serving personnel to spend quality time with their families, and our provision of free Wi-Fi on stations helps personnel to stay in touch with loved ones.
The RAF Association, through its wholly owned company RAFA Kidz, also provides affordable nursery places for the children of RAF parents, who may be frequently relocated in their jobs and could otherwise struggle to find appropriate childcare.
Our membership of more than 70,000 includes serving RAF personnel, veterans and members of the public who want to show their support for the work that we do.
Twitter: @RAFAssociation
Facebook: RAFAssociation
Website: https://rafa.org.uk
Charity numbers: 226686 (England and Wales), SCO37673 (Scotland).
ABOUT POLICE CARE UK
Police Care UK is a national charity supporting both serving and former police colleagues, and their families, who suffer harm as a result of the job. We provide practical, emotional, and financial support that is confidential, independent, and accessible.
Our mission is to reduce the impact of harm and make sure there is someone to turn to when things get tough. We do this by ensuring everyone is aware of the harm police experience as part of their role; enabling people to recover and rebuild their lives; and engaging with the police service to ensure they are doing all they can to reduce or prevent harm.
Facebook www.facebook.com/policecareuk
Twitter @PoliceCareUK
Instagram @policecareuk
Website: www.policecare.org.uk