Award-winning Oxfordshire distillery, Sky Wave Gin, Opens Gin & Cocktail Bar at Bicester Heritage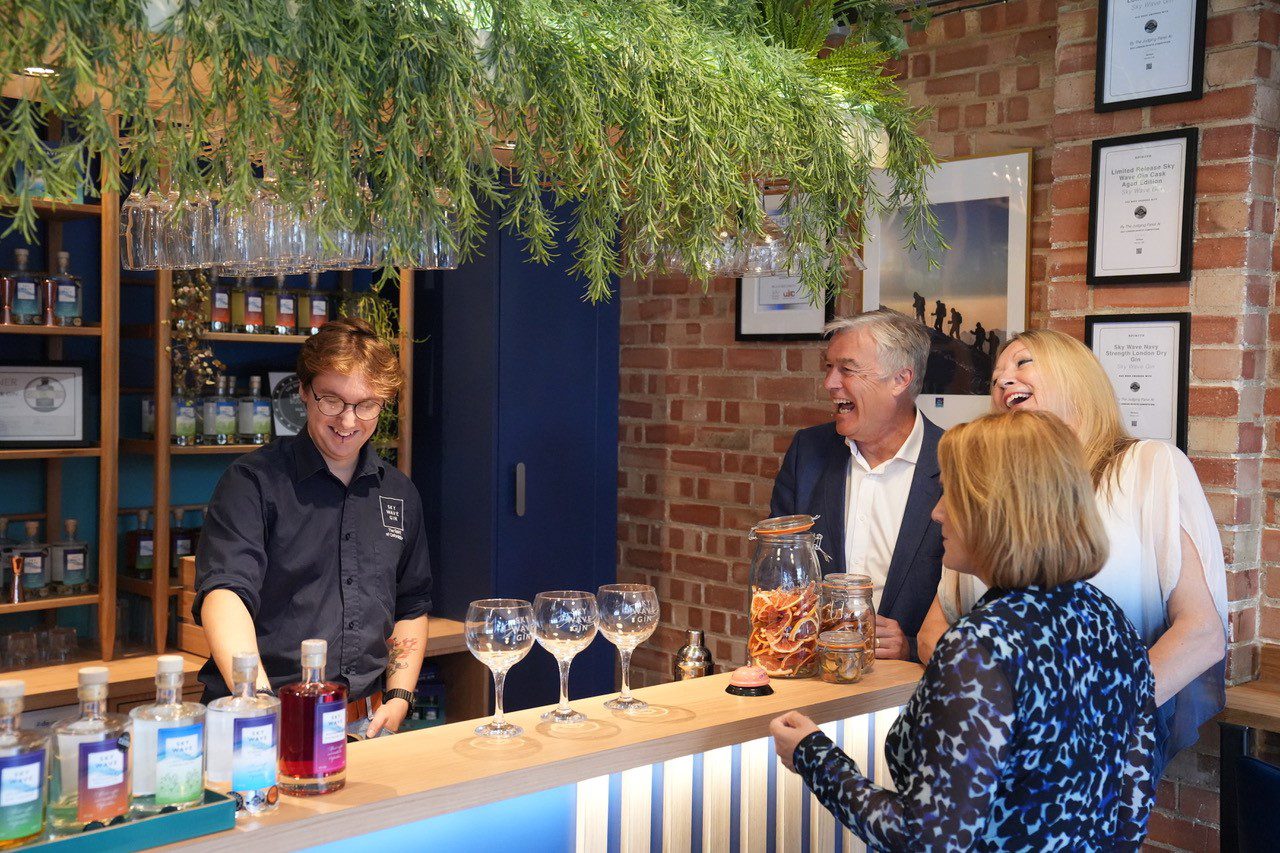 New boutique Sky Wave Gin and Cocktail bar opens 31st March at Bicester Heritage, offering a new destination for drinks.
The intimate venue seats 20 people inside its beautifully designed bar and will offer seating outside in warmer months.
It's anticipated the stylish venue will become a much loved destination for after work drinks, date night rendezvous, friends gatherings and girls nights out.
The bar will serve premium Sky Wave Gin, cocktails, beer and bubbles and be open on Friday and Saturday evenings between 6pm – 11pm
The Home of The World's Best Gin is throwing open its doors to gin lovers from across the county and beyond to indulge in ultra-premium G&Ts, cocktails, beer and bubbles at its boutique new Gin & Cocktail bar.
From 31t March the bespoke bar at Bicester Heritage, will be open to the public every Friday and Saturday evening between 6pm -11pm. A regular array of original and classic cocktails will be shaken up by the Sky Wave Gin Mixologist and of course the full range of seven premium Sky Wave Gins, along with select beers and bubbles will be on offer.
"We know how well-loved Sky Wave Gin is across Oxfordshire and we have long been asked when we are opening a bar. Well now we are!" Said Sky Wave Gin owner and Co-Founder Rachel Hicks, "We anticipate that our boutique bar will be become a favourite destination for after work drinks, date night rendezvous, friends gatherings and girls nights out. It's a beautiful intimate venue and we all need a bit of glamour in our lives" she said.
The Sky Wave Gin and Cocktail Bar is based at Bicester Heritage, on Buckingham Road in Bicester. It is the latest development in the Sky Wave business which already offers weekly Distillery Experiences, Gin Tastings and private events such as Cocktail Masterclasses. It recently held a successful crowdfunding campaign to raise investment for the next stage of the company's growth.
"Sky Wave Gin, has won a stellar 40 international medals in 4 years and is the Home of the World's Best Contemporary Gin, 2020." Said Master Distiller and Co-Founder Andrew Parsons, "We want to share our luxury spirits far and wide. The new Gin & Cocktail Bar is another way for people to experience our exceptional creations"
ENDS
Editors Notes
Images attached of new Sky Wave Gin & Cocktail Bar below
Sky Wave Gin:
• Sky Wave Gin is a range of six luxury spirits, boasting incredible smoothness and carefully crafted for discerning drinkers who wish to enjoy the finer things in life.
• Since Sky Wave Gin stepped onto the international gin stage, it has been continually recognised with the highest accolades. With 39 global awards we believe we are one of the most medalled distilleries in Britain.
• Sky Wave's is born of adventure. Our gins have been created using botanicals sourced from places around the world to which we have travelled. We hope to inspire your next adventure as you sip a Sky Wave gin and tonic.
Summary
In just four years Sky Wave Gin has exploded onto the gin scene, scooping myriad award for the quality of its six exquisite gins, created by its Master Distiller, Andrew Parsons, whose skill has been recognised by the World Gin Awards which shortlisted him for the Icons of Gin, Master Distiller of the Year. Three other proven revenue streams for the business have been developed; events, bespoke and white label gins. Two distributors ensure successful nationwide sales. There is a growing international presence.
The Story
Sky Wave Gin is about carpe diem, seizing the moment, adventure and exhilaration. It is an ultra-premium gin, for the drinker who wishes to rise above the rest.
Unable to find their perfect gin, founders Rachel Hicks and Andrew Parsons seized the moment and created their own – to reflect the adventures they have had travelling through skies and over waves to far flung corners of the globe.
The result is a range of seven sublime gins and one non-alcoholic distilled sprit, which have won an incredible 39 international awards in just four short years. The first, Sky Wave Signature London Dry, was launched in 2018 and was subsequently named The World's Best Contemporary Gin at The World Gin Awards. Other gins followed, including a second London Dry, Sky Wave Liberation Gin, which was awarded a Gold Medal at the World Gin Awards. A selective range of fruit gins, also dry, never cloyingly sweet – Fruit Gin for Grown Ups™ – and limited editions have followed, all winning the highest international accolades.
Sky Wave Gin creates all its artisan gins by hand and with passion. Every stage of distillation, bottling and packaging is carried out in its boutique distillery, at the beautiful Bicester Heritage site in Oxfordshire, the home of historic motoring. The distillery, also has a shop, bar and visitor space offering weekly Distillery Experiences with Curated Gin Tastings.
Sky Wave Gin's Master Distiller has also created a number of bespoke gins for other brands, including Blenheim Palace Signature London Dry, which is picking up its own medals in international spirits competitions.
The full range of Sky Wave Gins, and further information, is available from our website skywavegin.com
For more information about Sky Wave Gin contact
Rachel Hicks
rachel@skywavegin.com