Put a spring in your step by bouncing along to our city centre events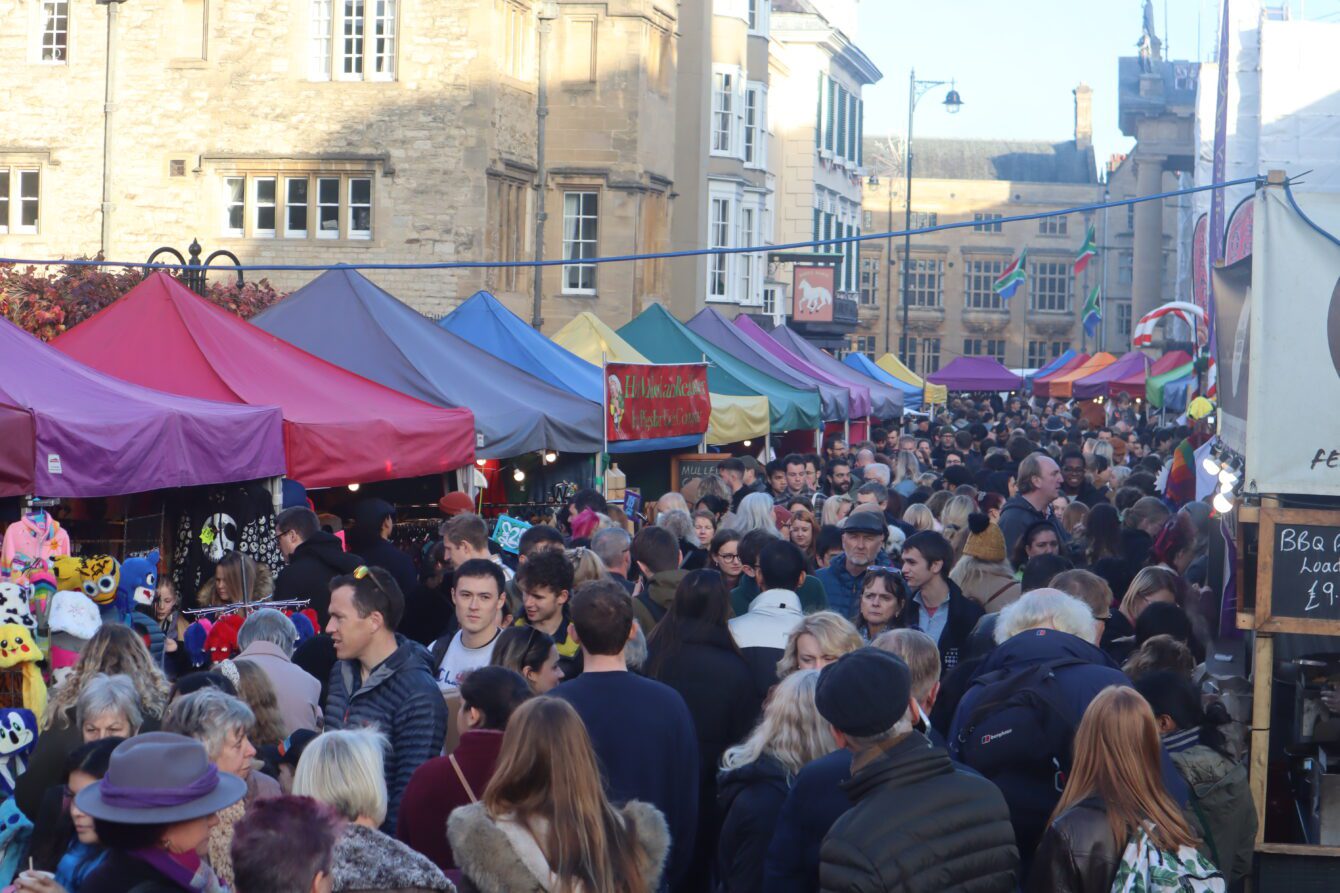 With March 20 marking the first official day of Spring, it's time to circle a date in the diary and plan a nice family day out with an array of fun city centre events to choose from.
From the Covered Market's iconic Easter Egg Hunt to a free family nature day at the Museum of Oxford, there's something to suit all pockets and ages.
It's also a chance to shake off the winter blues, leave the house to have fun and meet friends to share some treats at a brand-new food festival.
Post-Easter, the city will be gearing up for May Morning, one of its greatest annual traditions to mark the coming of spring, bringing together people of all ages to enjoy dancing, singing and revelry.
Easter Egg Hunt
Date: Saturday 25 March – Saturday 8 April 2023
Venue: The Covered Market
Oxford's much-loved Covered Market Easter Egg Hunt returns to welcome eagle-eyed egg enthusiasts.
Run by the traders, the Egg Hunt has become one of the historic market's great traditions. Last year's event was the most successful yet, with over 32,000 small foiled chocolate eggs given out and 44 Traders shops – the largest number to date – taking part.
The hunt is free to enter and there is no age limit. Each hunter is given an entry card – to be collected from The Garden, Jemini or Wicked Chocolate. The challenge is to go round the Market spotting the pictures of eggs with letters inside participating shops. For each letter spotted, the hunter's card is given a stamp and a small chocolate egg.
Complete all the stamps on the card and the lucky Hunter gets entered into the grand prize draw. There are three fantastic prizes up for grabs:
• 1st prize – a giant handcrafted 3kg egg
• 2nd prize – a Charbonnel et Walker milk chocolate egg
• 3rd prize – a Prestat Hundreds and Thousands' milk chocolate egg
For more information, please visit:
https://oxford-coveredmarket.co.uk/news-and-events/news/the-covered-market-easter-egg-hunt/
Hey Little Bird
Date: 25 March at 2.30pm
Venue: The Story Museum
A special show suitable for audiences with access needs. Join Emma Boor in her fancy hat shop as she tells the touching tale of a freshly hatched bird and his search to find his mum.
A gentle tale for very young audiences featuring music, puppetry, magical shadow puppetry, joining in and a whole host of birds made out of hats!
The story has been adapted with specially designed sensory activities, a slower pace, partial Makaton signing and a flexible approach to suit the audience needs.
For more information, please visit:
https://www.storymuseum.org.uk/whats-on/hey-little-bird
Adopt a Dragon
Selected Dates between 1st-16th April 2023 at 10:30am and 12:30pm
Venue: Oxford Castle and Prison
Tickets: £12 per child over 3 + under 3s and accompanying adults go free
Join Dragon Masters at Oxford Castle & Prison for three interactive activities recommended for ages 3-11 years:
1. Paint and decorate your dragon egg
2. Construct your own nest for your dragon
3. Adopt your very own dragon to take home
Each child will take home their egg, nest and soft toy dragon along with a certificate of adoption and a fact sheet for them to fill in for their fiery friend.
This activity is perfect for children who love to be creative with arts and crafts – and who love dragons too.
Other free activities at Oxford Castle and Prison
• 15th-16th April – Morris dancers in Castleyard as part of Oxford Folk Festival
• 30th April – 3 Choirs singing in Castleyard
For more information, please visit:
https://www.oxfordcastleandprison.co.uk/events/event/adopt-a-dragon/
The Wild Escape Family Fun Day
Date: 3 April 11:00am to 3:00pm
Venue: The Museum of Oxford
Take part in free crafts and learn all about Oxford's wonderful natural world from local wildlife experts with a free family fun day.
For more information, please visit:
https://museumofoxford.org/event/the-wild-escape-family-fun-day
Dine N Devour
Date: 7, 8 and 9 April
Venue: Broad Street
Dine N Devour, a brand-new touring food festival, will launch in Oxford city centre this Easter, with over 70 Food, drink and Artisan stalls to browse and buy.
Street entertainment will compliment this wonderful festival for the city. Expect to see hot and sizzling international street food vendors and plenty of drink choice, tasty treats to take home and artisan market traders.
For more information, please visit:
https://lsdpromotions.com/oxford-1
Shakespeare's Birthday Parade – Oxford Preservation Trust
Date: 21 April 11:00am to 12.30pm
Venue: Oxford Town Hall to Cornmarket
The Lord Mayor of Oxford will lead the way from Oxford Town Hall as the annual procession, which first took place in 1938, winds its way to the Painted Room on Cornmarket Street.
OPT look after the Painted Room and its amazing Elizabethan wall paintings, all that remains of the 13th century Crown Tavern at 3 Cornmarket where Shakespeare stayed on his annual trip from London to Stratford-Upon-Avon.
For more information, please visit:
https://www.oxfordpreservation.org.uk/events/shakespeare-birthday-parade-saturday-21-april-1115am
Save the date – May Morning
Date: 1 May from 6am
Venue: Magdalen College choir and various city centre locations
About 12,500 people turned out to see last year's May Morning, which was held in person, for the first time since 2019.
The celebrations, which are more than 500 years old, start at 6am with Magdalen College choir singing Hymnus Eucharisticus from the college's Great Tower.
Traditional events and activities, including Morris Dancing and folk singing, take place across the city as the bell of the Great Tower rings out.
To watch a film from last year's event, please visit:
https://www.oxford.gov.uk/info/20035/events/559/may_morning_in_oxford
Diana Fawcett, City Centre Manager at Oxford City Council, said:
"We're hoping to tempt people out of their cosy hibernation and gear up for spring with a range of free and low-cost activities in the city centre. Meeting up with friends and family is a great way to blow away the cobwebs and shake off any winter blues.
"Just a coffee and a spot of window shopping is a nice way to pass time in the company of other people and it doesn't have to break the bank."
For images, please see link in Notes to Editors
ENDS
Notes to Editor
Contact details
Email: pressoffice@oxford.gov.uk (Please note that any replies directly to this Press Release will go to an unmonitored inbox. Please contact email address provided)
Images/extra media
https://wetransfer.com/downloads/b6abc46d8f350b283176ec28f6e9f07620230314122624/f3b6371cab99d70df0fb69e380c75d9820230314122642/1382be
Images show this year's Easter Egg Hunt prize and last year's winner – plus images of Dine N Devour.
About us
Oxford City Council is the democratically-elected local authority for Oxford.
In partnership with others, we provide a wide range of services – including planning, housing, community centres, parks and waste collection – for approximately 152,000 residents, 106,000 people who work in Oxford and the millions of people who visit our world-famous city every year.
We have set four key priorities, all of equal importance and all interconnected:
• to enable an inclusive economy, where everyone has access to sustainable business and employment opportunities
• to deliver more affordable housing, including a new generation of council homes to help meet our acute housing shortage
• to support thriving communities, reducing the stark inequality between our city's richest and poorest residents
• to tackle the climate emergency by pursuing a zero-carbon Oxford
Our vision is to build a world-class city for everyone.
Oxfordshire has a two-tier system of local government, which means services are provided by two different councils. Oxford City Council provides local services for the city, while Oxfordshire County Council is responsible for strategic, countywide services such as roads, schools and social care.