Superheroes week at Fairytale Farm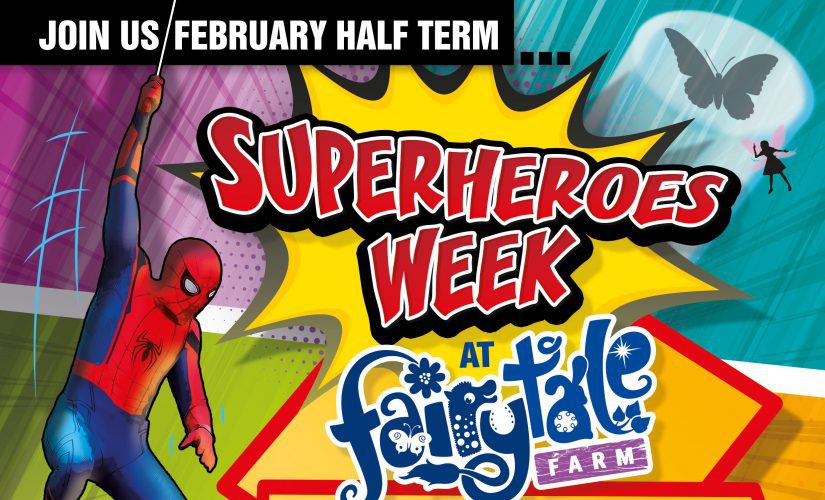 Fairytale Farm's 2022 season really takes off in the February half-term (19th to 27th February) with superhero-themed activities running all day.
Farm owner, Nick Laister, says: "It is two years since we ran our last Superheroes Week at Fairytale Farm. That was just before the first lockdown, and the world has changed since then. But the event is back with a bang for 2022. Fairytale Farm will be taken over by 'powerful forces for good' when comic book superheroes join us for a fun packed week of heroics and heroism!"
Theatre company the Enchanted Players will be on site for the whole duration. Nick explains: "Don't miss out on your chance to become super powered when the Enchanted Players return to Fairytale Farm for fun, games and superhero training with one of three legendary superheroes to meet and guide you through your training session every day between 10:30am and 5pm, on the half hour every hour (except 12:30, when all superheroes are having a mighty lunch)."
"To prepare for the training you could also take part in a Superhero Workout Mission, a warm-up mission with 'Be fit to be Super' challenges to complete along our Enchanted Walk."
There will also be superhero-themed craft activities all week, as Nick explains: "Discover your own 'Crafting Superhero Name' along with superhero mask making with Ribberty Rabbit Crafting when they join us in our Super Craft Corner for the week. Ribberty rabbit Crafting have been immensely popular at previous events, and everything will be undercover in a large marquee."
Nick is also excited to launch three new attractions in time for the half-term:
"If you visit Fairytale Farm this half-term, as well as joining in with our Superheroes Week, you can try out three new attractions, all of which have opened in time for the school holidays. Explore our magical new indoor play area, Rapunzel's Kingdom, themed around a fairy tale forest, with castles, slides and fairy houses to visit, role playing and interactive features. Climb our brand-new Combine Harvester, with two levels, multiplay activities and a slide, it is perfect for imaginary farm play! Step inside our new Musical House. Operate the fairground organ or the brass band – everything is people-powered!"
You don't need special tickets for this event, just buy standard farm admission tickets to enjoy all the activities, which are at no extra charge.
Finally, Nick wants to celebrate heroes in the community: "What a difficult two years it has been for us all, and we want to celebrate some of our real life superheroes. If you hold a Blue Light Card or military ID, show your card for a free coffee at the Beanstalk Café. And any children who come dressed as their favourite superhero will receive a sweet treat."
ENDS
Information for Editors
Photographs can be provided on request.
Fairytale Farm can be found on the A44 (Oxford to Chipping Norton road), just outside Chipping Norton. The address is Fairytale Farm, Southcombe, Chipping Norton, OX7 5QH. Tel: 01608 238014. Email: info@fairytalefarm.co.uk.
It is a farm park visitor attraction based around seven zones: Jack's Yard; the Enchanted Walk; Fairy Dell; Dino Valley (opening soon); Huff & Puff Adventure Playground; Alfie & Friends Animal Zone; and Wilderness Walk.
Our website is www.fairytalefarm.co.uk. You can also find out more at our Facebook page: https://www.facebook.com/fairytalefarm/
Tickets can be bought online here: https://fairytalefarm.digitickets.co.uk/tickets
Nick Laister is available for interview. Arrange an interview on 07778 207036.
The farm is open every day except Christmas Day, Boxing Day and New Years Day.
Fairytale Farm is a member of Experience Oxfordshire, Cotswolds Tourism, Shakespeare's England, Tourism South East, Tourism For All and the National Farm Attractions Network.