The Coconut Tree launches 'Sri Lankan Summer Thursdays' – pairing sparkling rose with Sri Lankan street food favourites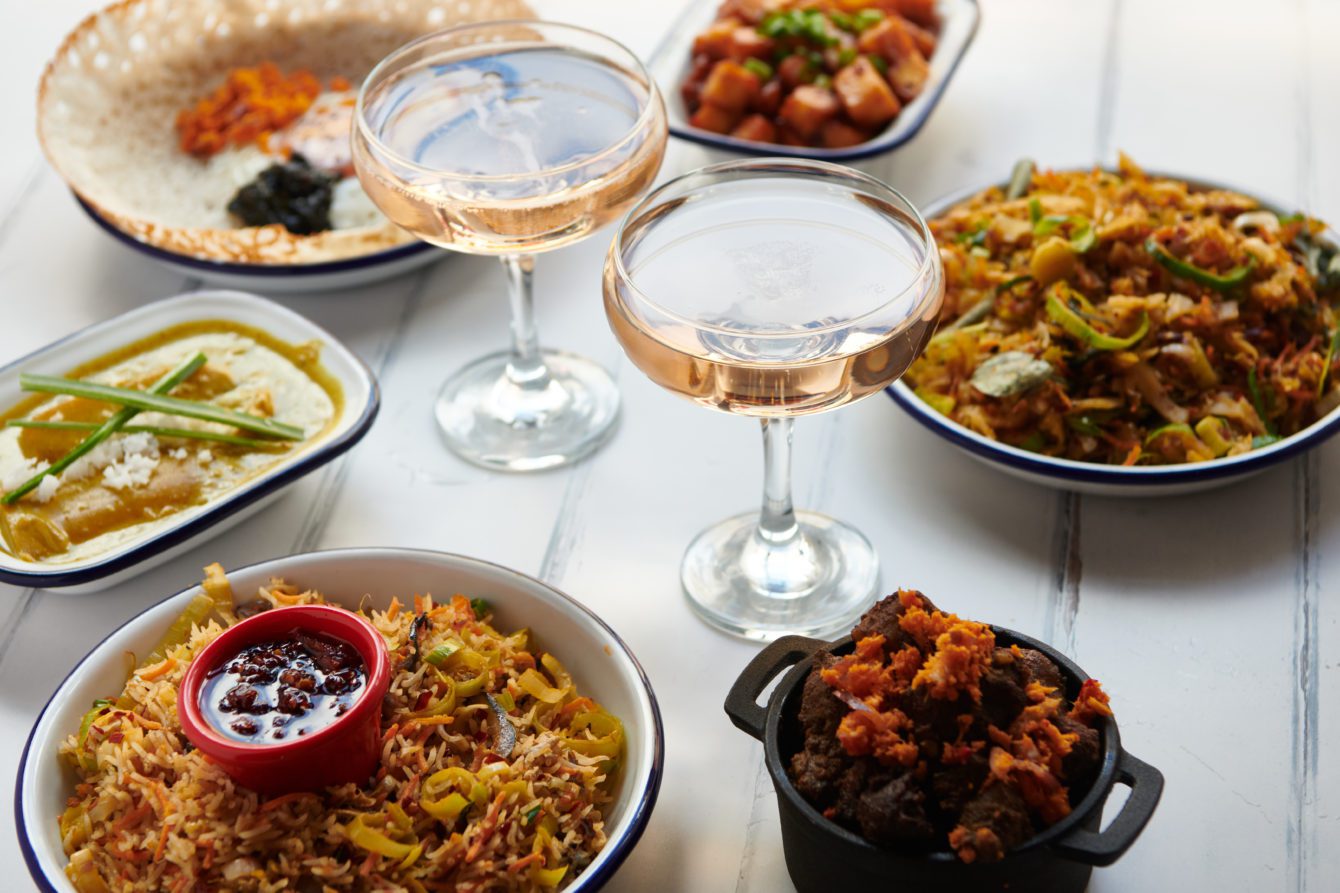 "Sparkling rosé loves heat – and we're not just talking about the weather!"
Pioneering Sri Lankan street food restaurant The Coconut Tree is challenging thirsty diners to try a new drinks pairing this summer – matching its spicy street food favourites with a refreshing glass of chilled, sparkling rosé.
All day every Thursday (from June until the end of September), The Coconut Tree will offer ANY curry, ANY kotthu, ANY hopper with a glass of chilled sparkling rosé, for £20pp. The offer is valid on all advance bookings only, bookable through the website.
This new summer twist for Sri Lankan dishes particularly is explained further by Operations Director, Rashinthe Rodrigo, "We've always been big on our 'Cocotails' at The Coconut Tree, and these still make up the basis of our sweet & fiery signature drinks menu. But we also know that rosé – particularly sparkling rosé – is the wine of the summer, in Britain and beyond.
Combining sweetness, acidity, bubbles and aromatics, rosé cuts through spicy food and essentially rests the palette; it's the same thinking behind 'beer goes with a curry'. The light, fruity flavours and effervescence of sparkling rosé are a great match not just for the summer heat, but our food's heat – particularly our aromatic island spices.
We want to show everyone why pairing rosé bubbles with our favourite Sri Lankan street food dishes is where it's at this summer!"
'Sri Lankan Summer Thursdays' will focus on pairing sparkling rosé with The Coconut Tree's warmer Sri Lankan favourites; curries such as fragrant fish coconut curry or Black Pork curry; slow cooked blackened pork in a multitude of roasted spices; and hoppers (bowl-shaped coconut pancakes) served with Seni Sambol and a punchy Sri Lankan salsa.
The Coconut Tree delivers an authentic Sri Lankan experience through tapas-style small plates and sharers of vibrant street food, combined with an inviting, inclusive laid-back atmosphere. The crowd-pleasing menu is full of options for meat-eaters, veggies and vegans alike.
Sri Lankan Summer Thursday's will be available at all the group's nine UK restaurants, based in Cheltenham, Bristol, Oxford, Cardiff, Bournemouth, Reading, Bath and Birmingham.
For more information and to book a table, visit: https://www.thecoconut-tree.com.
ENDS
For Press Enquiries
Jane Cook: hello@talktojanepr.co.uk
NOTES TO EDITORS:
Website: www.thecoconut-tree.com
I: thecoconuttreeuk
T: @CoconutTreeUK
F: TheCoconutTreeUK
The Story So Far
The Coconut Tree is more than just a bar and restaurant. They are a family. Take a handful of Sri Lankan boys, a couple of others along the way – watch them invest everything back into the business as they 'shape Sri Lankan eats in the UK'!
THE COCONUT TREE MANTRA
Don't expect a napkin, it's a roll of paper towels;
Do expect an explosion of flavours in our dishes and sweet and fiery cocktails;
Do expect candles in half coconuts;
Don't expect a massive food bill, but do expect to spoil yourself with drinks;
Do expect warm Sri Lankan hospitality – and don't expect the volume to stay down for too long!
Highlights & Awards
• SoGlos Awards Finalist – Restaurant of the Year 2022
• South West Tourism Awards, Best Casual Dining – Winner 2022
• Bath Life Awards, Best Restaurant – Finalist 2022
• Cardiff Life Awards, Best Restaurant – Finalist 2022
• Bristol, Bath & Somerset Tourism Awards – Winner – Best Casual Dining 2022
• Bristol Life Awards – Winner – Best Bar 2021
• VIP Caterers at the British Grand Prix at Silverstone & Henley Royal Regatta 2021
• Cardiff Life Awards – Finalist – Best Restaurant 2021
• Bristol Life Awards – Finalist – Best Restaurant 2021
• So Glos Awards – Winner – Best Restaurant 2020
• Bristol Life Awards – Finalist – Best Restaurant 2020
• Ox in a Box Awards – Finalist – Best Veggie / Vegan Restaurant 2020
• The Vegetarian & Vegan Awards – Finalist – V Friendly Restaurant of the Year 2020
• Cardiff Life Awards – Finalist – Best New Business 2020
• Restaurant Magazine R200 Awards – Finalist – Best UK Operator 2020
• MTM Awards – Finalist – Best Restaurant 2020
• Gloucestershire Live – Winner – Best New Gloucestershire Business of the Year 2020
• International Icon Awards – Finalist 2019
• Bath & Bristol Crumbs Magazine Awards – Finalist 2019
• Bristol Life Awards – Winner – 'Best New Business' & Finalist – 'Best Bristol Business' 2019
• Bristol Life Awards – Winner – 'Best New Business' & Finalist – 'Best Bristol Business' 2019
• OpenTable – Winner – Diner's Choice Award 2018 (Oxford & Cheltenham)
• Soglos Lifestyle Awards – Winner – Gloucestershire Restaurant of the Year 2018
• Cotswold Life Magazine – Finalist – Customer Service Award 2018
• Cheltenham Business Awards – Winner – Best Restaurant and Bar Sept 2018
• Observer Food Monthly Awards – Runner Up – Best Cheap Eats in the South West 2017 / 2018
• Taste of Gloucestershire Food & Farming Awards – Winner – The People's Choice Award, Best Restaurant 2017/2018