Oxford Visitor Information Centre wins Silver Tourism Award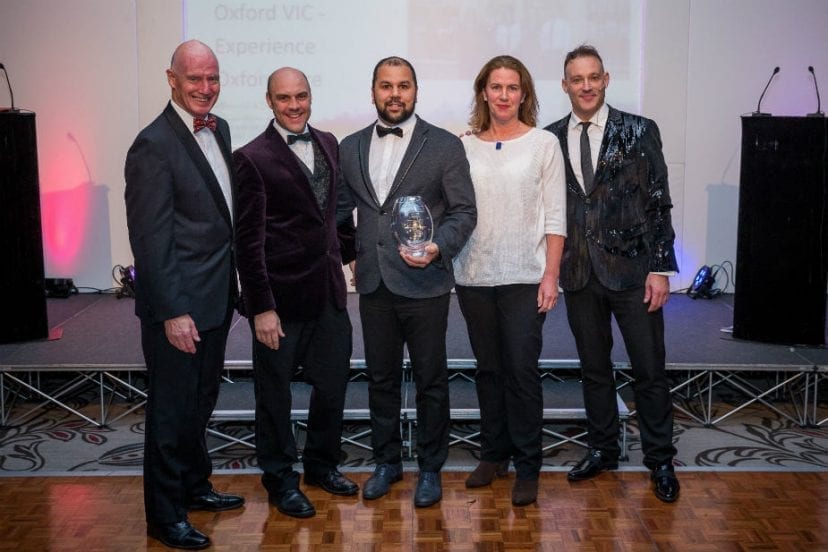 Oxford's Visitor Information Centre has been awarded Silver in the Information Service of the Year category at last night's Beautiful South Awards for Excellence which were held at the Grand Hotel Brighton. The awards recognise and celebrate excellence in the tourism sector and inspire other businesses to reinvest and raise standards in quality, innovation and customer service.
Speaking on behalf of Experience Oxfordshire Vanessa Allen, Customer Services Development Manager said:
"We are thrilled to be finalists in the Beautiful South Awards for the second year running and delighted to have been awarded the Silver award for Information Service of the Year. We are very proud of our team who go the extra mile to help visitors and ensure the services we provide are of such a high quality. We enjoy helping people to make the most of their stays here, exploring the great attractions that Oxford and Oxfordshire have to offer."
Hayley Beer-Gamage, Chief Executive of Experience Oxfordshire commented:
"The Oxford Visitor Information Centre plays a pivotal role supporting visitors on their arrival to Oxfordshire Our award-winning team advise and inspire visitors to explore and experience what the City and County have to offer. The Visitor Information Centre welcomes nearly half a million visitors each year and the team do a great job promoting the County as a must-see visitor destination. Everyone at Experience Oxfordshire is extremely proud that the Oxford Visitor Information Centre has been recognised for the excellent service it provides to our visitors."
In a great night for the tourism sector in Oxfordshire, Blenheim Palace was crowned Large Visitor Attraction of the Year and Oxford Castle Unlocked won Small Visitor Attraction of the Year. It was also a successful night for the Baskerville in Henley-on-Thames, who won Silver in the Pub of the Year category; Restaurant 56 at the Sudbury House Hotel in Faringdon won the Best Restaurant/Bistro of the Year; The Chesnuts in Shilton who won Silver in the Self-Catering Business of the Year; and Wisteria Cottage in Watlington was highly commended in the Sustainable Tourism Award.
***ENDS***
NOTES TO THE EDITOR:
For more information contact:
Martin Walker
Phone: 01865 686433
Email: martin.walker@experienceoxfordshire.org / press@experienceoxfordshire.org
Oxford's Visitor Information Centre is based on historic Broad Street and welcomes over nearly half a million visitors through its doors each year from both domestic and international markets. It provides many services for visitors, including information provision, left luggage, tickets sales for attractions, tours and events, accommodation booking, and sale of maps, guidebooks and gifts. The centre also provides services for conference visitors to Oxford and offers training on information provision to Oxfordshire businesses.
Experience Oxfordshire is the Destination Management Organisation (DMO) for Oxfordshire. We are a not-for-profit partnership organisation committed to the promotion, management and development of Oxfordshire as a great destination to live, work, visit and do business. We have a growing partnership network of businesses spanning all parts of the visitor economy, and through effective collaboration, we are all working to ensure Oxfordshire becomes a leading destination for tourism, culture and business.
www.experienceoxfordshire.org/partner
The Beautiful South Awards for Excellence
Tourism South East will be working with Services for Tourism to deliver the Beautiful South Awards for Excellence 2017. Services for Tourism have an excellent track-record of delivering other regional award programmes. Robin Barker, Director of Services for Tourism said, "We are delighted to be working with Tourism South East, and look forward to making contact again with tourism businesses and sponsors across the 'Beautiful South'".
www.beautifulsouthawards.co.uk