What's next for Broad Street? – Consultation results are in for award-winning "Broad Street"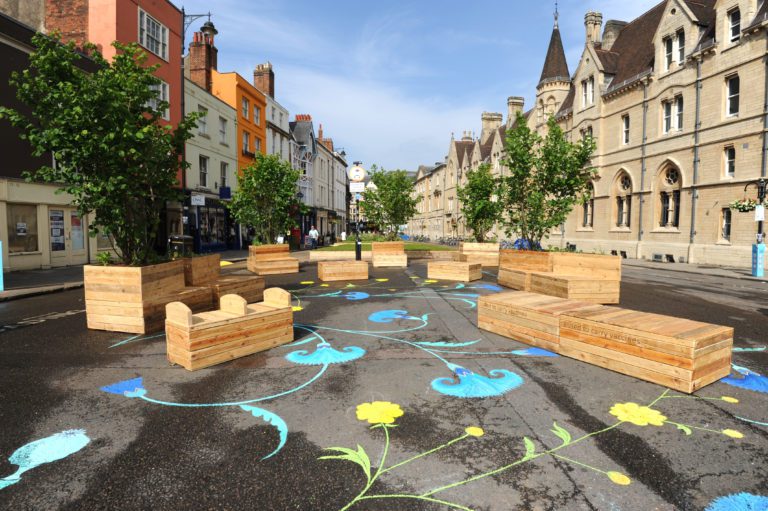 Oxford's residents have expressed overwhelming support for Broad Meadow, introduced by Oxford City Council over the summer, with 87% of respondents to the Council's consultation on the future saying its impact on the city has been positive.
Additionally, 80% of respondents say they back permanent pedestrianisation of the whole of Broad Street.
Broad Meadow was a temporary pedestrian-friendly outdoor space in the western end of Broad Street. It contained wildflowers, trees and small lawns to support the city to welcome back significant numbers of shoppers, visitors and workers and reboot the city centre economy.
Broad Meadow was open from 1 July 2021 to 11 October 2021 for residents and visitors to meet friends and family throughout the summer. Over 100,000 people used the facility during this time.
Delivery of the scheme was made possible through partnership working by a range of stakeholders including bus service providers, the City Council's wholly-owned social enterprise Oxford Direct Services (ODS), the colleges and businesses located in the area, the emergency services and Oxfordshire County Council.
Broad Meadow benefitted from proactive input by key local groups, including: Oxford Civic Society, Oxford Pedestrians Association, Cyclox, Unlimited Oxfordshire and the City Council's Inclusive Transport and Movement Focus Group.
On Tuesday 2 November, Broad Meadow won a plaque at the Oxford Preservation Trust Awards, with the project being commended for "bringing liveliness and hope for the future of Broad Street for our summer enjoyment".
The public consultation, and all other information and feedback gathered over the past few months, has given people the chance to comment on the scheme and shape plans with the ambition of creating an outdoor public space on the whole of Broad Street on a permanent basis.
Over 1000 people responded to the Broad Meadow consultation, which opened on 1 July 2021 and closed on 29 October 2021.
The City Council has publicly pledged its support for the future pedestrianisation of Broad Street, most recently through a unanimous motion to council to introduce a timetable for action that includes further consultation and implementation of permanent pedestrianisation in time for the summer of 2022.
As the highway authority, the County Council shares the City Council and the public's aspiration to create a permanent pedestrian-friendly scheme on Broad Street in the long-term. The County Council is committed to delivering public space enhancements in Broad Street in 2022, to help inform a future permanent scheme.
The County Council is working on design feasibility options for the future of Broad Street with the support of the City Council. In the coming months, the Councils will work in partnership with bus companies, businesses based in Broad Street and other city centre stakeholders to determine the best course of action for the future of the street.
Councillor Tom Hayes, Deputy Leader and Cabinet Member for Green Transport and Zero Carbon at Oxford City Council, said:
"The results are in and Broad Meadow is a clear success, with 87% of respondents saying the overall impact has been positive. It's also clear that Oxfordshire County Council should pedestrianise the whole of Broad Street permanently, based on the consultation responses. Broad Street is crying out to be pedestrianised and it has been an ambition of so many for so long.
"Now is the time to create a beautiful car-free space in the heart of the city and to start doing this from 2022. We look forward to working with the County and key stakeholders again to ensure any scheme is inclusive and retains access for essential users, as well as benefiting the general public."
Councillor Tim Bearder, Cabinet Member for Highway Management at Oxfordshire County Council, said:
"I'd like to thank the City Council for their wonderful initiative. We are delighted that Broad Meadow has received such overwhelming support from residents, visitors and businesses. It provided a safe and accessible space to meet friends and family and take in the beautiful views from Broad Street.
"It is very clear now that the city, county, businesses and residents are all aligned. People have seen the possibilities and they want to make the most of this magnificent space.
"We will be bringing in changes as soon as possible, changes that embrace and enhance the great work that has been done with this initial pilot."
Charlie Bush, Publicity, Marketing & Events Manager at Blackwell's Bookshop, Broad Street, said:
"Blackwell's welcomed the introduction of the pedestrianised area at the west end of Broad Street over this summer. Broad Meadow created a significantly improved atmosphere in the public realm on this side of town and undoubtedly made Broad Street a place that people wanted to spend more time. It was good to see the care, speed and dynamism that the Council brought to delivering the project.
"Giving space over to people, rather than highway, is a much better use of this historic and beautiful area of our city. Broad Meadow has shown the city what is possible and how a future improvement to the sense of place in the city might be delivered."
Hakim, owner of Café Crème, Broad Street, said:
"We are very happy to see how Broad Meadow turned out. During the project, the number of people coming to Broad Street and staying was a big change – you could definitely see a noticeable difference. Broad Meadow had a clear impact on our business. This new public area was particularly important when we had no students or tourists and really helped our business."
Consultation findings include:
• 87% of respondents say the overall impact of Broad Meadow has been positive.
• 80% of respondents say that Broad Meadow has made them feel more positive about visiting the city centre.
• 90% of respondents say that they would like to see Broad Meadow happen again (78% permanently, 9% for six months of the year, 3% for the same months as this year).
• 80% of respondents say they are in favour of pedestrianising the whole of Broad Street permanently.
In addition, 100% (all five) of the Broad Street businesses which responded to the consultation, Café Crème, Italiamo, Blackwell's Bookshop, Crepes O Mania and The Buttery Hotel, were in favour of Broad Meadow and the return of a pedestrian-friendly scheme.
ODS (Oxford Direct Services) carried out the work to install and dismantle Broad Meadow. LDA Design were the lead consultants.
ENDS
Notes to Editor
Contact details
Email: pressoffice@oxford.gov.uk (Please note that any replies directly to this Press Release will go to an unmonitored inbox. Please contact email address provided)
Phone: 01865 252096
About us
Oxford City Council is the democratically-elected local authority for Oxford.
In partnership with others, we provide a wide range of services – including planning, housing, community centres, parks and waste collection – for approximately 152,000 residents, 106,000 people who work in Oxford and the millions of people who visit our world-famous city every year.
We have set four key priorities, all of equal importance and all interconnected:
• to enable an inclusive economy, where everyone has access to sustainable business and employment opportunities
• to deliver more affordable housing, including a new generation of council homes to help meet our acute housing shortage
• to support thriving communities, reducing the stark inequality between our city's richest and poorest residents
• to tackle the climate emergency by pursuing a zero-carbon Oxford
Our vision is to build a world-class city for everyone.
Oxfordshire has a two-tier system of local government, which means services are provided by two different councils. Oxford City Council provides local services for the city, while Oxfordshire
County Council is responsible for strategic, countywide services such as roads, schools and social care.
Images/extra media
Can include a WeTransfer/GoogleDrive link to relevant images or delete, as needed.