Stephen Spencer + Associates launches new workshop helping businesses to get a Platinum Jubilee business boost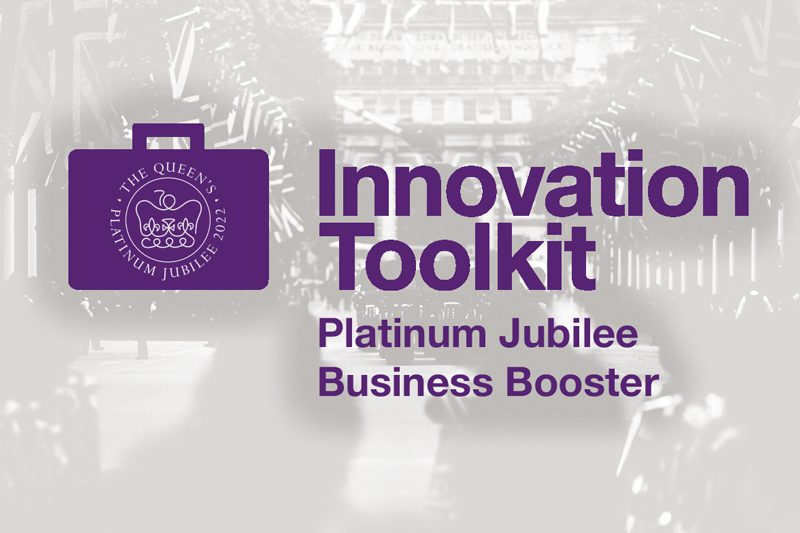 Customer experience experts Stephen Spencer + Associates (SS+A) have created a new workshop to help businesses rapidly develop and launch innovative ways of using The Queen's Platinum Jubilee to excite their customers and attract new ones.
Based on the company's Innovation Toolkit, launched in 2021, this new workshop – "The Platinum Jubilee Business Booster" – is designed to provide a creative, inclusive and results-focused process. According to SS+A's founder, Stephen Spencer, the Platinum Jubilee represents a big opportunity, although many businesses risk missing out:
"Given all the challenges of the past couple of years, it's not surprising if the Jubilee has not been on the radar screen for many organisations. Now that we are in the year itself, with six months to go there's still time to develop and implement some innovative ways to excite customers and create new business. Consumers are more ready than ever to be entertained and to feel positive, and the Platinum Jubilee is the perfect vehicle for businesses to create new experiences and, of course, new revenue opportunities."
The Innovation Toolkit has already been tested by Oxford Brookes University + Blenheim Palace during the Oxford Brookes Business Challenge Week 2021 and delivered to Destination Management Organisation (DMO), Experience Oxfordshire with positive results all round and further workshops in the pipeline.
Stephen is well-placed to guide this process, as he was the Royal Household's first Retail Manager and launched the Buckingham Palace Shop in 1993. "At the time, we were bold, and created products customers hadn't seen before," he recalls, "the shop reflected the treasures they had seen inside Buckingham Palace, and almost overnight the sales transformed what we thought was possible in terms of the business. The process we used to create success was really quite simple, and at SS+A we are passionate about helping organisations use simple techniques to create fantastic experiences for their customers."
The Platinum Jubilee Business Booster workshop, which is delivered as an interactive half day or full day session, is designed to involve the whole team (or for larger businesses, a cross-section of the team) in a process that clarifies the organisation's core strengths, creates a compelling value proposition and identifies the most receptive customer segments. Then, via what SS+A call "a facilitated innovation journey" the team will generate new and exciting ways to harness the Platinum Jubilee feel-good factor, prioritise, and then create actionable plans to take the best ideas forward.
"There are many business workshops, offering all kinds of solutions," says Stephen Spencer, "and the really exciting thing about this one is that businesses will be able to measure the return on their investment – because they will leave the workshop with plans they can implement straight away."
The Platinum Jubilee Business Booster workshops are available throughout the UK, via Stephen Spencer + Associates' network of highly experienced facilitators, known as Innovation Toolkit Guides.
The workshops are particularly suitable for businesses in the visitor economy, retail and hospitality sectors, and groups of businesses, destination marketing and town centre management organisations can all benefit from the Innovation Toolkit's ethos of "everybody working together, to build forward better."
Further information
The Platinum Jubilee Business Booster workshop can be completed in either one half day (3 hours) session, or a choice of a full day (6 hours) or two half days, for a more in-depth outcome. The workshop is based on our Experience Explorer tool – an innovation process matching an organisation's strongest assets to its potentially most receptive consumers and lucrative revenue models, leading to reimagined business, with new energy, and built for sustainability.
Quotes
"With this toolkit, the power of looking at the business through the lens of the customer will be fully understood, and mobilised to create value in every interaction, and every business decision."
Stephen Spencer, Founder
"With Stephen's help, we have been able to create three new tour opportunities developed around the customer experience and the key touchpoints that create an engaging tour. We can't wait to see them come to life."
Hayley Beer-Gamage, CEO, Experience Oxfordshire
"The toolkit supports you whilst leading your business out of Covid-19 back into profit, equipping the management and whole team with the tools to achieve their real potential."
Nick White, award-winning hotelier + hospitality mentor
ENDS
Notes to Editors
Stephen Spencer + Associates is a collaborative consulting and training organisation with a simple purpose: to help organisations and destinations extract maximum value from their customers' experiences, and in doing so to build forward better. Our team of Associates, together with our trusted Partners, offer a wealth of experience, expertise and inspiration to help businesses and places not only reimagine their proposition but also successfully deliver it, profitably and sustainably, maximising the opportunities of this new era.
The Innovation Toolkit has been developed to make this combined experience accessible to all organisations, and to support genuine innovation, recovery, and growth, towards our vision of a kinder, greener, fairer world where employees thrive and customers are delighted, time after time.
For further information please contact:
startyourjourney@stephenspencerassociates.com
+44 (0)7921 812253
High res images available on request
www.stephenspencerassociates.com
#buildforwardbetter #positivecustomerjourneys