England Originals previews new tours designed to bring more international visitors to Oxford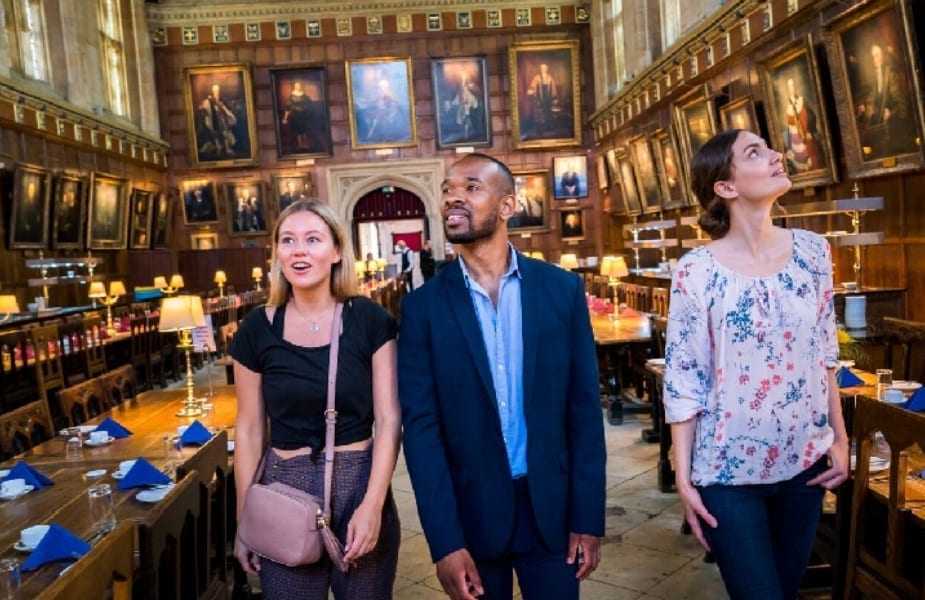 Quirky historic stories, fun facts and amazingly Instagrammable locations. For the very first time Oxford, along with 14 of England's top-ranked historic cities and the City of London, have come together as England Originals from England's Historic Cities* and are previewing their five new, hassle-free, easy to book itineraries. And there's an exciting twist, new augmented reality shines a light on the city, with interesting tales uncovered by historian Jonathan Foyle.
Available as pre-built packages or as a build-your-own-itineraries, the tours are aimed at international visitors and are easy and simple to book through England Originals' new website, www.visitlondon.com/englandoriginals. Customers will experience England close-up as they hop on and off the train straight into the heart of the cities, during each of the five multi-destination trips.
Easy to complete in three-to-four-days, Oxford is one of three cities featured in the Thinkers and Writers Tour – Discover the origins of Alice in Wonderland by Lewis Carroll during a tour of Christ Church College at Oxford University. Visit the tomb of one of England's most hated kings, Bad King John, at Worcester Cathedral. Explore William Shakespeare's birthplace and childhood home in Stratford and uncover the witches' marks carved into the beam at the top of the staircase.
Working with Jonathan Foyle, England Originals has uncovered interesting historical stories about Oxford and brought them to life through technology. Via the England's Historic Cities app, customers can traverse Oxford prior to their arrival with new table-top tours that project a 3D model of the city onto the table in-front of them. When in the city there are also nifty virtual portals that reveal Oxford in a new light.
Whether it's train travel, boutique hotels, attractions or experiences, England Originals has partnered with tour operator Golden Tours and developed a seamless customer booking experience available through its website. In addition, the handy one-stop-shop, features an array of hints, tips and ideas, ensuring customers make the most of their visit. (All products and packages are commissionable for the travel trade.)
Hayley Beer-Gamage, CEO of Experience Oxfordshire said, "We're incredibly excited to be featured in the Thinkers and Writers Tour and we're really looking forward to welcoming new and returning visitors to our city, to discover our fantastic history, attractions, hotels, restaurants, shops and so much more."
Melanie Sensicle, chair of England's Historic Cities commented, "We're delighted to be previewing these five new itineraries. England has an incredibly diverse history and these new tours are sure to capture the imagination of international visitors. Our use of story-telling and augmented reality gives a fresh, new perspective on our history, which we're excited to share."
Jonathan Foyle, Historian said, "England is studded with ancient and beautiful cities of castles, cathedrals, and myriad sites of historic events. Their variety and character can now be explored online and on foot through cutting-edge technology- for a historian, broadcaster and writer, this step-change in communication is a really exciting moment."
The four other England Original tours are the Time Travellers Tour, visiting Greenwich, Canterbury and Cambridge; the Treasure Trove Tour visiting Durham, York and Lincoln; the Wall to Wall Tour visiting Chester, Lancaster and Carlisle; and the Western Wonders Tour visiting Truro, Bath and Salisbury. It's also possible to combine the tours, allowing customers to visit numerous cities.
Those beginning or ending their visit in London are being encouraged to explore the City of London. The area is steeped in history, dating back to the Romans, and is home to many iconic sights including St Paul's Cathedral and its intriguing Whispering Gallery.
All tours will be bookable on the www.visitlondon.com/englandoriginals website from Sunday 30th September 2018.
Table Top Tours and virtual portals will be available on the England's Historic Cities app from Monday 5th November 2018.
For general information about England's Historic Cities visit www.heritagecities.com.
*England Originals from England's Historic Cities is one of a number of projects to benefit from funding from the UK Government's £40 million Discover England Fund. The Fund is administered by VisitEngland and involves a programme of activity to ensure that England stays competitive in the rapidly growing global tourism industry, by offering world-class English tourism products to the right customers at the right time. The Fund is a central government-funded programme of activity, supported by match funding by partners in the public and private sectors.
#EnglandOriginals
#ExperienceOx
-Ends-
For further information, contact Lauren Broughton
lauren@diligentcomms.com | + 44 (0) 7725 865 063
Notes to editors
About England's Historic Cities
England's Historic Cities is a partnership of destinations brought together by common product and interests. Its purpose is to exchange knowledge, find solutions to shared challenges, benchmark performance, raise the profile of England's heritage product and facilitate joint activity, all with the intention of maximising the potential of the cities' visitor economies.
Its geographical footprint spans the length and breadth of England and membership comprises 13 of the country's premiere heritage locations: Bath, Canterbury, Cambridge, Chester, Carlisle, Durham, Greenwich, Lancaster, Lincoln, Oxford, Salisbury, Stratford and York. They are joined in England Originals by the City of London, and emerging historic destinations, Truro and Worcester.
Additional partners to England Originals are English Heritage, the Historic Houses Association and the National Trust, as well as long-standing strategic partners to the consortium, UKinbound and London and Partners.
About the Discover England Fund
• In November 2015, the Government announced a £40 million Discover England Fund; an unprecedented opportunity for English tourism. The Fund aims to deliver world-class bookable tourism products joined up across geographies and/or themes; including integrated transport solutions to provide an end-to-end customer experience.
• The Fund supports the growth of one of England's most successful export industries, inbound tourism. Tourism is an industry that delivers jobs and economic growth across the English regions – contributing some £106bn each year to the economy and supporting 2.6 million jobs.
• The Fund supported a number of pilot projects in year one (2016/17) that tested product development approaches. In years two and three, 2017-19, the fund will support:
o A number of large-scale collaborative projects to be delivered over the two-year period 2017-2019 that will create a step-change in bookable English tourism product for international consumers,
o A smaller funding pot for new one-year pilot projects (in year two), and
o Continuation funding for existing year one projects that demonstrated early learnings (in year two)
About VisitBritain/VisitEngland
• VisitBritain/VisitEngland is the national tourism agency – a non-departmental public body funded by the Department for Culture, Media & Sport (DCMS)
• Working with a wide range of partners in both the UK and overseas, our mission is to grow the volume and value of inbound tourism across the nations and regions of Britain and to develop world-class English tourism product to support our growth aspirations. For further information and to access the latest in-depth market intelligence and statistics visit www.visitbritain.org or www.visitbritain.com and www.visitengland.com for consumer information.
About Experience Oxfordshire
• The official Destination Management Organisation (DMO) for Oxfordshire. We are the trading arm of the parent charity, the Experience Oxfordshire Charitable Trust, and are a not-for-profit partnership organisation that is committed to the promotion, management and development of Oxfordshire as a great place to live, work and do business.
experienceoxfordshire.org