Artisan Christmas Market Returns to Blenheim Palace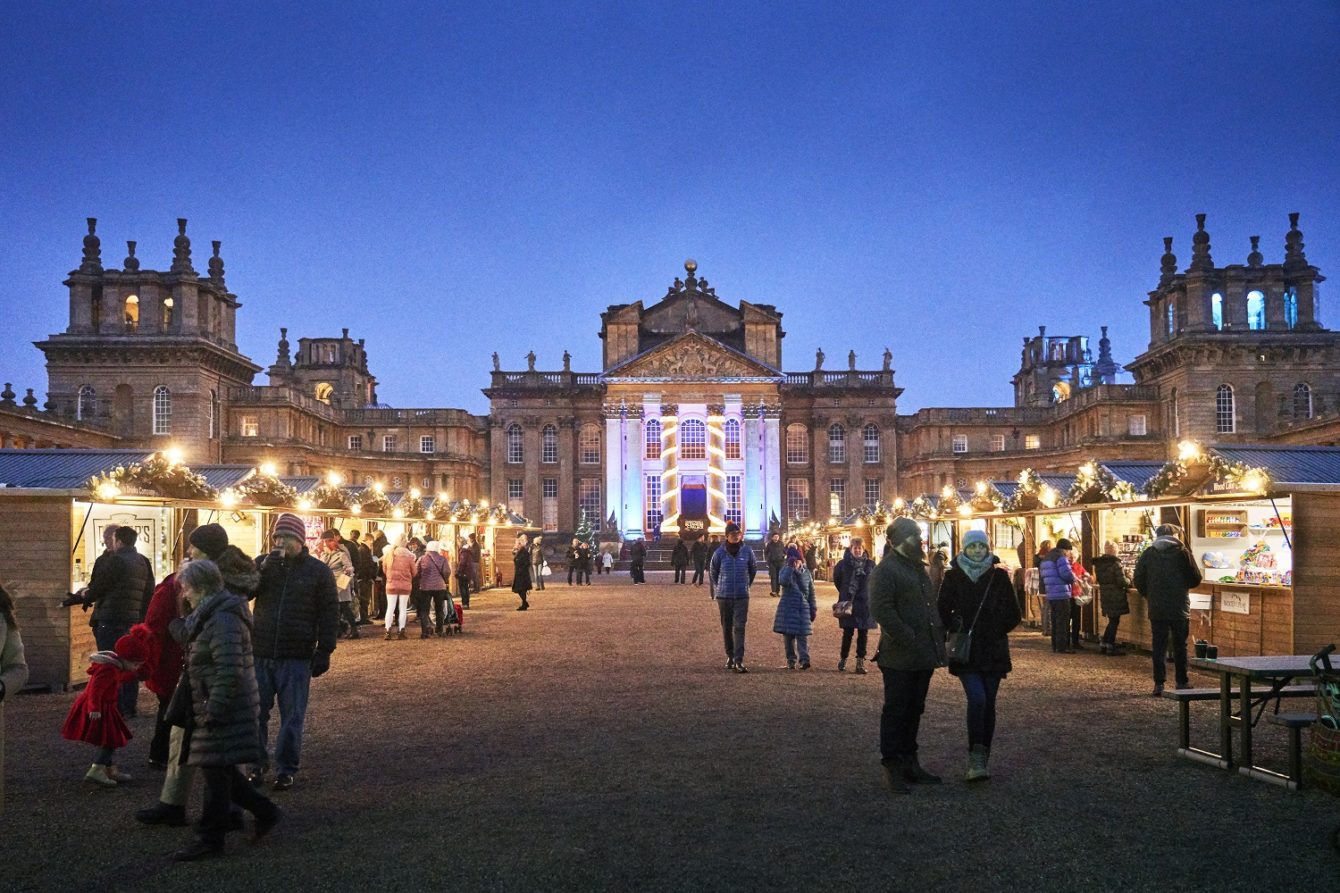 Between 19 November – 19 December 2021, Blenheim Palace's Great Court will be transformed into a spectacular seasonal market, with traditional wooden chalets showcasing a range of festive treats from over 50 designer-makers and artisan food and drink producers.
Taking place against the stunning backdrop of the baroque Oxfordshire Palace, the Christmas Market is the perfect way to escape the bustle of the high street and the boredom of online shopping to really savour the yuletide atmosphere.
Filled with a variety of hand-picked, irresistible gifts, unique works by a range of designers and tempting treats to taste and take home, it's the perfect addition to a Christmas day out at Blenheim Palace.
Unique presents include everything from handcrafted tweed accessories, paintings and pet portraits to scented candles and kaleidoscopes.
Get in the festive spirit and try winter warming tipples – from local artisan beers, traditional and flavoured rums to wines from the US and gin from the Hebridean island of Colonsay. There are craft vodkas from Sapling Spirits who plant a tree for every bottle they make – all adding to the feel-good factor as you buy.
Great British cheeses, award-winning sausages, gourmet nuts and locally sourced charcuterie are perfect for seasonal feasts and those with a sweet tooth won't be disappointed by chocolate kisses, brownies, marzipan, liquorice and more.
The Christmas Market is part of a whole host of festive entertainment on offer at Britain's greatest palace.
This year Blenheim Palace's stunning State Rooms have been transformed into a fairy-tale fantasy to retell the enchanting Story of The Nutcracker and the Estate's parkland and gardens welcome back the spectacular Illuminated Trail offering after-dark magic for all the family.
Entry to the Christmas Market is free to all (parking charges apply).
Access is also included with tickets to The Story of the Nutcracker and the Illuminated Trail – the combined ticket is available so visitors can enjoy the whole festive experience at a reduced rate.
The Christmas Market is brought to you by leading events promoter Sony Music, in partnership with Blenheim Palace and Living Crafts Events.
For more information please contact: Matt Dixon | matt@flamingo-marketing.co.uk | T: 01637 873379
Notes to Editors
Admission:   Christmas Market open from 10.30am. Entry to Market free to all, but parking for Blenheim Palace must be booked in advance.
Christmas Package – Nutcracker, Light Trail and Market
Combined tickets from: Adult £50, Concession: £48.50, Child (age 3-16) £30,
Family £140 (2 adults & 2 children).  Parking: £10.
Annual Pass Holders*: Adult £21.50, Child (age 3-16) £15,
Family £70 (2 adults & 2 children). *Price applies for entry into the Palace before 4.00pm
Free entry for carers and children aged 2 & under.
Parking: £10. Parking charges apply after 10.00am.
For full pricing and ticket information visit blenheimpalace.com/christmas
Image Credits
Photos by Richard Haughton © Sony Music
About Blenheim Palace
Blenheim Palace is the home of the 12th Duke and Duchess of Marlborough and the birthplace of Sir Winston Churchill. This masterpiece of 18thcentury Baroque architecture boasts over 300 years of history and is a World Heritage Site, surrounded by more than 2000 acres of 'Capability Brown' landscaped Parkland and Formal Gardens.
Not only an iconic part of history, Blenheim Palace is a living and changing experience with a wealth of events, themed tours and exhibitions throughout the year.
blenheimpalace.com | FB @BlenheimPalace | Twitter @BlenheimPalace
About Sony Music
Sony Music has been delivering illuminated Christmas trails for over eight years. Each trail is carefully designed to showcase the natural and unique environment of the individual location. There are currently 22 trails across the UK, Europe, USA, and Australia within the My Christmas Trails and Lightscape portfolios.
The chosen partners for national and international heritage and prestigious venues include: Blenheim Palace; The National Trust; Forestry England; The Royal Botanic Gardens, Kew; Royal Botanic Garden, Edinburgh; Botanic Gardens, Chicago, USA and Royal Botanic Gardens Victoria, Melbourne, Australia.
mychristmastrails.co.uk | FB @mychristmastrails | Twitter @mychristmastrails
About Living Crafts
Living Crafts Events promote the best of handmade British arts and design and has been organising consumer shows across the South of England for nearly 50 years. Providing a shop window for hundreds of small businesses from across the UK.
Blenheimpalacechristmasmarket.co.uk | livingcrafts.co.uk
 About Culture Creative

Culture Creative is a creative project and production management company based in the North East of England. The Company works across a wide range of cultural fields including art, sport, heritage, tourism, festivals and events, developing projects from concept to delivery. Since 2013 Culture Creative has worked closely with Sony Music to create illuminated trails in various venues across the UK and overseas.
www.culturecreative.co.uk | FB @culturecreativeltd | Twitter @CCLCreative | Instagram @culturecreativeltd