Bicester Village has partnered with Experience Oxfordshire to create a campaign highlighting Oxfordshire's local treasures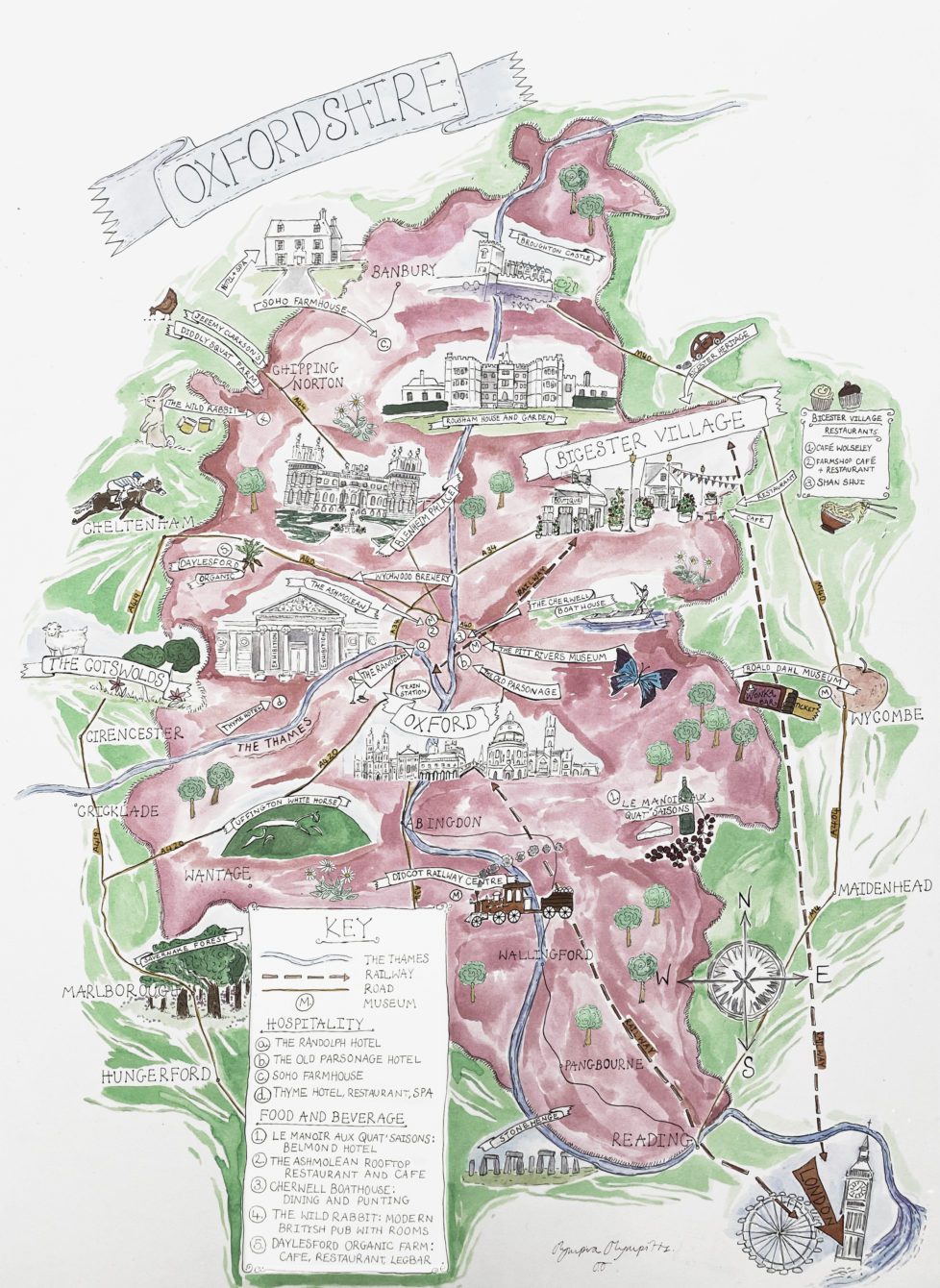 Oxfordshire, August, 2021: The open-air luxury shopping destination, Bicester Village has partnered with Experience Oxfordshire to celebrate some of Oxfordshire's best loved local gems.  From hillside walks to honey-stoned villages, there are plenty of green options for the ideal staycation.
As international travel remains difficult, exploring the UK continues to be the activity of choice this summer with 73% of Brits saying they were likely to travel within the UK after Coronavirus, Accumulate 2021. 
To celebrate the campaign and Oxfordshire's captivating attractions, Bicester Village has commissioned a series of twelve illustrations showcasing the country's finest estates and gardens – each of which make the perfect addition to the open-air shopping experience at Bicester Village. Illustrator Olympia Olympitus reimagines these hot spots alongside a downloadable map that can be used to plan the perfect day out.
Oxfordshire is one of the UK's top hot spots, with 30 million visitors each year*, accumulating £2.5billion into the local economy and supporting over 42,000 jobs.  From the Winston Churchill afternoon tea at Blenheim Palace, to champagne and strawberries whilst punting on the river; Visiting Jeremy Clarkson's Diddly Squat farm or having a relaxing stay at The Old Parsonage, there are hundreds of things to do when visiting the region.
Bicester Village promise's a memorable day out in the heart of the English countryside where friends and family can have an enjoyable shopping experience in the open-air; with more than 160 boutiques and new openings from Off White, Isabel Marant, Elemis and Anastasia Beverly Hills, alongside a children's playground, there really is something for everyone.  Dining out at the village is also a must-do with an abundant offer of global cuisine and outdoor terraces including the award winning La Tua Pasta, London Grade Coffee, farmshop café and restaurant, the British classic Café Wolseley and Shan Shui, which explores the very best of Asian cuisine.
Hayley Beer-Gamage, Chief Executive of Experience Oxfordshire, said: "It has been great to work with Bicester Village on this new map of Oxfordshire which showcases just how accessible Oxfordshire is and the many great attractions we have to offer across the city and county. This is a key inspiration piece in attracting visitors back this summer and autumn and aims to get visitors staying longer in Oxfordshire which aligns with our ambition statement and recovery planning. Experiencing Oxfordshire is the thing to do this year and this campaign is a great showcase for our fantastic destination".
Experience Oxfordshire has also just launched an Arts & Culture campaign, the campaign will run throughout August and September and will include 26 Arts and Cultural organisations across the county ranging from museums, art galleries and palaces to theatres and festivals.  It aims to highlight Oxfordshire as a world-class arts and culture destination and promote the many events that are taking place in Oxfordshire in the coming months. There will also be a new hospitality guide launching soon to further increase desirability of Oxfordshire for tourists and potential guests looking for a day trip or staycation.  More information can be found on  www.experienceoxfordshire.org
– ENDS –
Facebook: BicesterVillage | Twitter: @BicesterVillage | Instagram: @BicesterVillage
For more information, please contact:
Ajay Teli, Bicester Village, at ATeli@ValueRetail.com
Brittany Griffin, ScienceMagic.Inc at Brittany.griffin@sciencemagic.inc
Hollie Kinloch, ScienceMagic.Inc at Hollie.kinloch@sciencemagic.inc
Notes to Editors
*Figure taken pre Covid-19 / 2019
ABOUT BICESTER VILLAGE 
Founding member of The Bicester Village Shopping Collection, Bicester Village is located in the heart of the Oxfordshire countryside. More than 160 boutiques line pedestrianised, landscaped streets in a charming open-air and spacious setting that evokes the ambiance of the villages of south east England. British and international fashion and luxury brands offer savings of up to 60% on the recommended retail price, all year round, alongside restaurants and cafés offering take-away culinary treats to enjoy on the Village's landscaped terraces. New Shopping Protocols ensure a curated and relaxing day-out experience, with plenty of complimentary parking and Bicester Village Station providing a regular direct 46-minute train service from London Marylebone. Discover more at BicesterVillage.com​
ABOUT EXPERIENCE OXFORDSHIRE
Experience Oxfordshire is the official Destination Management Organisation (DMO) for Oxfordshire. We are the trading arm of the parent charity, Experience Oxfordshire Charitable Trust, and are a not-for-profit partnership organisation that is committed to the promotion, management and development of Oxfordshire as a great destination to live, work, visit and do business whilst improving growth and productivity across the visitor economy. The DMO provides essential business advice and support to visitor economy businesses across Oxfordshire. To find out more about Experience Oxfordshire and the benefits of becoming a partner go to www.experienceoxfordshire.org/partner or call 01865 686439.