Chainsaw Artist Creates Bee Bench at Blenheim Palace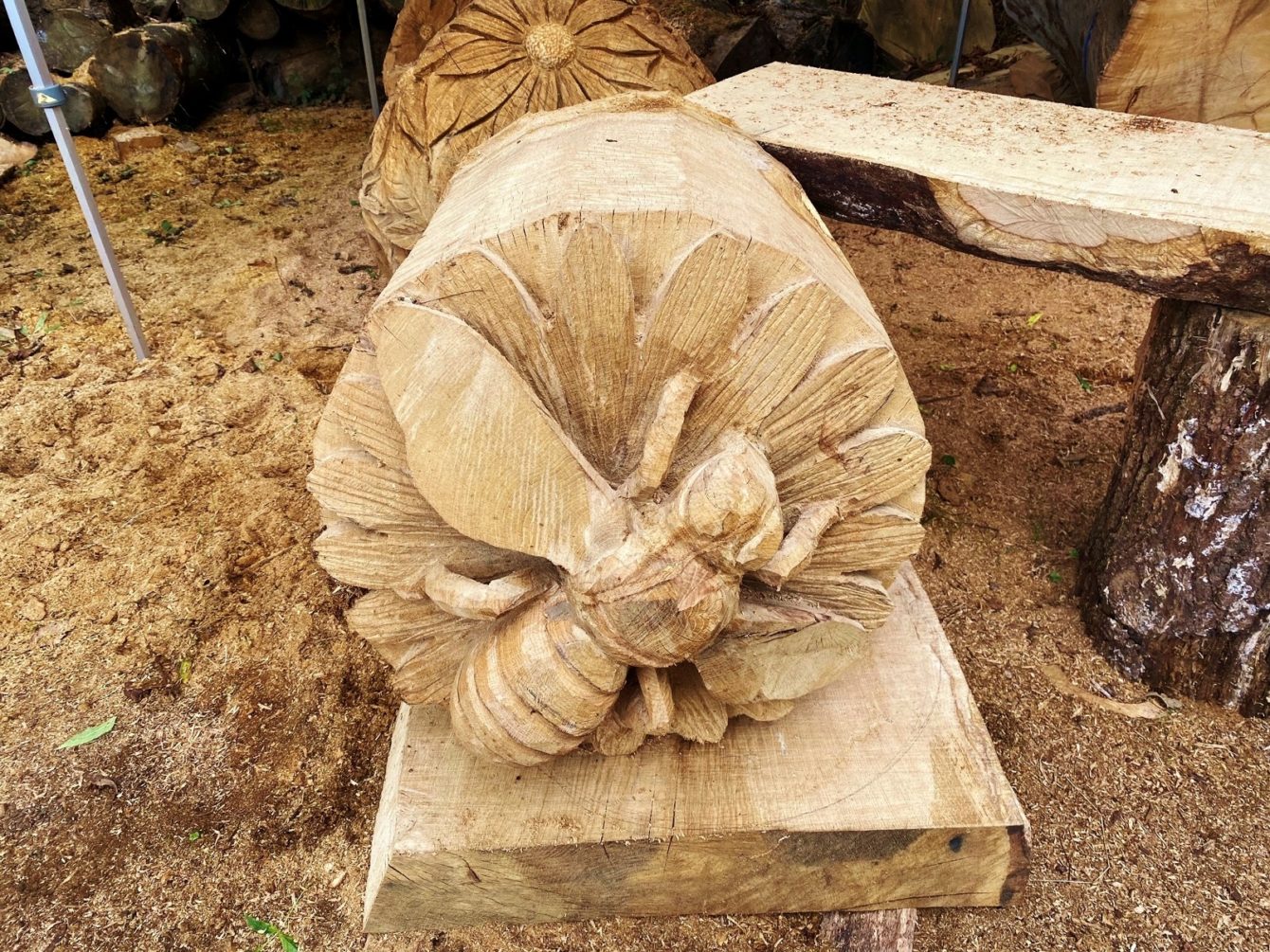 A champion chainsaw artist has unveiled a pair of nature-inspired carved benches from fallen trees at Blenheim Palace.
Wood sculptor Matthew Crabb created a bee bench and a flower bench for the Oxfordshire UNESCO World Heritage Site.
The bee bench, which was inspired by the estate's wild honey bee populations, overlooks the lake, while the floral seat is located beside a tree on the Palace's South Lawn.
Based in Somerset, Matthew works mainly on large scale wood sculptures. Each of the Blenheim benches took about 50 hours for him to complete.
"Every wooden sculpture that I create is part of a progression that inspires the next. I want to be impressed by the finished result as much as my clients are," said Matthew.
"Each work of art is inspired by the particular properties and characteristics of the wood I am working with – therefore no two pieces are ever the same," he added.
Last year Matthew also sculpted an oak tree bench within Blenheim's ancient High Park woodland and it was this that prompted the estate commissioned him to create the two new benches.
"Matthew's work really is extraordinary and we're absolutely delighted with these two new benches," said Blenheim's Head of Gardens, Hilary Wood.
"His attention to detail and ability to follow the natural lines and grain of the fallen trees to inspire the finished artwork makes each of the benches entirely unique.
"They're also really comfortable and provide the perfect place to sit back and admire the stunning views across the estate," she added.
Matt started the Matthew Crabb Sculpture Studio in 2006. In 2012 he won both the Sandringham Cup and the English Open Chainsaw Carving Championship.
In 2015 he was commissioned to create a large wooden skeleton for English multimedia street artist D*Face , which was exhibited in Spain.
Issued on behalf of Blenheim Palace. For more information please contact Samantha Vaughan on 07469 129743 or SVaughan@blenheimpalace.com or Niamh O'Sullivan at NO'Sullivan@blenheimpalace.com.
About Blenheim Palace
Home to the Dukes of Marlborough since 1705, Blenheim Palace was designated a UNESCO World Heritage Site in 1987.
Set in over 2,000 acres of 'Capability' Brown landscaped parkland and designed by
Vanbrugh in the Baroque style, it was financed by Queen Anne, on behalf of a grateful nation, following the first Duke of Marlborough's triumph over the French in the War of the Spanish Succession.
Today it houses one of the most important and extensive collections in Europe, which includes portraits, furniture, sculpture and tapestries.
Blenheim Palace is also the birthplace of one of Britain's most famous leaders, Sir Winston Churchill, and it was his father who described the vista on entering the Estate from the village of Woodstock as the 'finest view in England'.