City Sightseeing Oxford and Park& Ride 300 services return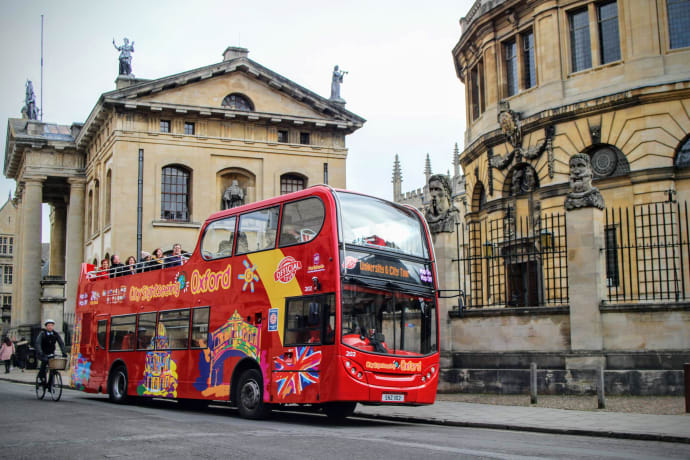 Oxford's open-top bus tour and Park & Ride 300 service will return on 12th April, in a boost to the city's bounce back from lockdown.
The popular City Sightseeing Oxford tour will operate every half an hour on Mondays to Thursdays and every 20 minutes on Friday, Saturday and Sunday. The attraction is a key part of Oxford's tourism and hospitality trade and its return is a welcome boost to the city's visitor economy.
Oxford Bus Company also announced its Park & Ride 300 service which connects Pear Tree and Redbridge with the city centre is re-starting on 12th April. It will operate every ten minutes. It also confirmed the Park & Ride 400 service will continue to its current timetable, providing a frequency of every 15 minutes.
The return of pre-pandemic Park & Ride timetables are designed to support people returning to work and leisure activities. Both City Sightseeing Oxford and the Park & Ride 300 were suspended in January after the Government announced the third national lockdown. The reinstatement marks the start of lifting of national restrictions and is designed to help Oxford reignite its economy.
A 'ComboSaver' ticket is available for Park & Ride passengers who wish to enjoy the open-top bus tour of the city. City Sightseeing tickets will be available to purchase on the bus, from our travel offices, or via sellers at Oxford rail station and the Carfax Tower, or via an app.
Phil Southall, Oxford Bus Company Managing Director said: "We are pleased to announce the return of more services, which means all our city and Park & Ride services will be operating their 'new normal' frequencies, many of which are operating at levels seen prior to the pandemic starting in March 2020.
"We are looking forward to welcoming more customers back on-board as people return to travelling to work and leisure pursuits. It is important people re-embrace public transport as they return to activities to help prevent congestion and to protect air quality. We have ensured attractive services are in place across our network to facilitate commuters from 12th April.
"Our team are proud to continue to play an important role in supporting Oxford's economy, our communities, and the overall collective effort to bounce-back together."
The City Sightseeing tour, owned by Oxford Bus Company, takes in the city's famous sites, including the Oxford Castle, Christ Church College, Magdalen Bridge, Sheldonian Theatre, and Ashmolean Museum. On-board audio commentary is available in 14 languages, and a version for children, which includes quizzes, is also available.
Oxford Bus Company are maintaining an enhanced cleaning and hygiene regime across its entire fleet. Reduced vehicle capacities remain in place to help maintain social distancing and customers are asked to use contactless payment or purchase tickets from apps.
Ends
For media inquiries please contact:
Fortitude Communications:
Greig Box Turnbull
gbt@fortitudecommunications.com / 03301 331 074