City Sightseeing Oxford Recognised for 20 Years of Open-Top Tours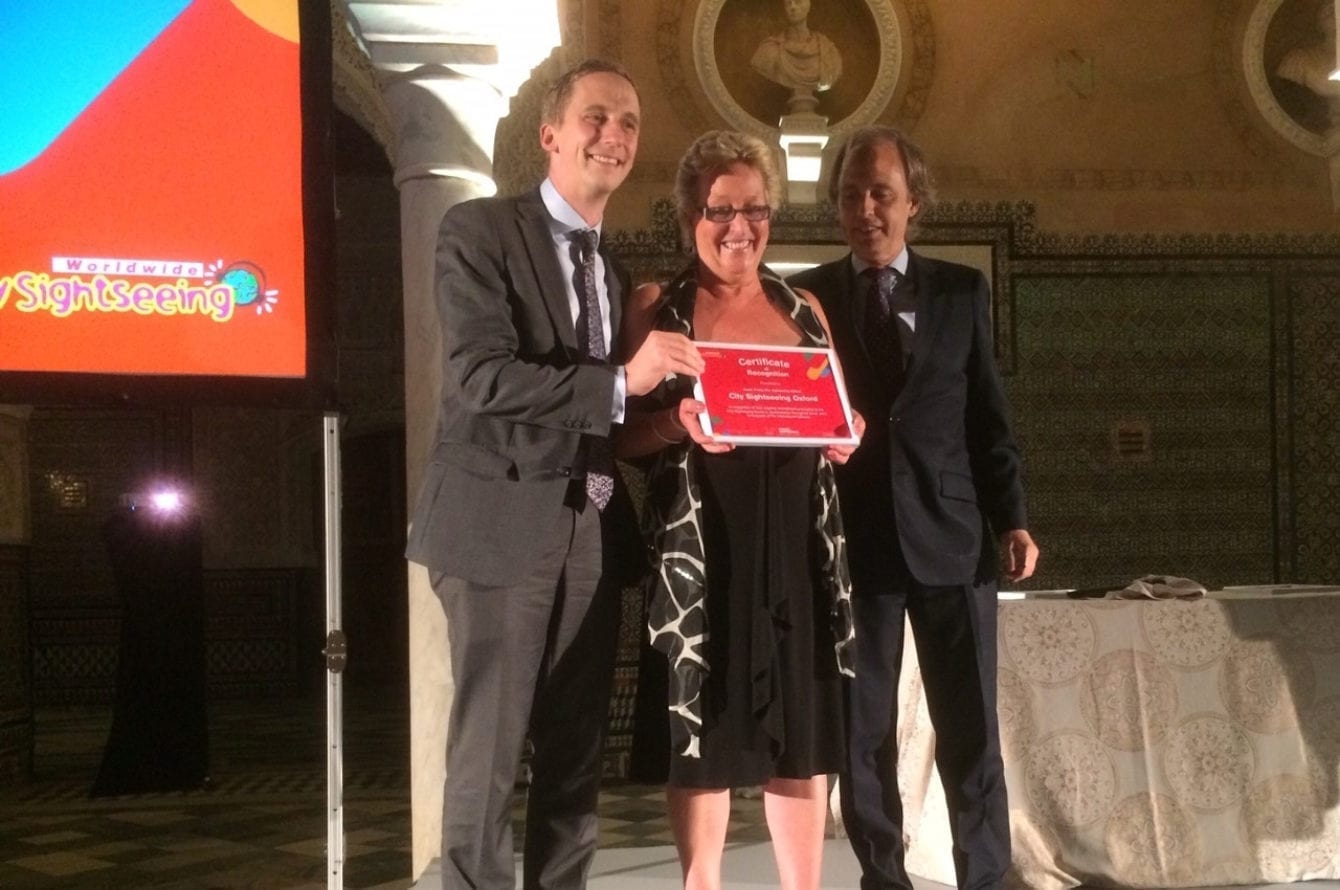 City Sightseeing Oxford was recognised at an international industry event for being one of the founder members of the global tour network, as it marked its 20-year anniversary.
Owned by the Oxford Bus Company, City Sightseeing Oxford, is part of a global network of operators which provide open-top tours in more than 100 locations around the world. It received a special certificate from Enrique Ybarra, CEO of City Sightseeing Worldwide at a presentation to mark 20 years of service, as one of the founder members. The award was presented as a celebration at the Casa Pilatos Palace in Seville, the location of the original "City Sightseeing" tour.
Jane Marshall, General Manager of City Sightseeing Oxford, said: "We're proud at the Oxford Bus Company to be part of the City SightSeeing worldwide network of operators. Open-top bus tours are a fantastic value for money way to visit a city and see the sights. It was an honour to visit the place where City Sightseeing originated and to be awarded with a special certificate for the Oxford tour's contribution to the network."
This year thanks to government green funding secured by Oxford City Council, five vehicles in the fleet of Oxford City SightSeeing buses will be converted to electric vehicles.
Luke Marion, Finance and Commercial Director at the Oxford Bus Company, said: "City Sightseeing has been providing ideal ways for tourists to enjoy their visits to great cities like Oxford around the world for two decades, and the brand has been a fantastic success in the tourism industry, which generates a large positive benefit to our city's economy. It was fantastic to share the stage with other bus operators from cities including Edinburgh, Glasgow and Seville and to learn about some of the initiatives they've been trying in their own cities.
"We've invested in improving the service here in Oxford and are entering a very exciting time for Oxford City SightSeeing as we covert our first vehicle to electric power, as part of our on-going strategy to be as environmentally friendly as possible."
City Sightseeing Oxford operate one hour guided open-top tours of the city. The tour takes in more than 20 of Oxford's best tourist attractions. Each bus is fitted with multi-lingual recorded commentaries in 13 different languages.