Christmas at Blenheim Palace
November 20, 2020 @ 4:30 pm - January 3, 2021 @ 8:30 pm
Event Navigation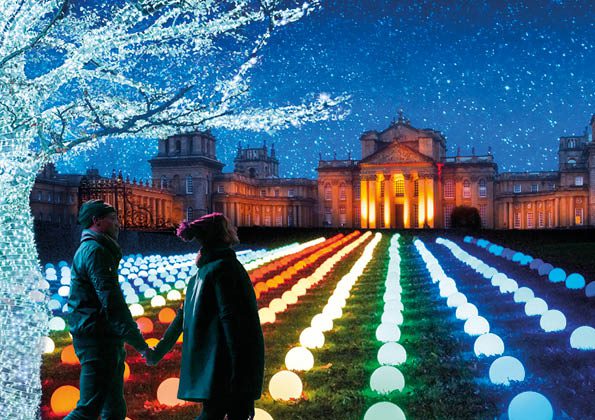 The illuminated trail makes a welcome return to Blenheim Palace transforming England's finest view with a bright and magical winter walk like no other.
Inspired by the landscape itself, visitors embark on a winterland adventure, dramatically illuminated with stunning lights. Featuring lasers and light projections, visitors wander under magical tree canopies drenched in seasonal colour and dripping with silvery shards of light, frosty snowflakes, stars and baubles.
From the Heart of the Stars scattering ethereal light across the lawn to a scented fire garden that adorns the Water Terrace and onwards to dynamic, colour-changing neon tunnels, lakeside reflections and onto a mesmerising place where, beneath the branches of a sprawling tree, softly glows the fairy-fire known as Will-o-the-Wisps.
Walk under larger than life arches of light into a world festooned with seasonal cheer enhanced by a specially selected soundtrack of festive classics.
Passionate about food, our talented street food vendors bring a delicious twist to the treats on offer.
Tickets for popular dates sell out fast therefore early booking is advised.
Advanced Admission Tickets From: Adult £19 – £21.50, Child (Age 3-16) £13-£15, and Family £60-£68 (2 adults and 2 children).
Blenheim Annual Pass holders receive £1.00 per person discount for advance booking only. Free entry for carers and children aged 2 & under.
Parking £10.  Must be booked in advance.
For all pricing, including on the day prices and ticket information visit: blenheimpalace.com/christmas