Experience Oxfordshire launches 'Escape to Oxford' campaign to support tourism recovery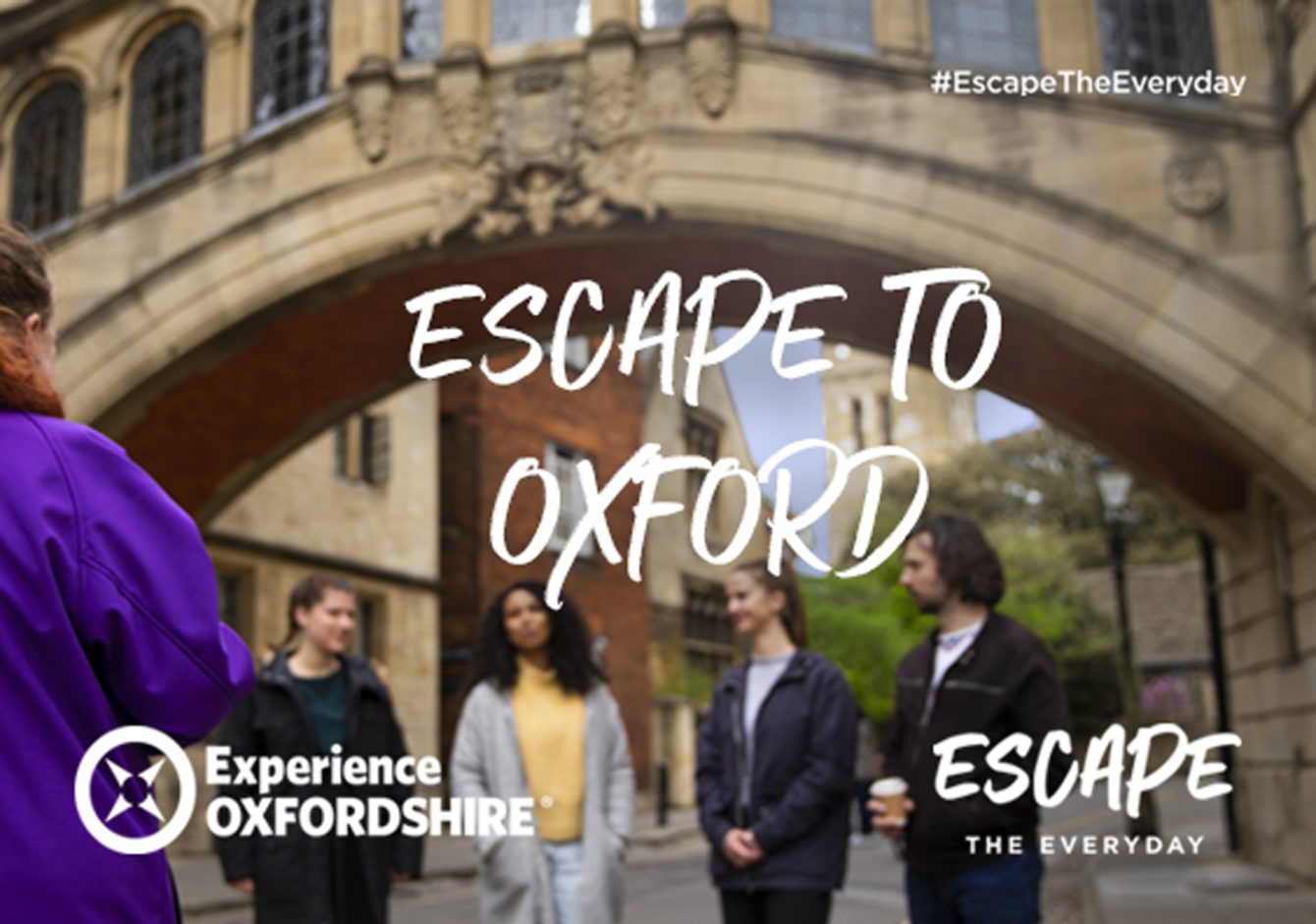 Experience Oxfordshire, the Destination Management Organisation for Oxfordshire, is encouraging domestic visitors to 'Escape to Oxford' this summer with the launch of a new campaign funded by VisitEngland. The local marketing initiative forms part of the National Tourist Board's 'Escape the Everyday' marketing campaign supporting England's tourism industry recovery.
The campaign, which aims to attract 25-44 year olds with no children to enjoy days out and short breaks in the city and beyond, will be delivered digitally through to the end of June.
Prospective visitors will be driven to the 'Escape to Oxford' landing pages on Experience Oxfordshire's website, where they will be encouraged to visit and book experiences ranging from an Oxford Official University and City Walking Tour to an Evening Cocktail Cruise on the river Thames, and from an overnight stay in a period property hotel to a luxury shopping experience beyond the city in Bicester Village.
Experience Oxfordshire's CEO, Hayley Beer-Gamage said: "We're excited to see 'Escape to Oxford' showcasing the city, and county, alongside other destinations across England as part of the national VisitEngland campaign.
"This campaign will support our visitor economy, as businesses build back from the effects of the pandemic, as well as raise our destination profile, attracting visitors to Oxfordshire and driving bookings this summer and beyond."
Through the 'Escape to Oxford' campaign, Experience Oxfordshire has worked closely with local tourism businesses to create new, engaging content including videos and photography showcasing Oxford and beyond as a must-visit destination, as well as bookable experiences for the consumer to purchase. These opportunities directly support local businesses and provide increased choice and information for the consumer in planning and booking breaks and experiences in the city.
Themed itineraries also feature, alongside attractions, places to stay, eat and drink, as well as what's on and the ease of getting to Oxford.
VisitEngland Director, Andrew Stokes, added: "With the slower return of international tourists, now is the time to visit our wonderful cities and remind ourselves why they are such a draw. The funding will also support local businesses who have been working so hard to welcome visitors back and provide a stand-out experience."
The 'Escape the Everyday' funding aims to allow Experience Oxfordshire to drive bookings, run paid media activity, track consumer booking data, and promote through press and PR channels.
**END**
Issued on behalf of Experience Oxfordshire by Flamingo Marketing. For more information contact Matt Dixon at matt@flamingo-marketing.co.uk or 01637 808220, and press@experienceoxfordshire.org
Images
Available via the following link.
Image 1a: Escape the Everyday in Oxford
Image 1b: Oxford Official University and City Walking Tour
Image 2: Oxford River Cruises
Image 3: Escape to Oxford for Time Together
Editor's Notes
The Escape to Oxford campaign highlights bookable product on the Experience Oxfordshire e-commerce platform including Oxford Official Walking Tours public and private guided tours; Oxford River Cruises; City Sightseeing Oxford; St Margaret's Hotel; New Theatre Oxford; Blenheim Palace, Park and Garden; a luxury shopping experience at Bicester Village, available through the online shop at www.experienceoxfordshire.org/shop
The 'Escape the Everyday' fund follows the previous VisitEngland Destination Management Organisation (DMO) marketing fund in early 2021 which was designed to support the UK's tourism industry recovery by encouraging potential visitors to explore, discover and treat themselves to a UK short break.
The grant scheme was open to all DMOs in England (including those who had received funding before) which met the eligibility criteria and could deliver the aims and objectives of the fund.
Experience Oxfordshire is the official Destination Management Organisation (DMO) for Oxfordshire, and the trading arm of the parent charity, Experience Oxfordshire Charitable Trust, a not-for-profit partnership organisation that is committed to the promotion, management, and development of Oxfordshire as a great destination to live, work, visit and do business whilst improving growth and productivity across the visitor economy. The DMO provides essential business advice and support to visitor economy businesses across Oxfordshire.
www.experienceoxfordshire.org
www.experienceoxfordshire.org/partner
www.facebook.com/experienceoxfordshire
www.twitter.com/ExperienceOx
www.instagram.com/experienceoxfordshire