Experience Oxfordshire Launches 'Opening Up Oxfordshire' Campaign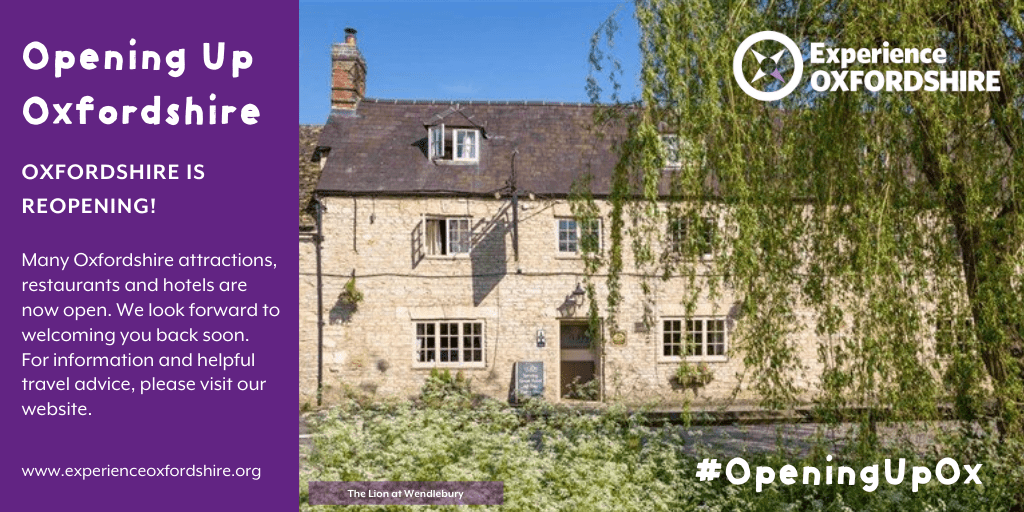 Experience Oxfordshire, the Destination Management Organisation for the county, is launching a new digital campaign to support the reopening of Oxfordshire's visitor economy as restrictions begin to ease and the county emerges from lockdown.
The launch of the campaign coincides with the reopening of many hospitality and tourism businesses in the county this weekend, following the announcement last week that much of the visitor economy sector will be able to open (subject to conditions) from 4th July.
Designed to promote the reopening of Oxfordshire's visitor economy, Experience Oxfordshire's new 'Opening Up Oxfordshire' (#OpeningUpOx) campaign aims to support Oxfordshire's visitor economy businesses and build consumer confidence.
The campaign targets domestic visitors to Oxfordshire, including local residents and national visitors, and reassures them that Oxfordshire looks forward to welcoming them back to our world-class destination. It will also remind potential visitors to check ahead of their visit for any lockdown restrictions affecting their visit before making bookings.
The campaign offers visitor economy businesses a chance to promote their reopening as part of a wider destination campaign, by highlighting that they are open and taking appropriate precautions to keep visitors safe.
Experience Oxfordshire are promoting the campaign digitally through PR, social media and web activity initially with more creative being released as the opening up of Oxfordshire develops.
Hayley Beer-Gamage, Chief Executive of Experience Oxfordshire, commented:
"Experience Oxfordshire are delighted to see the visitor economy sector move to the next stage of reopening this weekend. It is great to see businesses reopening, people returning to work and the city, towns and villages start to become re-energised. However not all businesses will be reopening yet and it is still very much a phased process which is why our message is around 'Opening up Oxfordshire' because everything is not yet ready or possible. This campaign highlights the fast-moving actions Experience Oxfordshire are taking to support our partners and valuable visitor economy at every step of recovery and are adapting our message accordingly. We have a fantastic destination to visit and are now focused on welcoming back locals and visitors in an environment they feel safe and comfortable in. We would encourage all visitor economy businesses across Oxfordshire to use #OpeningUpOx in their online communications so the campaign can gain traction and we can raise our destination profile and visitor engagement.  We want to support businesses through this reopening stage and try to make the most of the valuable summer season that is left. These have been extremely challenging times for everyone, we hope this is the start of more positive times for all and what better way to start that than by experiencing Oxfordshire."
Experience Oxfordshire's Opening Up Oxfordshire (#OpeningUpOx) campaign compliments VisitEngland's 'Know Before You Go' public information campaign to reassure visitors as restrictions are lifted by checking about what is safe to do and when. VisitEngland's Know Before You Go website is already signposting to the Experience Oxfordshire consumer website as an essential information source for visiting Oxford and Oxfordshire. The website www.experienceoxfordshire.org will encourage visitors to check ahead for travel information and up to date information on openings. The website will also feature the industry standard 'We're Good to Go' supporting mark on all partner businesses that achieve this standard.
Experience Oxfordshire will continue to run the #DreamOxfordshire campaign that was launched during lockdown and this is still aimed at inspiring future visits to the city and county from both domestic and international visitors.
For more information about participating in the Opening Up Oxfordshire (#OpeningUpOx) campaign please contact marketing@experienceoxfordshire.org for toolkit and assets.
***ENDS***
For more information contact:
Hayley Spore
Email: press@experienceoxfordshire.org / hayley.spore@experienceoxfordshire.org
NOTES TO THE EDITOR:
Experience Oxfordshire is the official Destination Management Organisation (DMO) for Oxfordshire. We are the trading arm of the parent charity, Experience Oxfordshire Charitable Trust, and are a not-for-profit partnership organisation that is committed to the promotion, management and development of Oxfordshire as a great destination to live, work, visit and do business and improving growth and productivity across the visitor economy.
www.experienceoxfordshire.org/partner
Twitter (B2C): @ExperienceOx, Facebook: @experienceoxfordshire, Instagram: @experienceoxfordshire
Twitter (B2B): @ExperienceOxBiz, LinkedIn: @ExperienceOxfordshire
Twitter (Venues): @ExOxVenues