Experience Oxfordshire Promotes the County to Inbound Visitors at Birmingham Airport During English Tourism Week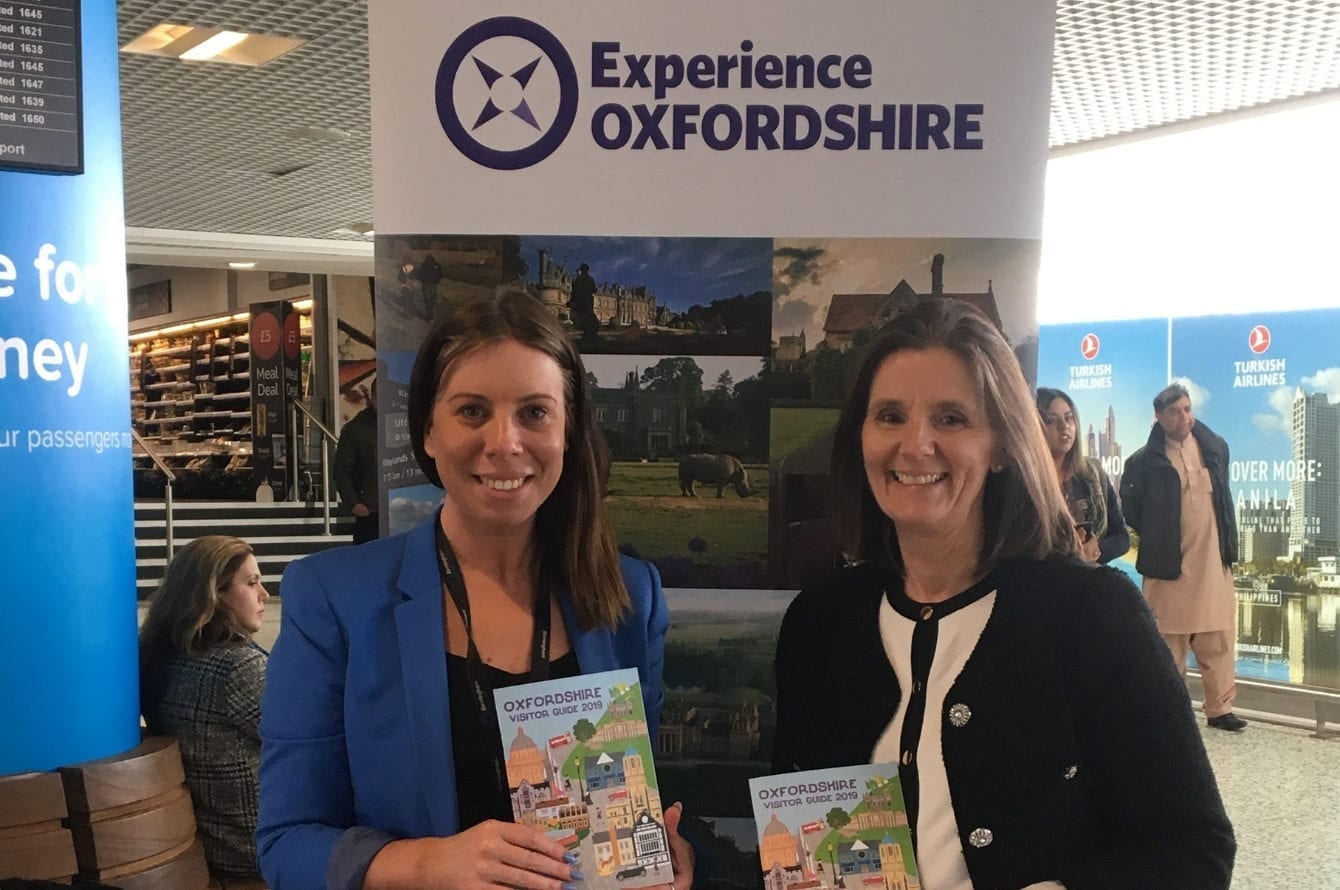 Experience Oxfordshire were promoting Oxfordshire during VisitEngland's English Tourism Week (30th March – 7th April) with a pop-up in Birmingham Airport's arrivals terminal on Tuesday 2nd April.
With inbound visitors and residents arriving from domestic and long-haul flights, the team were busy handing out Oxfordshire Visitor Guides and encouraging tourists and residents to explore Oxfordshire and enjoy the array of things there are to see and do across the county.
Experience Oxfordshire's partnership with Ambassador partner Birmingham Airport focuses on drawing incoming visitors to Oxfordshire; the airport is situated just north of the county with rapid rail and motorway links, making it an ideal travel link for visitors to Oxfordshire. Working with Birmingham Airport to promote Oxfordshire is an important strategic asset to Experience Oxfordshire's work as the Destination Management Organisation for the county, during English Tourism Week and into the future.
Commenting on the event, Hayley Beer-Gamage, Chief Executive of Experience Oxfordshire said:
"We are delighted to work with the team at Birmingham Airport, an Ambassador partner of Experience Oxfordshire, to further our ambition of promoting Oxfordshire as a world-renowned destination of choice to inbound visitors. We wanted to celebrate English Tourism Week by promoting all there is to see and do across Oxfordshire, and our collaborative approach to targeting inbound markets with Birmingham Airport is extremely important in achieving this, during English Tourism Week and beyond."
Stefanie Bowes, Travel Trade and Corporate Relationship Manager at Birmingham Airport, said:
"Birmingham Airport are delighted to partner with Experience Oxfordshire to promote travel to Oxfordshire, especially during English Tourism Week. Birmingham Airport is committed to supporting the regional visitor economy and we look forward to collaborating on more projects like the pop-up stand in our arrivals terminal this week."
Experience Oxfordshire have events planned throughout the week in celebration of English Tourism Week, including the launch of the new Oxford Pass at Blenheim Palace with Denis Wormwell, Chairman of VisitEngland.
Follow updates on Twitter at @ExperienceOxBiz.
ENDS
NOTES TO THE EDITOR:
For more information contact:
Antonio Ferrara
Phone: 01865 686433
Email: press@experienceoxfordshire.org / antonio.ferrara@experienceoxfordshire.org
Experience Oxfordshire
Experience Oxfordshire is the official Destination Management Organisation (DMO) for Oxfordshire. We are the trading arm of the parent charity, the Experience Oxfordshire Charitable Trust, and are a not-for-profit partnership organisation that is committed to the promotion, management and development of Oxfordshire as a great destination to live, work, visit and do business.
www.experienceoxfordshire.org/partner
Birmingham Airport
Birmingham Airport is the UK's third largest airport outside London, and the UK's seventh largest overall. As the Midlands' largest airport, it serves more than 150 direct scheduled and charter routes and offers an additional 340 possible connections worldwide.
Sitting in the centre of the country's road and rail network means that it is one of the UK's most accessible airports.
VisitEngland's English Tourism Week
Taking place in spring each year, English Tourism Week campaigns to raise the profile of the industry and celebrate the value and quality of tourism in England. The campaign provides the tourism industry with a vehicle to kick-start the season and promote local tourism products. Everyone can participate in the campaign, from accommodation providers, attractions, tourist information centres and destinations, to related sectors such as hospitality, transport or retail.
www.visitbritain.org/english-tourism-week
#EnglishTourismWeek19