Talking Maps
2020-02-19 02:00:00
Every map tells a story. Talking Maps is a celebration of maps and what they tell us about the places they depict and the people that make and use them. Drawing on the Bodleian's unparalleled collection of more than 1.5 million maps, this exhibition brings together an extraordinary selection of ancient, pre-modern and contemporary maps from a range of cultures and in a variety of formats as well as showcasing fascinating imaginary, fictional and war maps.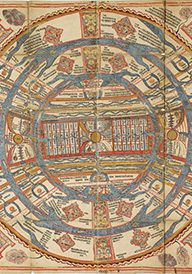 Cai Guo-Qiang: Gunpowder Art
2020-02-19 08:00:00
Chinese artist Cai Guo-Qiang (b. 1957) is best-known for his gunpowder explosion events staged in public spaces worldwide and, in particular, for his firework display for the opening ceremonies of the 2008 Olympic Games in Beijing. This exhibition focuses on the artist's smaller-scale works, exploring the presence of Chinese culture in his art through the mediums of painting, drawing, and gunpowder on canvas, paper and silk. Learn about the significance behind the materials Cai Guo-Qiang chooses to work with, as well as the ways he adapts them to explore his own central themes of creation, destruction and chance.