Ghostfest is Back for its 10th Year at Oxford Castle & Prison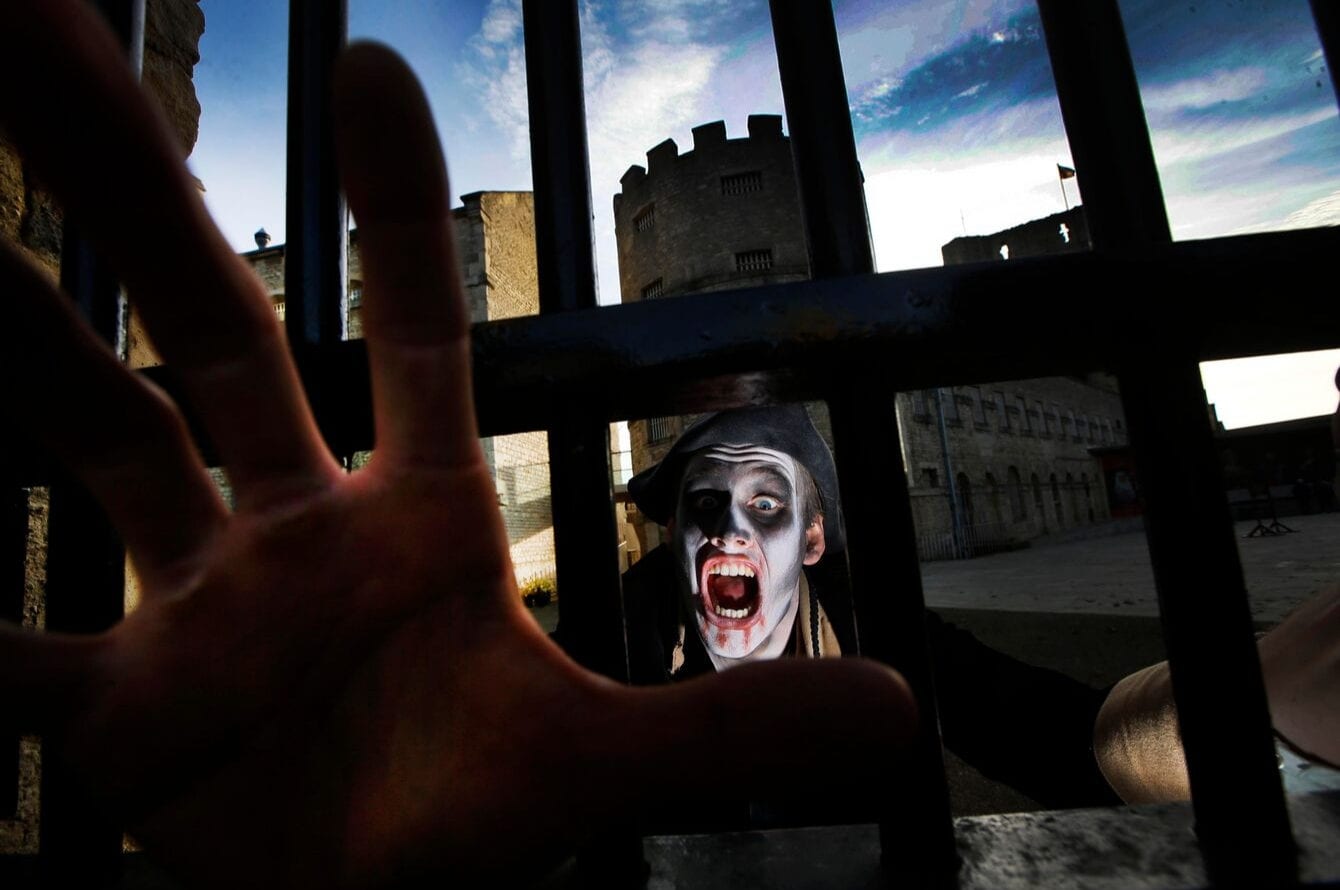 This October, Oxford Castle & Prison will host its popular Halloween Festival for its 10th year! From 25th October – 2nd November, the ancient castle site will embrace its bloody past with a series of spine-chillingly spooky events!
Oxford Castle's history is filled with murder, battles and executions so it's no wonder that many ghosts are rumoured to reside within its walls. As well as GhostFest's ever-popular Spooky Tours, the Castle will host spooktacular potion making workshops, a murder mystery evening, trick or treating, a midnight tour and the first ever Halloween-inspired Mystic Market!
The events for Ghost Fest 2019 are:
Spooky Tours 25th -31st October
Mystic Market 26th October – 2nd November
Trick or Treat 27th October
Murder Mystery Evening 28th October
Potion Making 28th October – 2nd November
The 10th Anniversary Midnight Tour 31st October
GHOSTFEST
OXFORD CASTLE & PRISON
25th OCTOBER – 2nd NOVEMBER
Event: Spooky Tours
Scare yourself silly on a guided tour of our haunted castle.
Dates: 25th, 26th, 29th, 30th & 31st October 7pm – 8pm
29th, 30th & 31st October 8:30 – 9:30pm
Price: £16
Age: 12+
Description: Discover the stories that are too dark to be included in our daytime tours. Prepare for gruesome retellings of the prison's history that you'll be wishing weren't true. Scare yourself silly with ghost stories from our past and visit the rooms in which entities supposedly live.
As one of the UK's most haunted buildings, we have quite the reputation with professional ghost hunters. Make sure to bring a torch as we will be turning off the lights and carrying out parts of the tour in the pitch black, to give you the essence of what it is like to hunt for ghosts.
Event: Mystic Market
Come along and find a boutique market on our castle courtyard
Date: 26th October – 2nd November 10am – 5pm
Description: To celebrate our 10th Anniversary we are hosting our first ever Mystic Market! A Halloween inspired market in our castle courtyard. Come along to find independent sellers specialising in vintage jewellery, gothic clothing, tarot card reading and much more.
We are excited to announce that we will have Psychic Mediums at the market who will be there to tell your future.
Event: Trick or Treat
Sweeties, stories and fancy dress (but no egg throwing).
Date: 30 minute sessions on the 27th October at 6pm, 6:15pm, 6:30pm, 6:45pm, 7pm, 7:15pm, 7:30pm
Price: £6 per child (include one free adult) (additional adults £3.50)
Age: 5-10 years old (recommended, but all ages welcome)
Description: Come and ask the ghouls of Oxford Castle the most important question this Halloween… Trick or treat!?
One of our ghostly guides will lead you from room to room where you'll meet characters of our past. Here they will share with you stories from their time at the castle and prison. Children will have an activity sheet that they will be able to fill out, not to mention picking up a few sweeties along the way.
Event: Murder Mystery Evening
Can you work out who murdered Prisoner D100?
Date: 28th October 7:30pm – 9pm
Price: £30 per person
Age: 18+
Put on your thinking caps and become a detective for the evening. Explore the Oxford Castle and Prison and question murder suspects until the truth is revealed. Be careful to not fall for any red herrings as you may end up accusing the wrong suspect.
Individuals, couples and small groups welcome! Together you will all work as a team to piece together the clues and work out who-dun-it!
A glass of wine per person is included (non-alcoholic alternatives available).
Event: Potion Making
Make your own Halloween potions under the tutelage of the castle's resident warlock!
Dates: Monday 28th October, Wednesday 30th October, Friday 1st November, Saturday 2nd November 12pm – 1pm, 2pm – 3pm
Price: £9.50 (1 child), £16.00 (2 children), £22.50 (3 children), accompanying adults go free.
Description: Underground in our crypt a caldron is brewing, with the help of our resident warlock you can concoct some magical potions. Children will love brewing up some magic with three exciting activities in this hour-long workshop.
Event: The 10th Anniversary Midnight Tour
There's no better way to celebrate our 10th Anniversary Ghost Fest than on our special midnight tour!
Date: 31st October 11:30pm – 12:30am
Price: £27
Age: 18+
Description: As the clock chimes twelve, chink your prosecco filled glasses and celebrate Ghost Fest's 10th Anniversary. Discover our eerie past from centuries ago and meet the ghosts who wander our prison corridors.
This tour is not for the faint hearted, as we will be turning off the lights and exploring the castle using only torchlight. Who knows what is lurking in the shadows…
A glass of prosecco per person is included (non-alcoholic alternatives available).
For more information visit www.oxfordcastleandprison.co.uk.