Half-Term Signals the Start of 2020 Season for Railway Centre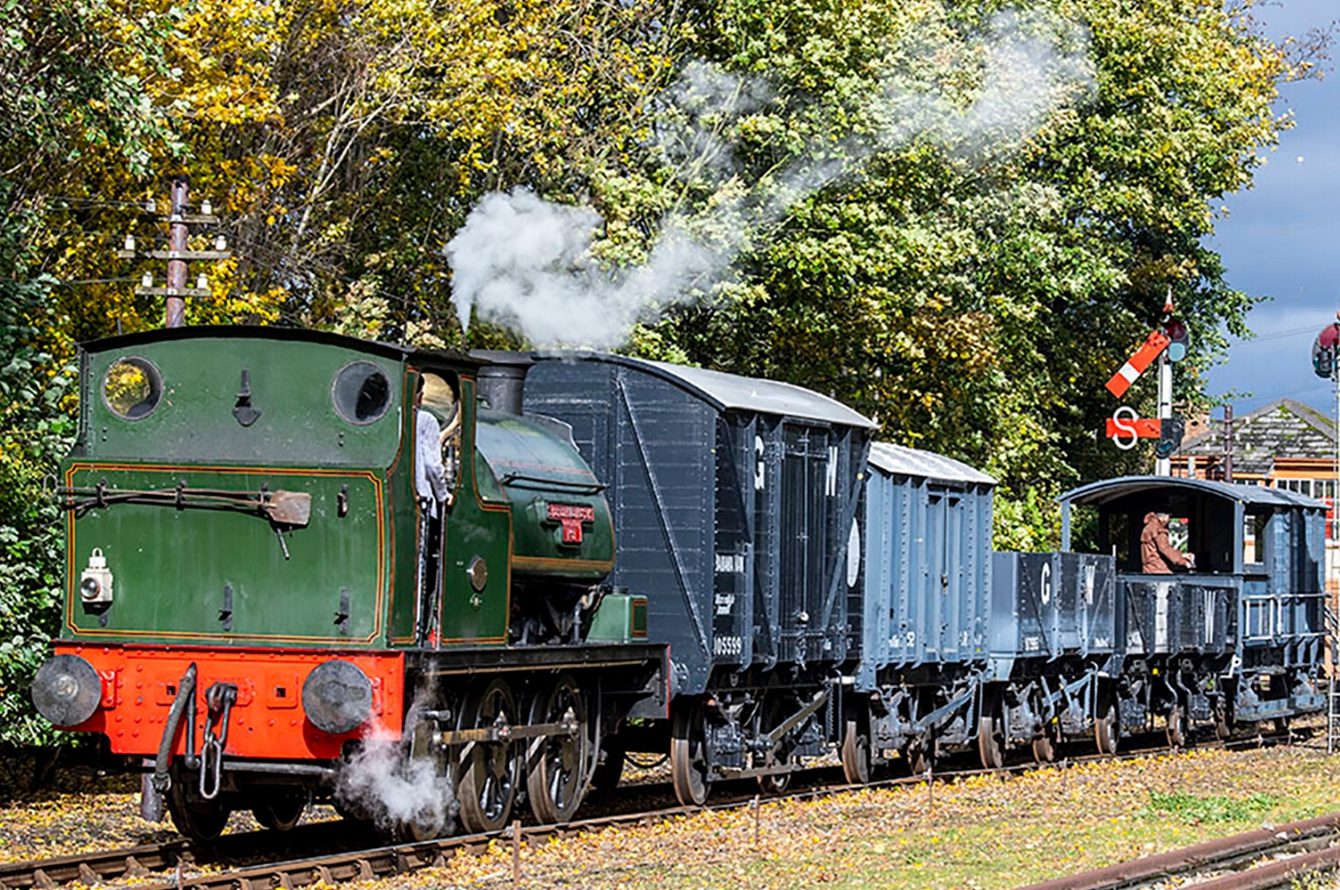 Steam returns to Didcot Railway Centre this half-term with trains running on the centre's two demonstration lines on 15, 16, 19, 22 and 23 February.   The curtain-raiser for the 2020 season at the 21-acre living museum is a "Delivering the Goods Weekend" on Saturday 15 & Sunday 16.  Special demonstration freight trains and wagon movements will recall the days when goods traffic was more important to the railways than passengers.  Two steam and two diesel locomotives will be in action working goods trains alongside the usual passenger trips allowing visitors to enjoy unlimited rides.
The locomotives running will include No.31, which is currently visiting from its base a Fawley Hill.  The engine was constructed in 1913 for Sir Robert McAlpine & Sons and worked at the company's Hayes depot until the 1960s when it was saved by the late Sir William McAlpine and it has worked on the family's large garden railway ever since.  No.31 appears courtesy of Lady McAlpine and this will be one of the locomotive's final appearances at Didcot before returning to Fawley Hill.
No. 31 will be reacquainted with the goods wagons and trucks that played an important part in her history as she propels wagons loaded with coal up the steep incline to the Centre's coal stage – the only surviving working example of a type of building that was once commonplace at locomotive sheds. At the coal stage, the solid fuel can be transferred into tubs which then tip to fill the bunker of a locomotive waiting below. The centenarian will also be used to work demonstration goods trains on one of the Centre's two running lines over the course of the weekend.
The second steam locomotive in action will be No. 4144 – a large and powerful tank engine built at the Great Western Railway's famous Swindon Locomotive Works in 1946. Locos of this type were frequently used on passenger and freight trains and No. 4144 will be working both on the Centre's main demonstration line over the weekend and will be in charge of a "mixed" train of both passenger carriages and goods wagons – these were operated either to save money or when fresh produce such as fruit or milk needed to be moved quickly to its destination.  The Delivering the Goods Weekend is one of the few chances to see 4144 in action at Didcot this year as the engine is set to spend much of the spring and summer on working visits to other heritage railways.
Two diesel locomotives, D9516 and 08604 will also be running during the event. D9516 dates from 1964 but saw just three years' service with British Railways before going to British Steel's ironstone quarry at Buckminster in Lincolnshire to work heavy trains loaded with iron ore. The locomotive will work demonstration goods trains and a number of passenger trains at the event, while 08604 – which recently celebrated its 60th birthday – will be seen shunting trucks – a common duty for this type of locomotive.
As well as the full-size trains, visitors will also be able to see a working model layout of a goods yard that featured in the grand final of Channel 5's Great Model Railway Challenge.  The layout, "William Street Yard" was built by a group of volunteers who work at both Didcot and Fawley Hill.
It represents a goods yard set between 1947 and 1954. It was a time of great change and variety with many types of locomotives and wagons sporting a variety of liveries.  Many of the vehicles in action in the busy yard are models of those in the collection at Didcot so in some cases visitors will be able to see both the model and full-size originals in action!
There's also plenty more to see and do at the 21-acre living museum which depicts almost two centuries of railway history.  Visitors can stroll through the original 1932 engine shed and see magnificent preserved locomotives – they can even climb onto the footplates of some! There's surviving track from Brunel's broad gauge railway, painstakingly restored buildings, coaches and wagons as well as exhibits and interpretation to tell the story of the development of railways and how they changed everyday lives.
Following the special weekend, the Centre is open daily for half term with steam trains running on 19, 22 and 23 February and Spring Exhibition Days taking place on 17, 18, 20 and 21 February.
Full details of the Centre open days and special events can be found at www.DidcotRailwayCente.org.uk.  Entrance is through Didcot Parkway Station and subway.