Mollie's Dishes up an even Greater Diner Menu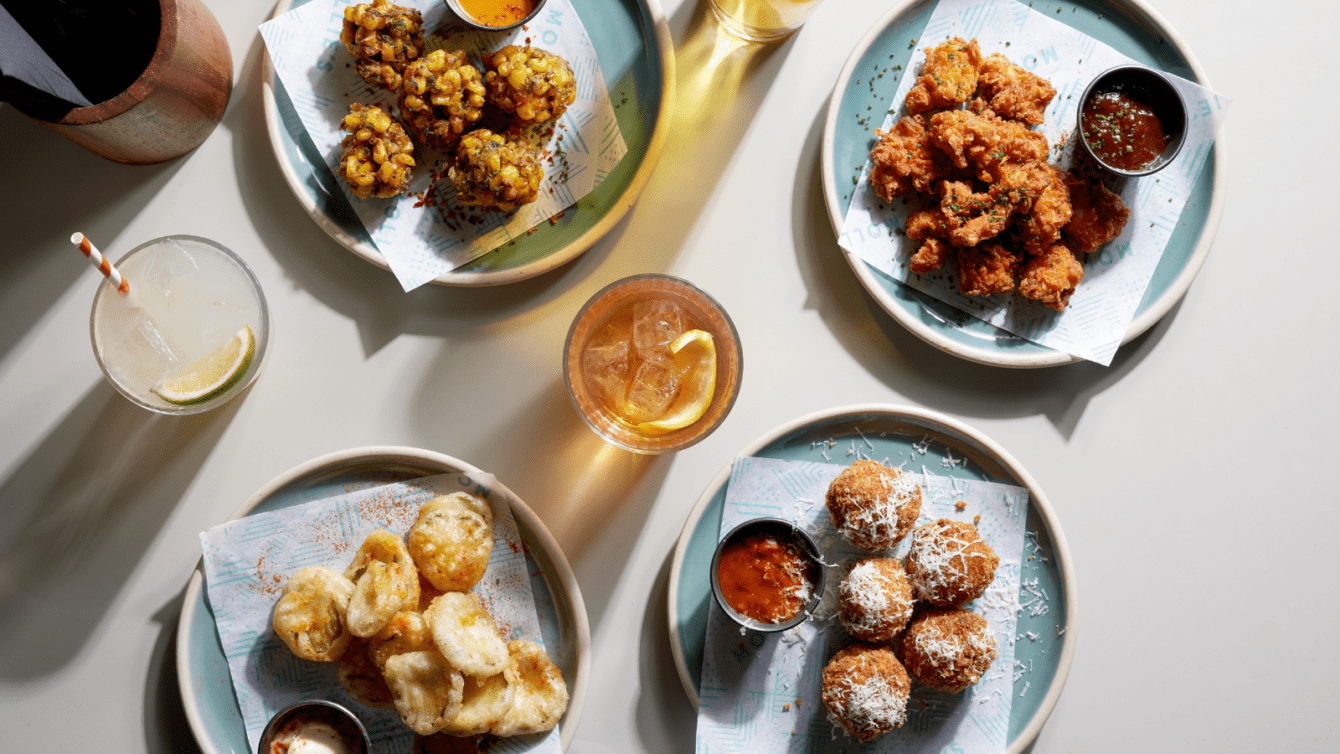 Mollie's Latest Menu adds a range of exciting new dishes to popular American classics
Frickles, jalapeno cheese puffs, Spatchcock chicken, crinkle-cut chips, a classic Knickerbocker Glory….Mollie's (mollies.com) has jazzed up its classic Diner menu with a collection of exciting new dishes.  And there is more to come – Mollie's plans to dish up more delicious Diner innovations over the coming months.
While retaining its roots in classic Americana, the menu updates add new twists on old classics, fresh new flavours, healthy plant-based salads and juices, sweets and a bit of spice. The dishes, which feature on the Diners' breakfast, all-day dining, drinks and children's menu, are available now at Mollie's Bristol and Mollie's Oxfordshire. The refreshed menu is part of the on-going evolution of the Soho House-designed motel and diner concept – which opens a third site in Manchester in late 2023/early 2024.
Mollie's much-loved menu marries Mollie's popular American-style staples (burgers, ribs, hot wings and shakes) with new twists on the classics: Shrimp Cocktail, Fried Cod Sandwich, Half or Whole Spatchcock Chicken, Green Goddess Salad, cold-pressed juices and a Knickerbocker Glory are among new additions.
The menu updates have been led by new Head of Food, Kate Brooke-Green – whose appointment last year reflects Mollie's commitment to developing and investing in its team. Brooke-Green joined the Mollie's team in 2022 with a remit to lead, evolve and innovate food strategy within the Mollie's group. With over a decade of experience in food development, Brooke-Green moved to Mollie's from Mustard Foods, a leading food development and manufacturer, where she was Head of Food Innovation, working with large restaurants and food groups such as Caprice Holdings, Coppa Club and Leon among others. In previous appointments, she has also worked with M&S, Waitrose, the Ivy Collection, Ole & Steen, All Star Lanes and By Chloe.
 Mollie's All-Day Menu
Served from noon, the all-day menu now includes a range of 'Nibbles with drinks' designed to be enjoyed with cocktails. Dishes include Frickles (fried pickles), Jalapeno Cheese Puffs and Nachos, served with cheese sauce & smoky salsa.
A selection of Small Plates, including house favourites Buffalo Hot Wings and Sweetcorn Fritters, now include the new retro-inspired Shrimp Cocktail served with avocado, zingy Marie Rose sauce and baby gem lettuce.
In the lighter main-course options there are a range of healthy salads available including Mollie's Chopped Salad topped with a mustard dressing, a classic Caesar Salad which guests can upgrade with chicken, hot smoked salmon or vegan feta, or a Green Goddess Salad – packed full of goodness with quinoa, avocado, greens, tenderstem and mixed seeds.
Alongside Mollie's famous burgers and sandwiches, the menu now offers Buttermilk Chicken Tenders with a choice of different sauces including pineapple BBQ, blue cheese or some spicier varieties.  Mollie's Fried Cod Sandwich – a modern twist on the old-fashioned fish finger sandwich. Other large plates include Pork Belly Ribs with a Texan rub, shredded slaw and pickles and half or whole Spatchcock Chicken (with smoky chipotle and parsley-dressed slaw) as well as a fresh Sea Bream, complemented with smoky peppers. To the Sides menu, Mollie's has added Crinkle-cut Fries (a particular favourite of Soho House founder, Nick Jones).
Desserts at Mollie's
Choose from a range of retro sweets, from Mollie's Lemon Meringue Pie, Baked American Cheesecake with a blueberry compote, Mollie's house blend coffee over soft serve, chocolate brownie with a drop of Kahlua, and classics such as Cherry Pie, Banoffee Pie and, the queen of retro desserts, Knickerbocker Glory.
Breakfast at Mollie's
As well as sustainably sourced Burford Browns eggs served in several ways (from Royale and Florentine to Benedict and Scrambled). Sweet or savoury Pancake Stacks and Waffles, a new Lower East Side smoked salmon bagel, and for those with a sweet tooth, there's Loaded Banana Bread, French Toast with maple syrup and cream, or Coconut yogurt with berries.
Mollie's now offers a range of Mollie's 'M' Juices and Hot Shots (ginger or turmeric), which use fresh, cold-pressed seasonal fruits and vegetables, as well as Mollie's signature coffee by Darkwood, ethically sourced coffee from Brazil, Colombia & India served alongside Bottomless Filter Coffee.
Mollie's Children's Menu
Mollie's Diner continues to offer the child-friendly Mini Mollie's Menu, with all kids' meals coming with a choice of Fries, Sweet Potato Fries, Mollie's House Beans or Broccoli and a choice of milk, juice or soda. Priced at just £7.00 per child, options include a Single Cheeseburger, Hot Dog, Sweetcorn Fritters or Chicken Tenders.
Drinks, Beers & Cocktails
Mollie's new cocktail menu can be enjoyed in the Diner or standalone bar in both Oxfordshire and Bristol. Signatures include a Picante, Spicy Paloma, Passion Fruit Martini and a Cobbler. Mollie's also has a great selection of beers & ciders and wines from some of the best vineyards in Europe, South Africa and Argentina. Mollie's has also introduced its own branded 'posh' beers – made for Mollie's by London-based Forest Road Brewery and offering lager or gluten-free pale ale by the pint or by the can.
A good selection of mocktails and non-alcoholic drinks is also available including an Elderflower Spritz and Virgin Martini.
Famed for its Milkshakes, Mollie's serves up a variety of delicious spun shakes with ice cream, with flavours including Salted Caramel, Chocolate, Strawberry and Oreo.
 The Drive-in Menu at Mollie's Oxfordshire
Available for travellers or those living in the area, Mollie's Oxfordshire offers a takeaway menu with its signature Burgers & Sandwiches, Mollie's Chicken, Salads, Bites, Children menu, Cold drinks, Shakes, and Mollie's Jollies – creamy vanilla soft serve to combine different taste to choose from.
Our Motel
As well as its innovative diner, Mollie's welcomes overnight travellers with Soho House-designed rooms starting from just £70.00.
All menus can be found here:
Bristol: Bristol Diner – Mollies
Oxford: Oxfordshire Diner – Mollies
ENDS
For all press enquiries please contact Palm PR:
NOTES TO EDITORS
Mollie's (mollies.com) is an affordable hotel and diner concept, designed by Soho House, with rapid expansion plans to roll-out a number of sought-after, design and tech-led venues across the UK.
Bringing a contemporary, stylish and modern take on the American roadside pitstop, its bold vision is to transform travel with its own distinctive and disruptive 'budget-luxe' offering in and around key UK cities.
Cool, contemporary and comfortable interiors exclusively designed by Soho House, combined with a fun atmosphere, destination dining, personable service and innovative tech, all at an unexpectedly affordable price point, which keeps every guest in mind.
The brand launched in 2019 with a Motel, Diner & Drive-Thru in Buckland Oxfordshire, followed by a second
Motel & Diner in 2021 in Cribbs Causeway, Bristol. These openings are the beginning of Mollie's ambitious plans to roll out its own distinctive and disruptive 'budget-luxe' offering with a further 10 locations already earmarked as part of the immediate expansion plan, including the 2023 launch of city-centre based Mollie's Manchester, opening in the former Granada TV Studios.
As Mollie's opens further locations, it will provide a new diversity in hotel stays, with a recognisable identity that aims to be consistently different, yet always adventurous, and always Mollie's.