Museum Late Night Diversity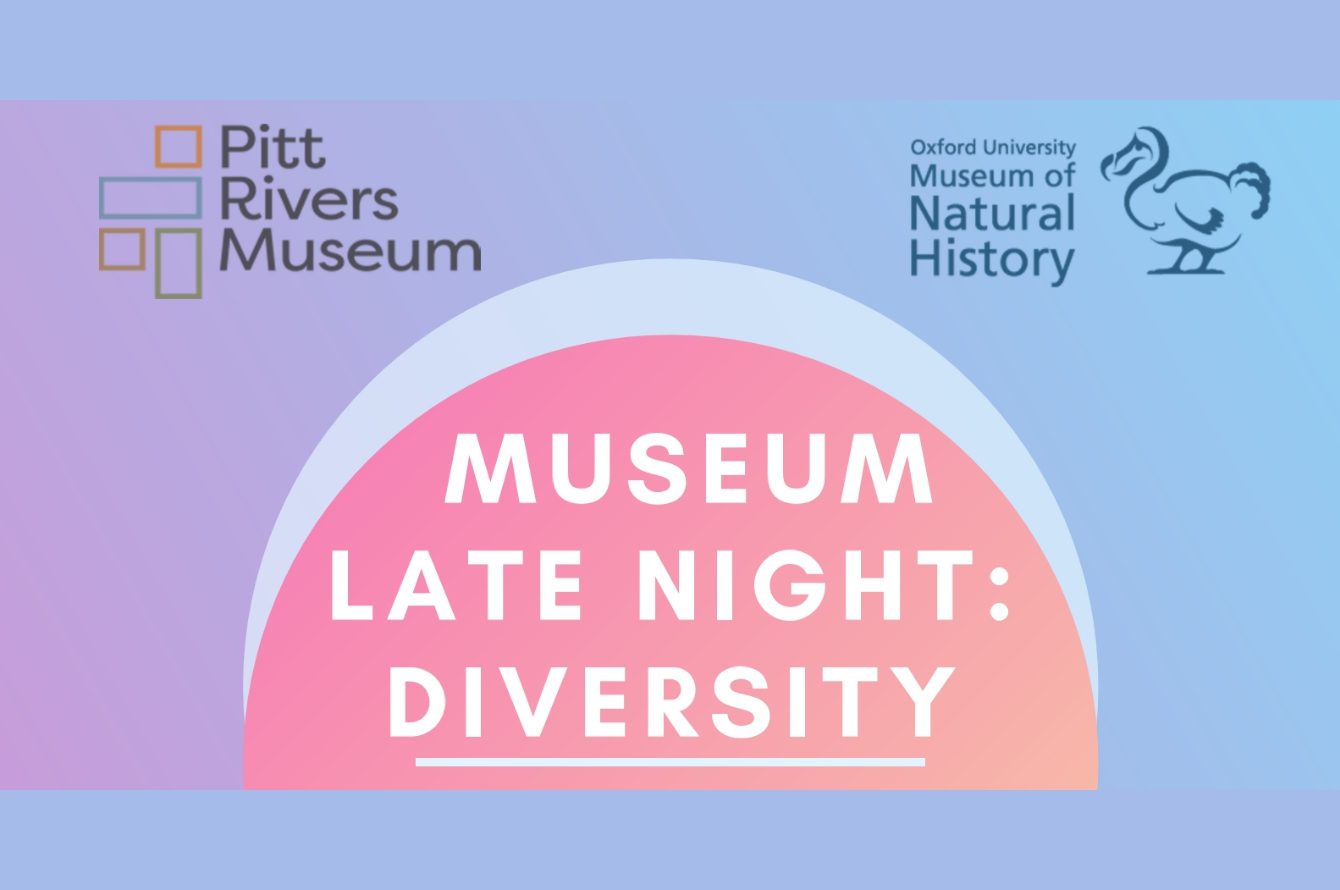 Join us at the Pitt Rivers Museum this Friday for the national launch of LGBT+ History Month 2019 and enjoy a pride-filled evening in the Museum with tours, poetry, talks, stalls, activities and much more!
The LGBT+ History Month launch event will take place with a series of talks from speakers including Maisie Barker (Schools Out), Dean Atta (poet and author of The Black Flamingo), Sue Sanders (Founder and Chair of LGBT+ History Month), Louise Wallwein (award-winning poet, playwright and performer), Mike Parker (journalist and author of On the Red Hill), Zayna Ratty (Chair of Oxford Pride) and Caroline Paige (author of Out in the Forces).
Lit up with rainbow lights and filled with music, the Pitt Rivers Museum will be hosting stalls from a wide range of organisations, such as Pink Times, OX & Fyne Times, Schools Out, CHE and Blackwell's LGBT+ Bookstall. Visitors can sign up for activism tours, have a Proud Portrait taken or add their story to the cape making activity on the Museum Balcony. Poetry, music and drag activities will include Junk Whale, a fuzzy big-hearted Indie rock group, Aphra Taylor, a solo artist mixing the intimacy and melody of folk with "the slacker scuzz of grunge" and Drag Syndrome, the world's first Drag troop featuring highly addictive drag queens and kings with Down's Syndrome. Programming at Pitt Rivers for this event has been organised by LGBT+ History Month, Beyond the Binary, My Normal and Oxford Queer Studies Network.
Steve Boyce, Chair of Trustees at LGBT+ History Month, said: "Each year we find prestigious venues such as the Pitt Rivers Museum want to host the launch event, and each year more and more members of the general public want to be involved and included. Society is changing for the better; let's keep up the fight for liberation, for all!"
Next door in the Museum of Natural History, there will be activities and stalls to celebrate the wealth of diversity in the natural world, themed to accompany the current First Animals exhibition. There will also be a pay bar, so that you can sip drinks amongst the dinosaurs!
Luxmuralis will be projecting a dazzling new Diversity themed light and sound show on the front of the Museums, using images from the Pitt Rivers and Museum of Natural
History image collections – a stunningly atmospheric start to your magical night at the museums!
This event is part of the Oxford City Council Christmas Light Festival 2019.
There will also be a storytelling session for younger visitors earlier in the day. Steve Boyce from LGBT+ History Month and an ex-primary headteacher, will be reading from Stonewall: A Building, An Uprising, A Revolution by Rob Sanders. This tells the story of the night of 28 June 1969, a turning point in LGBT+ civil rights and introduces the listeners to a plethora of civil rights, equality and diversity issues. Starting at 15.30, this session will take place on the Museum Balcony.