Oxford Christmas Light Festival celebrates photo competition winners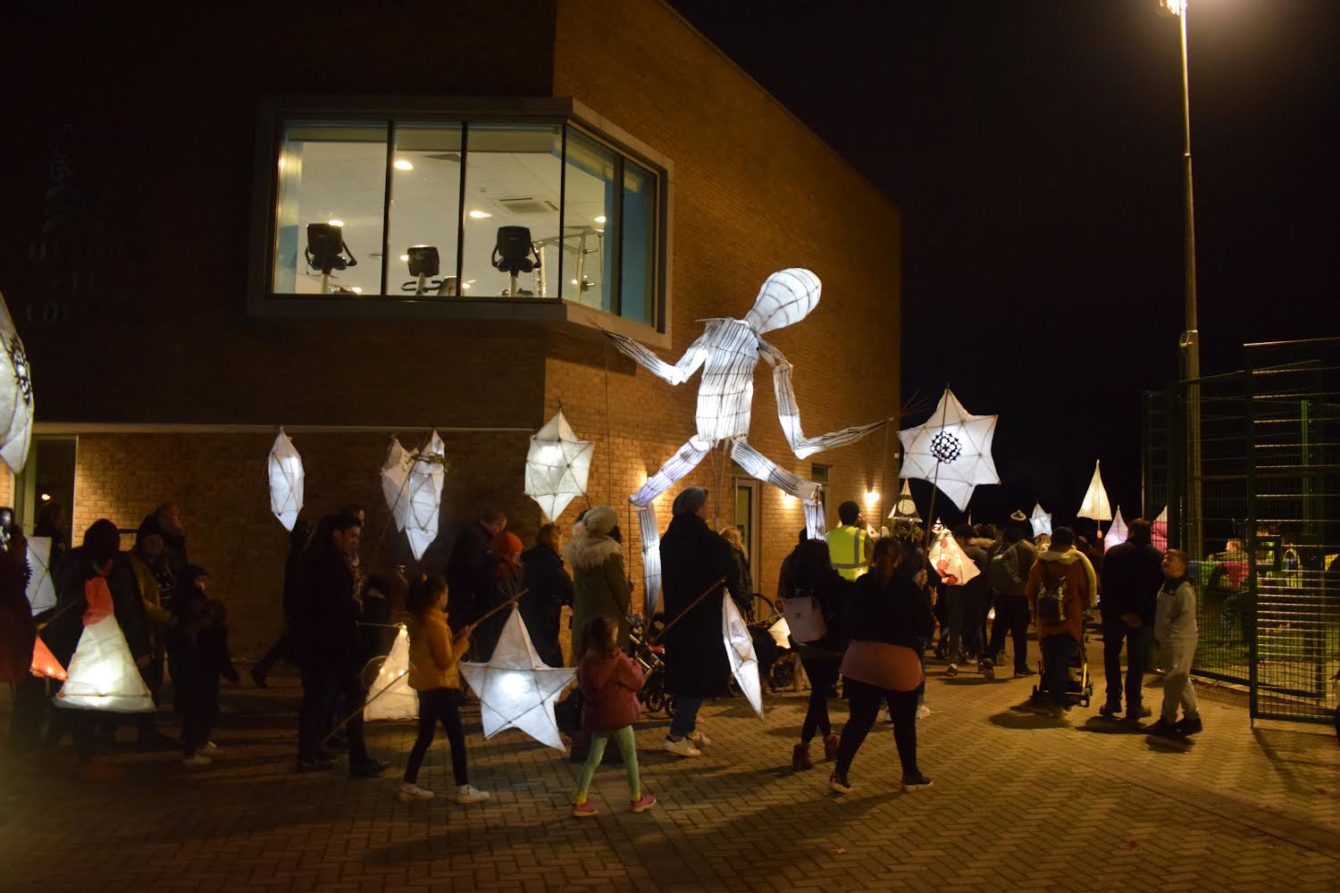 Three aspiring photographers have each won a prize for the superb photos they took over the Oxford Christmas Light Festival weekend. Using the title, The Art of Connectivity, these images best captured the theme and atmosphere of the festival.
The competition drew entries from all ages who sent in photos of the events they attended near their homes.
Film maker Sam Hamper chose the winning photographs and says
"These photographs were chosen for their spontaneity and atmosphere showing different aspects of the festival and how people relate to it and engage with it."
The winning entries
Erin Theobold photographed a tree, dramatically uplit against a darkening sky. She says
"I always enjoy photographing nature. It's always there and always changing so you're able to photograph the same thing getting totally different results each time, especially throughout the seasons. The lights simply emphasised that – highlighting the empty branches in ways natural light wouldn't. When the lights were illuminating the trees, it emphasised the shape and strength and in turn, the event emphasised the varying shape and strength of the community."
https://drive.google.com/file/d/1STNyvcZgVLWORbGvOasej7vzDuo-86eC/view?usp=sharing
This photo by Leanne Miller shows a group of children holding their handmade, illuminated lanterns created for the festival weekend. She says
"I took this picture after we attended the lantern workshop at Barton Park School. The kids had a great time creating their masterpieces. Their proudness shines through with their lanterns."
https://drive.google.com/file/d/17VnhMaBv0D1XWpuSEpTFw8v2Cx76d8xf/view?usp=sharing
Aimee Winkfield's image captures the moment a lantern parade sets off around the city streets.
https://drive.google.com/file/d/1quvKOFlxn4KCBRHi7FmQLyjWXA8WxmLb/view?usp=sharing
Aimee explains how her photograph came about.
"I wanted to capture the parade on the start of the journey, just as it left the community centre. The centre plays an important role in bringing people together, so it was important for me to showcase the families enjoying themselves, the location and the talent of the children and young people who made these amazing lanterns.
"It was a genuine delight to be a part of this festival and lantern walk, and I hope my photograph captured the community spirit of the day. I'd like to thank Oxford Christmas Light Festival and Oxford City Council, for providing the support to allow charities and community groups to come together once more, to have fun, be social, and hopefully heal."
All three winners will be receiving a Christmas hamper from the Covered Market with a selection of hand-picked festive treats from it's independent retailers.
Councillor Mary Clarkson, Oxford City Council Cabinet Member for Culture, Leisure and Tourism says
"It is easy to see from these wonderful photographs what a creative event Oxford's Christmas Light Festival is. They show the sheer celebration of communities coming together and having a joyful moment. My congratulations to the winners in capturing the essence of the festival and showing what a welcoming city Oxford is."
Oxford's Christmas Light Festival has been taking place since 2009 and in recent years has evolved to take place in many more areas of Oxford outside the city centre. Community groups, schools and artists have created the Festival events, many of which were free to enjoy.
Thousands of Oxford residents took part in this year's event and some of the images they captured can be found on the festival website.
https://www.oxlightfest.com/live-gallery
ENDS
Contact details
For more information on the Christmas Light Festival and the photo competition please contact Gill Jaggers
gill.jaggers@gmail.com 07961 922301
About us
Oxford City Council is the democratically-elected local authority for Oxford.
In partnership with others, we provide a wide range of services – including planning, housing, community centres, parks and waste collection – for approximately 152,000 residents, 106,000 people who work in Oxford and the millions of people who visit our world-famous city every year.
We have set four key priorities, all of equal importance and all interconnected:
to enable an inclusive economy, where everyone has access to sustainable business and employment opportunities
to deliver more affordable housing, including a new generation of council homes to help meet our acute housing shortage
to support thriving communities, reducing the stark inequality between our city's richest and poorest residents
to tackle the climate emergency by pursuing a zero-carbon Oxford
Our vision is to build a world-class city for everyone.
Oxfordshire has a two-tier system of local government, which means services are provided by two different councils. Oxford City Council provides local services for the city, while Oxfordshire County Council is responsible for strategic, countywide services such as roads, schools and social care.
Images/extra media
Can include a WeTransfer/GoogleDrive link to relevant images or delete, as needed.