Oxford Tube Launches New Timetable and Express Service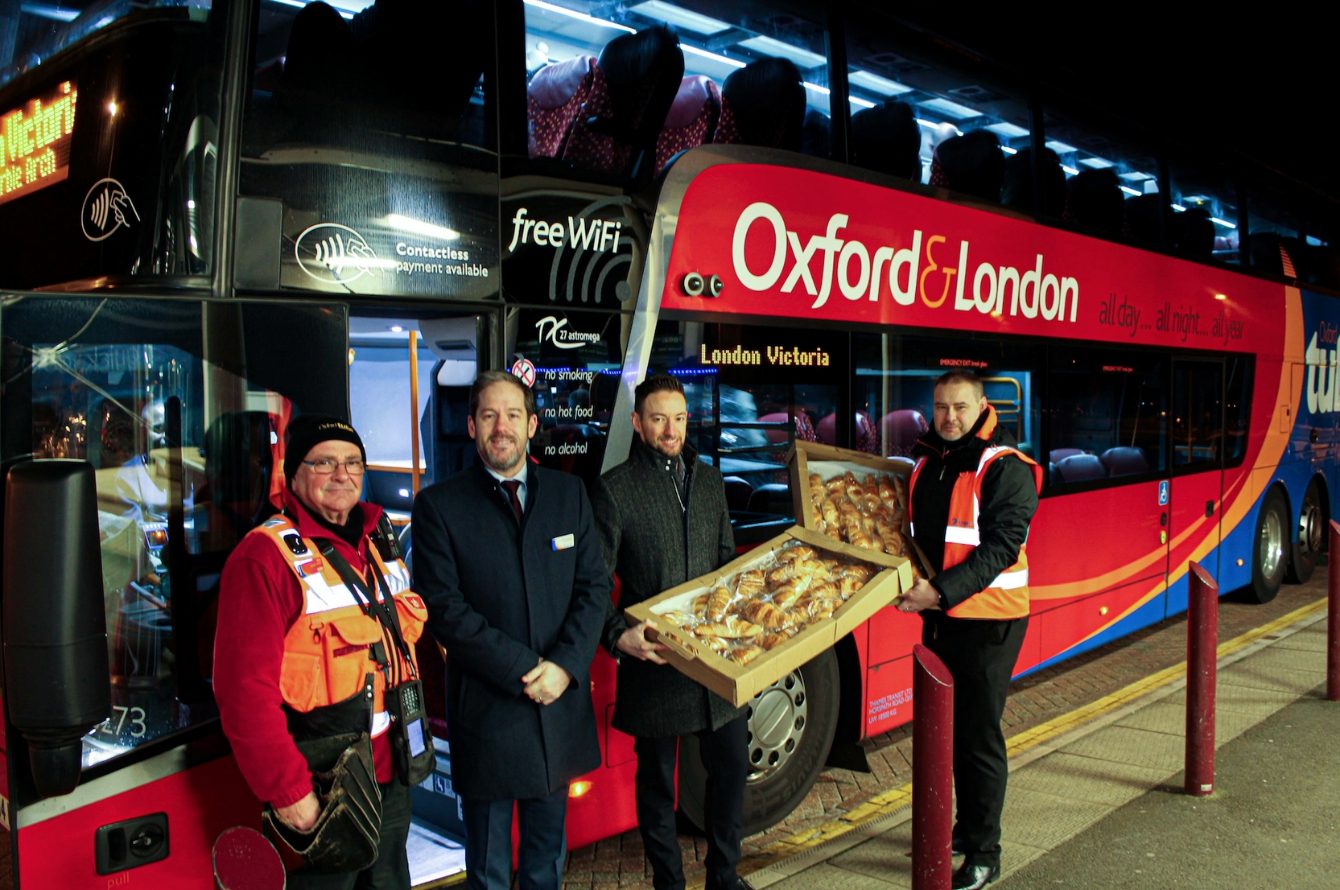 New timetable and express services started this morning 
12 express journeys to Baker Street Monday to Friday, between Oxford and London in both directions
Significant increase in number of journeys – an extra 13,446 seats each week
Up to every 8-minute frequency on Saturdays leaving Oxford
Stagecoach, who operates the Oxford Tube, confirmed fares will remain unchanged
Oxford Tube's significantly improved timetable with increased frequency and a brand-new express service to Baker Street kicked off today with the company's senior team welcoming existing and new passengers on to the new services.
Commuters were greeted earlier this morning by Stagecoach Managing Director Chris Coleman and Chief Engineer Terry Absalom at Thornhill while Operations Director Martin Gibbon alongside Oxford Tube Operations Manager, Rob Hough welcomed passengers at Gloucester Green as some of the first new services departed.
To celebrate the launch the senior team were on hand to welcome existing and new passengers with a complimentary croissant and hot drink as they headed back to routine after the Christmas break.
The changes to the Oxford Tube service will amount to an impressive 13,446 additional seats between Oxford and London each week, with no extra fare increase. Commuters can also take advantage of the Oxford Tube's current annual pass offer which is on sale until the 31st January, providing a saving of £200 on an already attractive ticket price when compared to rail fares.
Key changes to the timetable are:
17% increase in number of journeys each week
An extended 10-minute operating frequency Monday to Friday in peaks
Up to 8-minute frequency on Saturdays, compared to 12-minute previously
Up to 12-minute frequency on Sundays, compared to 15-minute previously
Introduction of 12 Express journeys in each direction (Monday to Friday) that will run as an Express between Thornhill Park and Ride and Baker Street, stopping only at the request of passengers at White City (in both directions)
Customers can use both routes on the same ticket so they can travel to Baker Street and return to Oxford from Marble Arch or Notting Hill Gate.
The Oxford Tube service will continue to run 24 hours day with fares remaining unchanged.
Chris Coleman, Managing Director of the Oxford Tube said: "We've been working very hard to improve both our timetable and services for our passengers as we enter 2020. We appreciate that good transport links and pricing options for commuters are key and that's why we have introduced new links to Baker Street. It means commuters can be taken closer to where they work without having to pay extra.
"We are really excited about the year ahead for the Oxford Tube and will be continuing to monitor and evaluate services so that we continue to offer the very best for our passengers."