Oxford's Christmas Light Festival 2019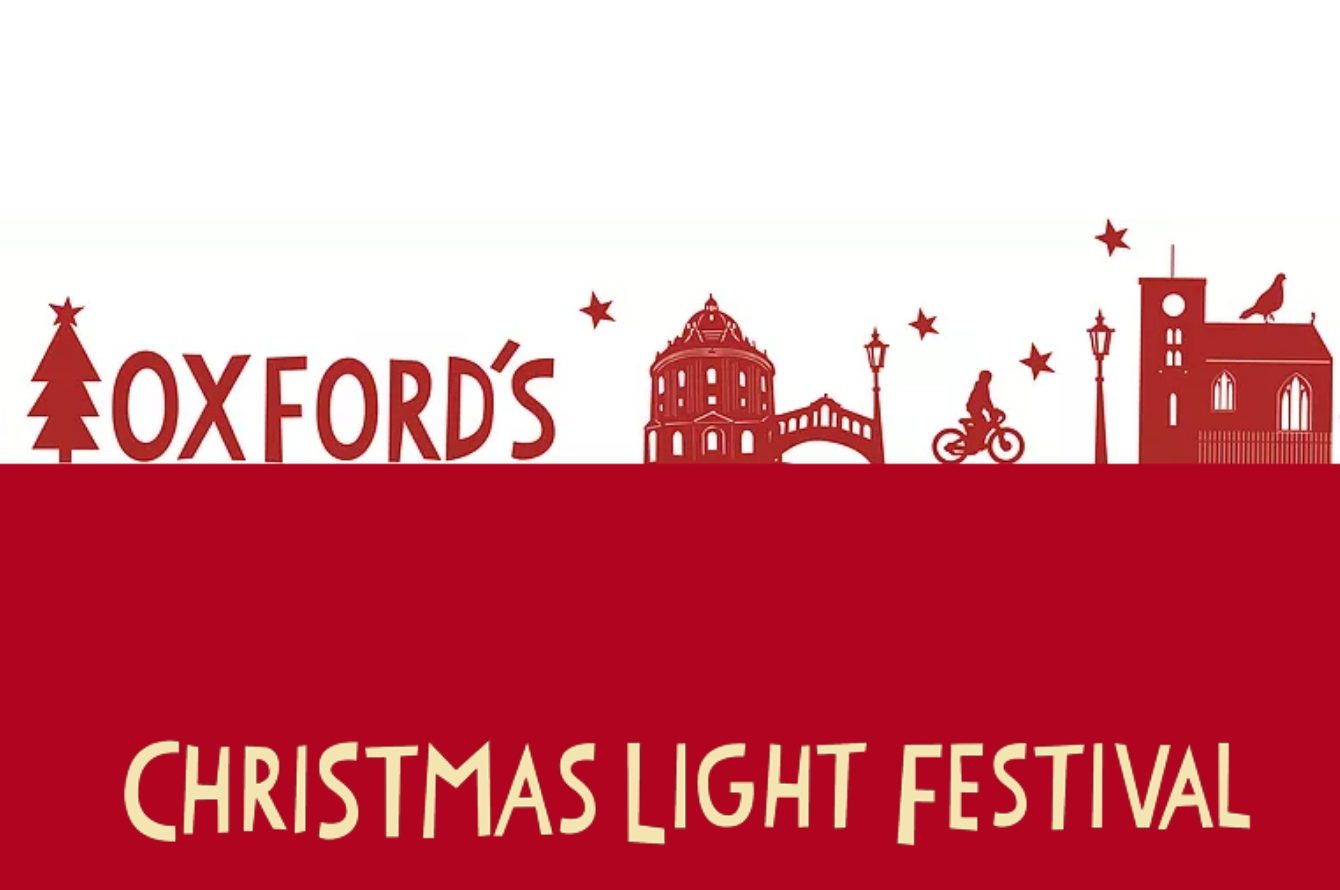 In recognition of the 50th anniversary of one of the greatest adventures of our age, the Apollo moon landings, Oxford's annual Christmas Light Festival takes the theme of 'Discovery' for a series of illuminated installations, performances, displays and more. From 15th to the 17th November the historic city will be lit up as schools, community groups, artists and performers populate the streets and buildings ready to share their Discoveries.
Festival Director Rachel Capell of Oxford City Council has been busy preparing for the festival since last year:
"The Christmas Light Festival in Oxford is a major event with lots of artists, cultural organisations and community groups all coming together for an amazing weekend of celebration. This year's theme of 'Discovery' is perfect for Oxford – a seat of learning, research, invention, and creation for more than 900 years. Artists taking part are working with the festival, local groups, schools and cultural organisations in making remarkable pieces for Oxford residents and visitors to discover throughout the weekend."
The festival marks the start of the festive season in the city. From the opening lantern parade flowing around the town on Friday evening to a host of illuminated installations blossoming in the city centre throughout the weekend.
Pockets of live performance will be revealed in unexpected places. Bands, soloists and choral groups perform amongst a diverse programme of light entertainment that includes dancers, actors and street performers. Christmas market stalls cluster in the old streets where artisans and craftspeople present exclusive hand-made items unique gifts and seasonal treats. Hot spiced drinks and delicious street food choices complete the festive vibe.
Amongst the major light installations placed around the city centre, will be Illuminating Oxford, special works inspired by the University Museums collections and projected onto the city's historic buildings; an interactive Celestial Sound Cloud inspired by cosmic nebulae triggered by a live performance; outdoor video projections Oxford Research Unwrapped created with Oxford University TORCH and Enter the Zooniverse with the University's people-powered research project.
The festival takes place all over the city centre with hubs of activity at Gloucester Green, Bonn Square and Broad Street. Workshops and activities specially designed for children and families to enjoy together will be taking place at various locations throughout the weekend making Oxford's Christmas Light Festival a fun outing for all.
Councillor Mary Clarkson, Cabinet Member for Culture and City Centre, said
"The Christmas lights festival is a fantastic weekend of experiences and events that's for everyone to enjoy. It's great to have a weekend of free activities to kick start the festivities, whatever your age, background or where you live come and enjoy the transformation of the centre of Oxford for the lights festival."
Festival events details are available on www.oxlightfest.com from September 2019.
Ends
Editors Notes
Oxford's Christmas Light Festival is produced by Oxford City Council www.oxford.gov.uk
The festival receives funds from the Oxford City Council and Arts Council of England www.artscouncil.org.uk
The Festival media partner – radio is JackFM www.jackfm.co.uk
Oxford's Christmas Light Festival has been held annually since 2009. Originally a one-day event it has extended to three days involving more than 25 local cultural partners, more than 27,000 participants and giving 100,000 experiences to over 40,000 people over the weekend.
Cultural Partners include:
Ark-T                                                                (http://www.ark-t.org)
Arts at the Old Fire Station                                 (https://oldfirestation.org.uk)
Ashmolean Museum                                          (https://ashmolean.org)
Bodleian Libraries                                              (https://www.bodleian.ox.ac.uk)
Cowley Road Works                                          (http://www.cowleyroadworks.co.uk)
Dancin' Oxford                                                  (https://www.dancinoxford.co.uk)
Film Oxford                                                       (https://www.filmoxford.org)
Fusion                                                              (http://www.fusion-arts.org)
Modern Art Oxford                                            (https://www.modernartoxford.org.uk)
Museum of Oxford                                            (https://www.oxford.gov.uk/museumofoxford)
Museum of the History of Science                      (https://www.hsm.ox.ac.uk)
OVADA (Oxford Visual Arts Development Agency) (https://www.ovada.org.uk)
Oxford Castle & Prison                                      (https://www.oxfordcastleandprison.co.uk)
Oxford Contemporary Music (OCM)                    (https://www.ocmevents.org)
Oxford Philharmonic Orchestra                          (https://oxfordphil.com)
Oxford Playhouse                                              (https://www.oxfordplayhouse.com)
Oxford University Museum of Natural History      (https://www.oumnh.ox.ac.uk)
Pegasus Theatre                                               (https://pegasustheatre.org.uk)
Pitt Rivers Museum                                           (https://www.prm.ox.ac.uk)
St Ebbe's Church                                              (https://stebbes.org)
St Michael at the North Gate                              (https://www.smng.org.uk/wp/)
The Story Museum                                            (https://www.storymuseum.org.uk)
TORCH (The Oxford Research Centre in the Humanities) (https://www.torch.ox.ac.uk)
University Church of St Mary the Virgin               (https://www.universitychurch.ox.ac.uk)
Wesley Memorial Church                                   (https://www.wesleymem.org.uk/welcome.htm)
Highlights for 2019 include:
Lantern Parade
The Festival starts with a lantern parade of school children and community groups taking their hand-made paper lights on a procession around the city centre. With designs inspired by the 'Discovery' theme they have been working with a team of artists to create small and feature lanterns ready for the Light Festival Parade on Friday 15th. The Lantern Parade will be joined by marching bands and end with a finale performance featuring illuminated band Sparks!
Major Installations, projections and performances
Key pieces to watch out for during the festival weekend will be:
Illuminating Oxford, stunning projections created with the Bodleian Libraries, University Museums, University Church of St Mary the Virgin, Fusion Arts and artist group Luxmuralis. The projections will be in and on some of Oxford's most historic buildings: Oxford University's Museum of Natural History, University Old School Quad, the University Church of St. Mary the Virgin.
Celestial Sound Cloud is an interactive digital sound and light sculpture inspired by cosmic cloud and nebulae. A dance performance presented by Pif-Paf with Oxford Playhouse shows how movement triggers sound from above.
Ghost Caribou, from Thingumajig Theatre, are a pair of giant illuminated stags performing other worldly ceremonies in Broad Street and Gloucester Green, with music, song and shadow puppetry before disappearing into the night.
Spark! from Worldbeaters Music is a street theatre show that combines high-impact drumming, dynamic choreography and beautiful lighting design. Prepare to be stunned as mysterious characters composed of light and sound transform the landscape around them.
Unsilent Night brings people together to play a specially written pre-recorded musical performance for downloading to play at a specific time at the festival. OCM are hosting special workshops for people to build their own boombox on which to play the tracks.
Enter the Zooniverse will appear in Bonn Square, the creation of the citizen science project Zooniverse and the the University of Oxford (MPLS Division). Their projected display shows interactive universes on a giant scale.
Lactolight by artist Jack Wimperis commissioned by the festival and supported by OVADA, highlights the issue of single use plastic. Large animated screens made of re-purposed milk bottles each of which contains a sound activated light bulb will be located on Broad Street mesmerising passers-by.
ICON is an exhibition of iconic photographs at Arts at the Old Fire Station that have been recreated by Rory Carnegie and artists who have experienced homelessness. The exhibition opens on the evening of Friday15th.
Dance and Music Stage
Throughout the Festival weekend a stage will be hosted in Broad Street for music and dance performances. Friday night will see a range of live music including Out Of The Blue, Saturday sees Dancin' Oxford bring a programme of local and national artists plus youth groups to the stage while Sunday sees community choirs get the crowds singing along.
Festive Market
The Christmas Light Festival launches the festive season with a market in Broad Street featuring a host of hand-made gifts and souvenirs, festive foods and warming refreshments. It's an ideal as a stopping point to refuel and browse while planning which installation, performance or event to visit next.
For more details, photographs or interviews contact
Gill Jaggers
07961922301