Thames Travel Gives Guide Dogs for the Blind Volunteer Training a Boost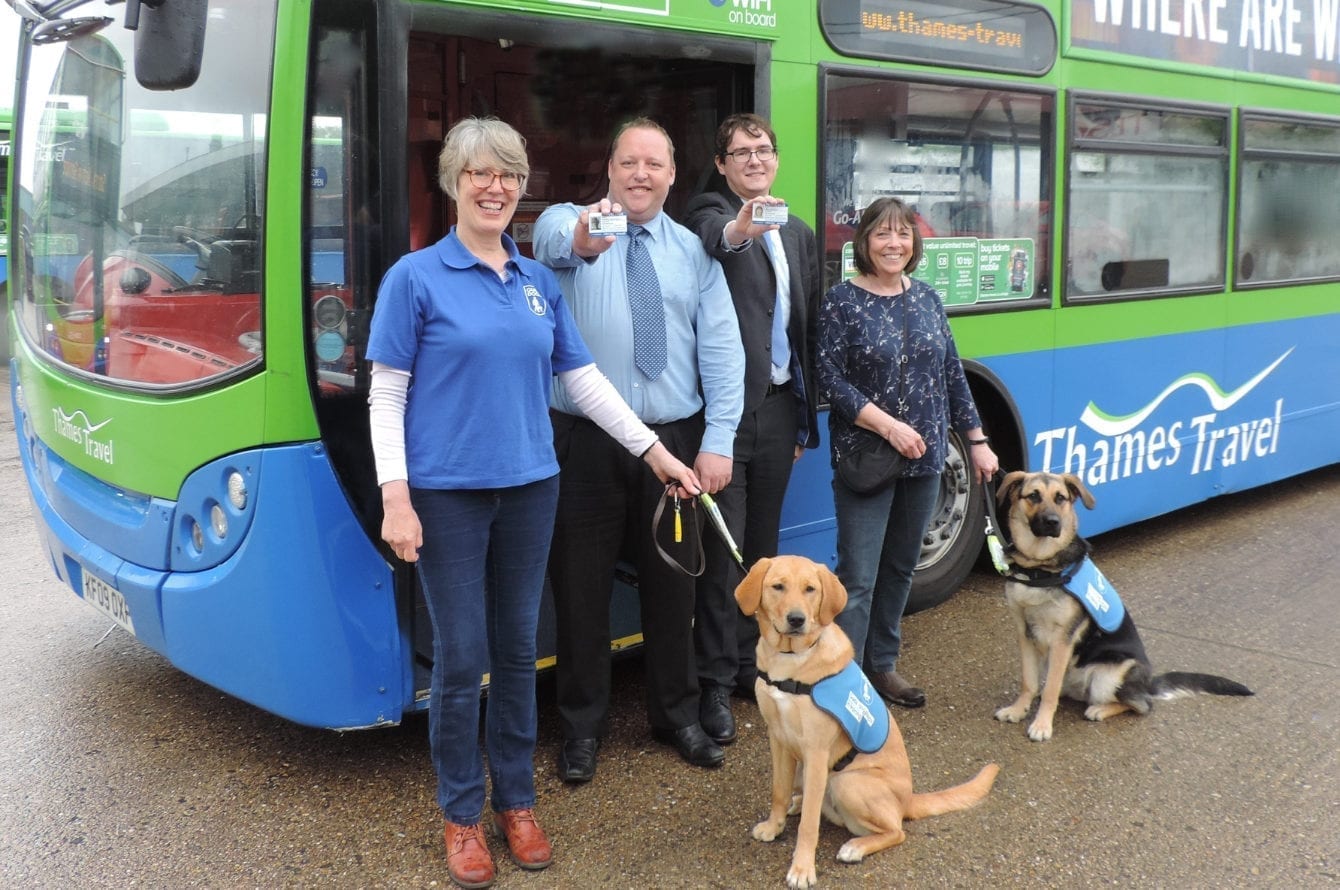 Thames Travel has partnered with the Guide Dogs for the Blind Association to support a specialist training programme of puppies that help visually impaired passengers on public transport.
Complimentary annual bus passes for use on all Thames Travel bus services were presented to the Guide Dogs for the Blind Association this week. It will enable volunteer training instructors from the charity to travel free on all Thames Travel services with trainee-assistance-dogs to familiarise the hounds with public transport.
Puppy Walkers Alison Brisland and Heather Skevington visited Thames Travel's new depot in Didcot this week with trainee hounds Rilla and Zoe to collect the passes. Puppies are trained from seven-weeks of age until they are one with basic obedience in a variety of situations, including most forms of travel to prepare them for supporting a visually impaired person.
Phil Southall, Thames Travel Managing Director said:
"We're committed to making travel on our buses easier for everyone via our Access for All policy. We're aware different passengers have different needs to make travel easier and are always looking for ways to improve our service."
Shaun Ritchie, Thames Travel Depot Manager, said:
"We didn't hesitate to support Guide Dogs for the Blind, a charity that provides an invaluable service to people with visual impairments. The partnership forms an extension of our recent work to install next stop announcements on all new vehicles purchased to support the visually impaired."
Jenny Clarkson, Supervisor, Guide Dogs for the Blind Association, said:
"Allowing our volunteer puppy walkers to use a bus service for free means a reduction of financial cost to Guide Dogs. This allowing us to re-direct this saving to the extensive training and welfare of our dogs, with our goal of matching more qualified guide dogs to people with sight loss giving them back their independence."
The Guide Dogs for the Blind Association is a British charitable organisation founded in 1934. Guide Dogs helps blind and partially sighted people across the UK through the provision of guide dogs, mobility and other rehabilitation services.
Thames Travel's fleet of buses are low emission vehicles (Euro V or better) and it is the third largest bus operator in Oxfordshire. It serves South Oxfordshire and into Berkshire, carrying 2.5M passengers per year.