Thames Travel launch new science transit shuttle connecting oxford and key employment sites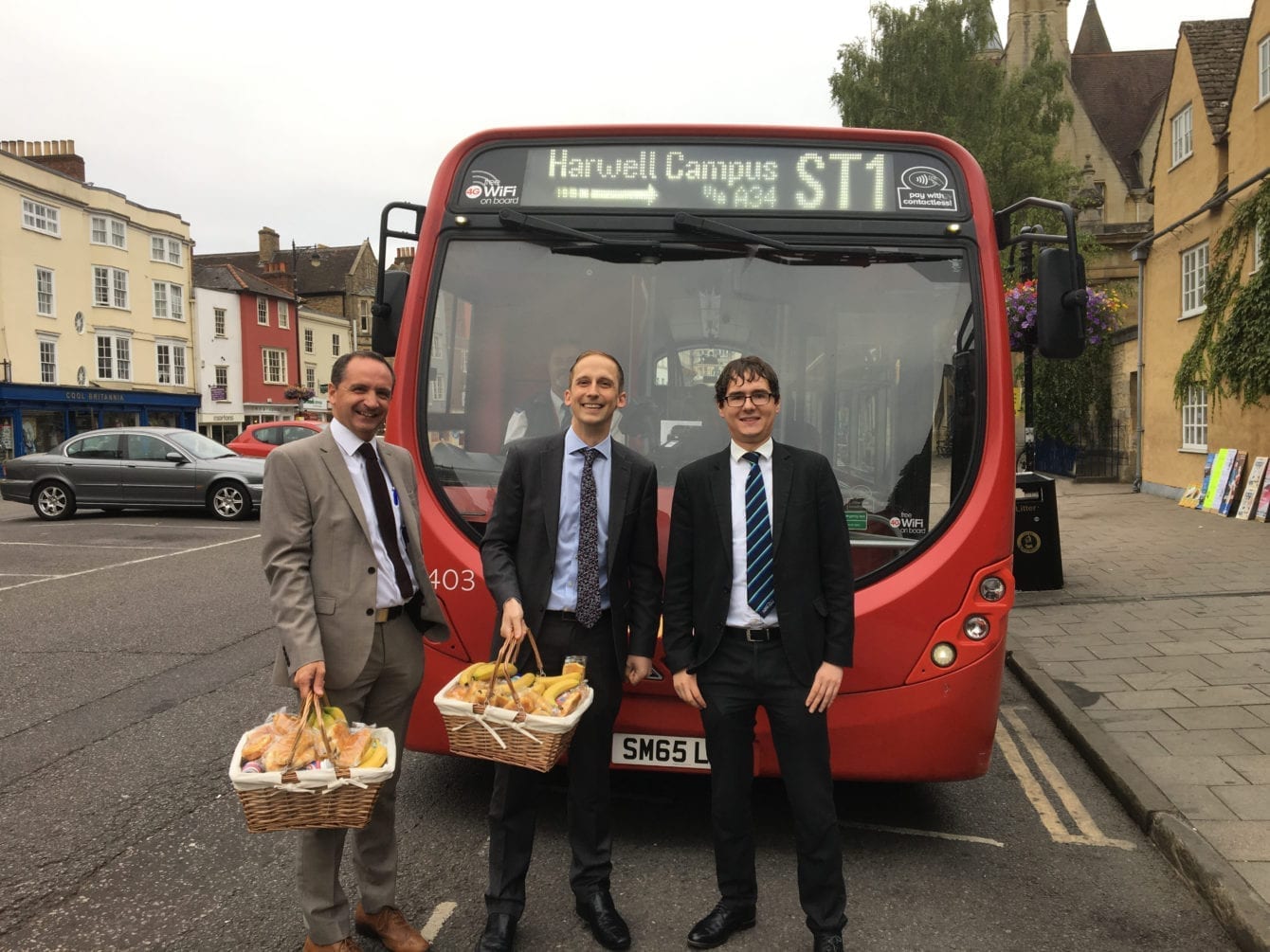 Thames Travel today launched its new Science Transit Shuttle service connecting key sites in Oxford and to connect the city to Harwell.
Managing Director Phil Southall, Finance and Commercial Director Luke Marion and Commercial Manager Pawel Polewski were on hand to greet the first passengers with complimentary breakfasts and answer questions.      
Thames Travel was awarded a three-year contract by the University of Oxford to operate the Science Transit Shuttle service from 15 July 2019 to connect key sites in Oxford and to connect Oxford and Harwell.
The company is investing £1M in a new fleet of six ultra-low emission (Euro VI) vehicles to connect Oxford with Harwell Campus, and connect the University's Science area with JR Hospital, Old Road Campus and Wytham. The service continues the pilot project set up by the University of Oxford and the Science and Technologies Facilities Council at Harwell. The express service between Oxford and Harwell facilitates collaboration in research and enables the University to access the cutting-edge scientific infrastructure at Harwell including Europe's largest synchrotron.
The Science Transit Shuttle continues to be part subsidised by the University of Oxford, the Science and Technologies Facilities Council and UK Research and Innovation. The new service operated by Thames Travel will now be open to the public while the existing service is only open to University staff and students and Harwell employees.
Phil Southall, Thames Travel Managing Director, said: "Our new Science Transit Shuttle Connector services will connect Oxford with key employment sites and forms part of our continued investment in supporting the economic growth of the county. The new service will be open to everybody and demonstrates what can be achieved when key stakeholders work together on shared objectives. This vital new service would not have been possible without the support of our partners. This latest investment in the new fleet of environmentally friendly, high-spec Connector branded vehicles further demonstrates our commitment to the region."
The ST1 Connector service will provide a fast route between Broad Street, the University Science Area and Harwell Campus every 30 minutes between 6.40am and 7pm Monday to Friday. The existing X34 service will be incorporated into the ST1 service.
The ST2 Connector service will operate between the John Radcliffe Hospital, Old Road Campus, University Science Area, Oxford rail station, Seacourt Park & Ride and Wytham between 7am and 7pm Monday to Friday. 
Thames Travel's fleet of buses are low emission vehicles and it is the third largest bus operator in Oxfordshire. It serves South Oxfordshire and into Berkshire, carrying 2.9M passengers per year. Earlier this year Thames Travel moved its depot to Didcot as part of its investment into the area and its fleet, infrastructure and people.