Top 10 Visitor Questions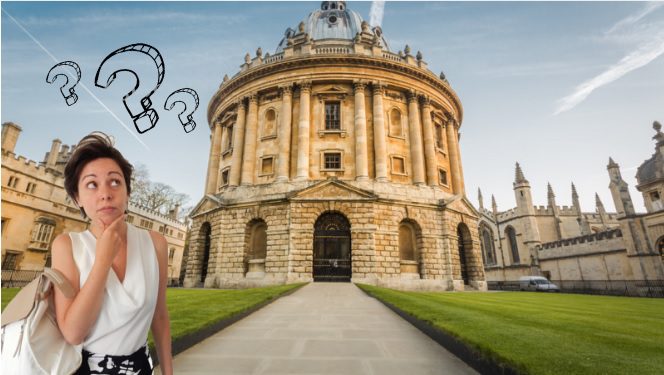 At the Oxford Visitor Information Centre we receive a wide range of people with an equally wide range of questions. Here are our top frequently asked questions to prepare you for your next visit.
Where is Oxford University and how can we visit it?
The University of Oxford, to give it its proper name, is made up of 38 colleges plus academic and administrative departments. Their buildings are found all over Oxford, so you will find it everywhere in the city centre. Some but not all are open to the public: it is well worth visiting at least one college on your visit to Oxford. Most of these are free or charge a small fee. Opening times for colleges vary: 2-4pm is the most likely time to find a college open. Up to date opening times can be seen on the porter's lodge at the entrance to each college.  If you join a walking tour that includes a visit to a college, your guide will have access arranged.
What is there to see and do in Oxford?
Oxford and the surroundings offer plenty to see and do for a week or more. Most visitors are here for a very short time, and it is difficult to choose what to fit in. For a first visit, don't miss the main "iconic" sights of the University: the Bodleian Library's circular Radcliffe Camera, Old Schools Quad, and Divinity School; Hertford College's bridge known as the "Bridge of Sighs", crossing New College Lane; and the Sheldonian Theatre, the university's ceremonial hall, also used as a venue for concerts and lectures. The city's museums are fascinating for both the serious museum-seeker and those looking for the curious and unusual (see below). To get the best view of "Oxford's dreaming spires", get a high view from a tower – Oxford Castle, the University Church of St Mary the Virgin, and the Sheldonian Theatre cupola are all great vantage points, if you don't mind a climb! The city's rivers and green spaces are perfect for tranquillity and to discover the inspiration for Alice in Wonderland, amongst Oxford's great creations. Take a boat trip, or punt down the river; see the extensive collection at the botanic garden, or just relax in the University Parks or Christ Church Meadow. Walking is a great way to see all the sights of the city – either on an organised tour where the guide will give you insight into what you're seeing, or just following your eyes and ears. There are several guide books available to help you on your way. For shopping, as well as the high street shops around Cornmarket, the High Street and Queen Street, don't miss Oxford's famous covered market. The large Westgate shopping centre is under renovation, due to reopen in autumn 2017.  A little further afield are the 'hip' shops in Jericho, North Oxford's 'village' of Summertown, and a more multi-cultural selection along Cowley Road. There are always lots of events in the city: from Evensong in the college chapels, o exhibitions and outdoor events. Keep an eye on the events page of our website for what's on. There's quite a lot to start with – you'll need more time!
What colleges are related to Harry Potter movies?
Several Oxford locations feature in the early Harry Potter films. Christ Church's Great Hall was the inspiration for Hogwarts Dining Hall, although a replica studio set was created for filming. Also at Christ Church, the stairway and cloister feature in The Philosopher's Stone and Chamber of Secrets.  New College cloister was used in The Goblet of Fire.  The Divinity School and Duke Humphries Library, both in the Bodleian Library, also feature in The Philosopher's Stone.
What museums can we visit in Oxford?
The Ashmolean Museum of art and archaeology has a large permanent collection and seasonal exhibitions, and is renowned as the oldest museum in the UK. The University Museum of Natural History's collection of specimens from the natural world and the Pitt Rivers museum's anthropological and archaeological objects make for a fascinating visit, sharing the same entrance on Parks Road.  The Museum of the History of Science contains a wonderful collection of historic scientific instruments. For an insight into Oxford's history, visit the Museum of Oxford in the Town Hall, and Oxford Castle Unlocked, where guides bring the past to life.  The Weston Library (part of the Bodleian Library) gives exhibitions from their extraordinary collections. The Story Museum is a treasure trove for lovers of stories, young and old. Further collections include the Oxfordshire Museum, Modern Art Oxford, Christ Church Picture Gallery, and the Bate Collection of Musical Instruments.
Can you recommend any places to eat and drink?
The choice of places to eat in Oxford is enormous. From light bites to formal dining, there's something for everyone. If your group can't agree on a cuisine, try Cosmo, where over 150 dishes are available. There are many cafés and restaurants in all the shopping areas (see above), and it's worth exploring the Castle Quarter's options. For a quieter lunch spot try Benugo in the Weston Library, or for a meal with a view, try the rooftop restaurant of the Ashmolean Museum.
Where can we pick up City Sightseeing Bus? Where can we buy tickets?
You can buy tickets online in advance, from the Visitor Information Centre, from the City Sightseeing office in Oxford Railway Station, or from the driver.
The City Sightseeing buses have many stops all around the historic city centre and to the south on the Meadows and Bridges route, including Oxford Train Station, Gloucester Green bus station, Broad Street, Christ Church, The Queen's College on the High Street, as well as Redbridge Park & Ride
Do you have any information on buses in Oxford?
The Visitor Information Centre has a large selection of bus timetables available for collection. For online information for a specific a route, use www.traveline.info, or see the Oxford Bus Company or Stagecoach Oxfordshire websites.
How can we get to London from Oxford?
We are spoilt for choice with two train routes, and two coach routes!  From Oxford Station there are regular Great Western Railway services to London Paddington, and from Oxford Parkway Station to the north of the city are Chiltern Railways services to London Marylebone.  The two coach routes, the Oxford Tube, and X90, call at the same points in Oxford, from Gloucester Green bus station to Thornhill Park & Ride, and take slightly different routes into London, both arriving at London Victoria. Coach tickets can be bought from the Oxford Visitor Information Centre; train tickets should be bought online or at a train station.
How can we visit Blenheim Palace? Where can we buy tickets?
Blenheim Palace is in the village of Woodstock, 9 miles north of Oxford. It is open 7 days a week throughout the year. There is a good bus service from Oxford to Woodstock; the S3 runs every 20 minutes from Gloucester Green Bus station; National Cycle Route 5 joins Oxford and Woodstock, or there is plenty of car parking at the palace. Tickets can be bought at the gate, or in advance at a discount from the Visitor Information Centre or our online shop.
Can we have a map of Oxford?
We produce a basic map of Oxford's city centre which you can download from our website, or buy a paper copy for just 50p at the Visitor Information Centre. It shows the historical city centre, marking the city's attractions and the university colleges. We also have a Quick Guide to Oxford in different languages which includes Top 10 things attractions, Information on Oxford University colleges and a self-guided walking tour of the city. There is a wide range of maps and guidebooks of the area with different features: wider areas, pop-out, Ordnance Survey maps for walking and cycling, or touring maps of the wider region. We don't supply paper city maps for free, and trust that visitors appreciate the reduction of waste paper through this policy.
For more information, come in to see us at 15-16 Broad Street, OX1 3AS, or email info@experienceoxfordshire.org.