Head Mammal Keeper at Cotswold Wildlife Park and Gardens is Finalist for Top Tourism Award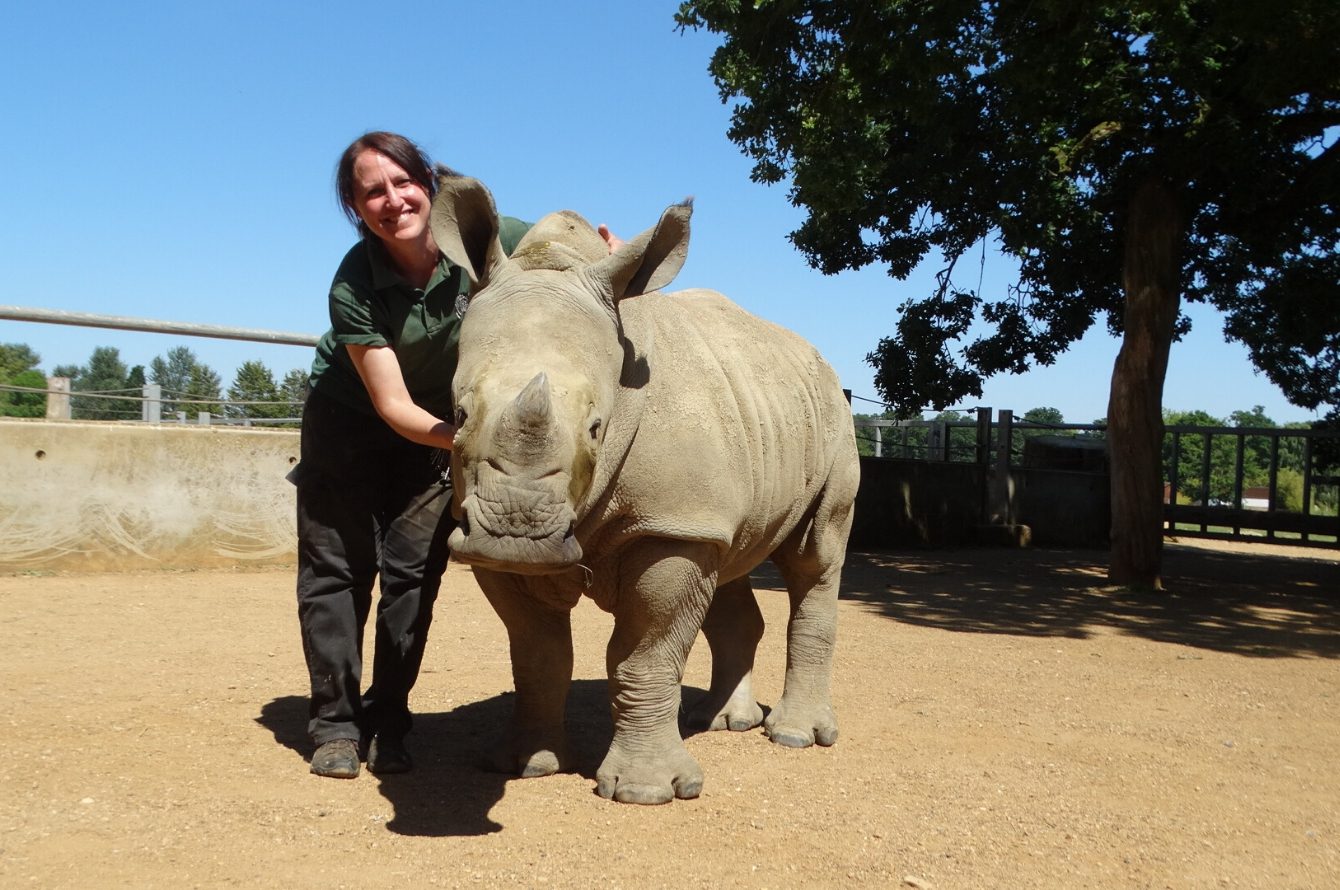 A local zookeeper from Oxfordshire is in the running for the nation's top tourism award– and we are asking Oxfordshire to get behind her!
Hayley Mullaney, who works at Cotswold Wildlife Park and Gardens near Burford, is one of 10 finalists in with a chance of winning VisitEngland's annual Tourism Superstar competition, supported by The Mirror newspaper.
Tourism Superstar recognises the dedication and passion of those working in the tourism industry. It promotes those unsung heroes who go far beyond the call of duty to ensure visitors in their area have an unforgettable experience.
Cotswold Wildlife Park and Gardens celebrates its 50th anniversary this year, and for 10 years Hayley has been a dedicated member of the Park's team. Hayley always goes above-and-beyond her role as Head Mammal Keeper when it comes to looking after the animals in her care – even bottle-feeding baby Rhino calf Belle at 2am!
Hayley has been responsible for some truly amazing events at the Park (often organised in her own time). She was the instigator and organiser of the Park's first-ever "Dreamnight at the Zoo" – an invitation-only after-hours event for chronically ill and disabled children and their families to exclusively enjoy the wildlife park. Hayley has been the event organiser for six years and is brilliant with the children, families and charities, making it a very special evening to remember filled with memories.
She is always coming up with new ideas to help deserving causes. For example, recently noticing that a lot of drinking bottles, sunglasses and hats were being left behind at the Park by visitors and not being collected, Hayley found a children's charity in Ghana who would make great use of these items.
She also goes above-and-beyond her role as Head Mammal Keeper when it comes to looking after the animals. In 2017, Belle, the park's first hand-reared rhino calf, needed around-the-clock care. On top of her daily responsibilities, Hayley spent nights by Belle's side, which included bottle-feeding her at 2am. Her dedication and care is inspiring.
Hayley Mullaney said:
"I am absolutely delighted to be nominated. In my role as Assistant Curator and Head Mammal keeper, I am lucky enough to work with some of the rarest and most iconic animals on earth, including our new baby Rhino Stella, who is proving to be quite a character! I am very fortunate to be able to share my passion for animals and conservation with our visitors and this is hugely rewarding in itself. I try to give everyone a warm welcome when they visit the Park and always hope they leave inspired about the wonders of the natural world.
I'm really touched that the extra things I've organised over the years, like "Dreamnight at the Zoo" and Junior Keeper Experiences, have had such a positive effect on people and helped to create some wonderful memories for them. I'd also like to say a huge thank you to my colleagues at the Wildlife Park, as the job we do is all about teamwork, and a big thank you to Cotswold Wildlife Park and Gardens and Experience Oxfordshire for nominating me."
Hayley Mullaney was nominated by Experience Oxfordshire, the destination management organisation which promotes, manages and develops the Oxfordshire visitor economy.
Hayley Beer-Gamage, Chief Executive of Experience Oxfordshire, said:
"We are delighted to be backing Hayley Mullaney for this prestigious accolade. Across Oxfordshire we're so lucky to have amazing people that work within our visitor economy to make Oxfordshire a world-class destination and provide a great visitor welcome.
Hayley's passion for animals and dedication to making Cotswold Wildlife Park and Gardens a fantastic family day out makes her an absolute superstar – we are so pleased that Hayley has been shortlisted by VisitEngland for this award.
We would like to encourage our Oxfordshire locals, visitors to Cotswold Wildlife Park and Gardens, partners and friends to vote for Hayley so that she can become VisitEngland's 2020 Tourism Superstar. We hope she is supported as this nomination is well deserved!"
Visitors to Oxfordshire, the Cotswold Wildlife Park and Gardens and people in the local area are being encouraged to vote for Hayley Mullaney on the Mirror's voting page between 7 March and 21 April 2020.
The winner will be announced on Saturday 25 April during English Tourism Week (18-25 April), a week which showcases the quality, range and value of English tourism and raises awareness of the enormous contribution it makes to the UK economy.
To find out more about the Tourism Superstar initiative go to
https://www.visitbritain.org/tourism-superstar-2020
To vote for Hayley go to: www.mirror.co.uk/travel/uk-ireland/vote-now-your-staycation-holiday-21538261
ENDS
For more information contact:
Antonio Ferrara
Phone: 01865 686433
Email: Antonio.ferrara@experienceoxfordshire.org  / press@experienceoxfordshire.org
Experience Oxfordshire is the official Destination Management Organisation (DMO) for Oxfordshire. We are the trading arm of the parent charity, Experience Oxfordshire Charitable Trust, and are a not-for-profit partnership organisation that is committed to the promotion, management and development of Oxfordshire as a great destination to live, work, visit and do business and improving growth and productivity across the visitor economy.
www.experienceoxfordshire.org/partner
 VisitEngland's English Tourism Week campaigns to raise the profile of the industry and celebrate the value and quality of tourism in England. The annual campaign provides the tourism industry with a vehicle to kick-start the season and promote local tourism products. Everyone can participate in the campaign, from accommodation providers, attractions, tourist information centres and destinations, to related sectors such as hospitality, transport or retail.
www.visitbritain.org/english-tourism-week
Cotswold Wildlife Park and Gardens is home to more than 260 species of animals and 120 acres of beautiful parkland. Watch Rhinos graze on the lawns in front of the Gothic Manor House. Walk up the Giraffe walkway and get eye-to-eye with these amazing creatures or explore the Old Walled Garden's Tropical House with free-roaming sloths, birds and bats. The award-winning attraction is celebrating their 50th anniversary in 2020.