Visit Fairytale Farm's Illuminated Evenings this autumn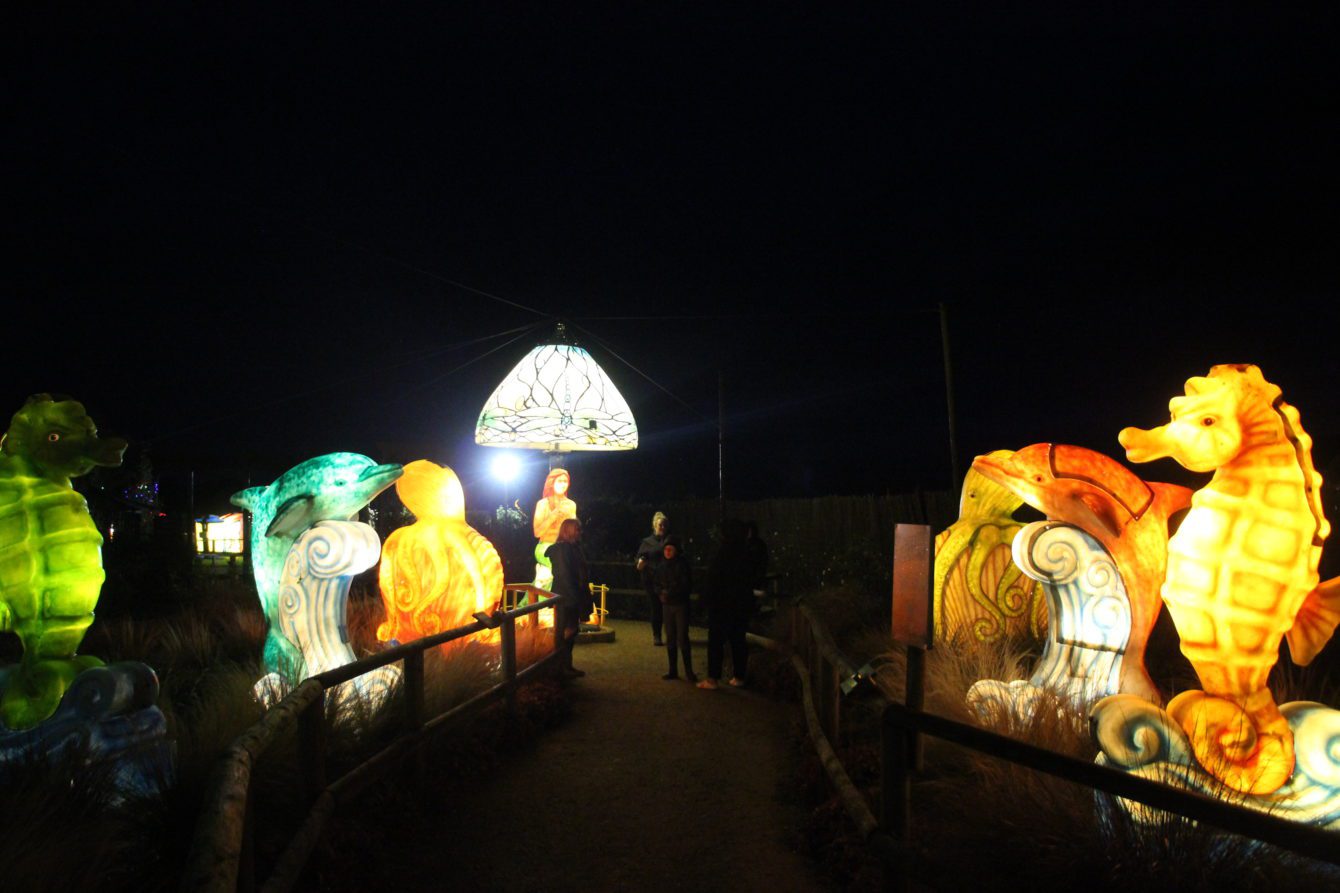 The south of England's original illuminations event is back and is bigger and better than ever this year.
Fairytale Farm's famous Illuminated Evenings are switched on from Saturday 9th October 2021 and run every Saturday and Sunday evening until 28th November.
Farm owner Nick Laister is looking forward to showing visitors a number of new features in this year's lights: "We have so much to show our visitors this year. We have illuminated our Enchanted Walk every year since 2013, when we were the first attraction in the south of England to open new permanent outdoor illuminations for many decades. All of our main features along the Enchanted Walk, such as the Sea Creatures, the Extinct Band, the Giant's Camera and the Party Poppers, have been internally illuminated since then. We have added new features each year, such as the Snow White Garden, and Jack's incredible illuminated beanstalk, rising 10 metres into the sky."
Nick explains that this year Fairytale Farm has brought in the services of the UK's leading lighting engineer, Richard Ryan, who was in charge of Blackpool's iconic illuminations for many decades: "Richard helped us back in 2012, when we built our original illuminations. This year he has not only created new features for the existing Enchanted Walk, he has designed for us an extension to the illuminations that will include Fairy Dell, Dino Valley and the Huff & Puff Adventure Playground, making the 2021 illuminations the biggest and best show we have put on since Fairytale Farm was created."
New features will include LEDs above the fairy tale shops, tunnel of lights, new festoon and coloured floodlighting, plus some surprises along the way.
Lighting designer, Richard Ryan, has been careful to ensure that the Illuminated Evenings are not a Blackpool Illuminations for the south of England: "I have known Nick Laister for many years and have always been glad to help him further develop Fairytale Farm. I really believe in what Nick is trying to achieve at the Farm, creating a unique, accessible and sensory attraction that is different to any other attraction in the country. It has always been a pleasure to help in any way I can. I am looking to do even more in the future, so there will be something new to see."
Richard continues: "This year's extended display is the first step in making the illuminations longer and more immersive, and a sign of more to come. I have been very careful to ensure the lighting scheme is appropriate for the rural location, so it won't be Blackpool Illuminations Mark 2! It should, however, delight children and adults alike, and I am creating a layout that will bring other areas of the park into the light show. I am very excited to see it in action this October."
The farm will stay open until one hour after dusk every weekend, and daytime visitors can stay on and see the illuminations for free. Fairytale Farm also operates a reduced admissions price from 4pm (3pm from 31st October). The Beanstalk Cafe will be open throughout with a choice of hot and cold snacks.
The all-in farm admission, food and illuminations deal that has been popular in recent years will also be returning, says Nick: "Our 'Illuminations and Supper' Deal is available every weekend from 4pm (3pm from 31st October) for £6.75 per person if booked online. This price gives evening entry to the Farm (with a chance to see the animals if you arrive promptly), a soup with crusty bread or hot dog plus a hot or cold drink, and finish the evening with a stroll through the illuminated gardens after the lights switch on. A truly magical evening for the whole family. We recommend that people book in advance to be certain of entry."
Nick adds: "We are so excited about this year's display, more than any other we have put on. I can't wait to see the reactions of families walking down the trail this year. It is going to be a magical experience."
More details here: https://www.fairytalefarm.co.uk/events/illuminated-evenings-2021/
A previous display can be seen here.
High resolution photos are available to download for media use here.
ENDS

Information for Editors
Click here for high resolution photographs.
Note that the animal area and playground closes at dusk so please arrive as soon after 4pm (3pm from 31st October) as you can if you want to see these parts of the park before the illuminations switch on.
Fairytale Farm can be found on the A44 (Oxford to Chipping Norton road), just outside Chipping Norton. The address is Fairytale Farm, Southcombe, Chipping Norton, OX7 5QH. Tel: 01608 238014. Email: info@fairytalefarm.co.uk.
It is a farm park visitor attraction based around six zones: Jack's Yard; the Enchanted Walk; Fairy Dell; Huff & Puff Adventure Playground; Alfie & Friends Animal Zone; and Wilderness Walk.
Our website is www.fairytalefarm.co.uk. You can also find out more at our Facebook page: https://www.facebook.com/fairytalefarm/
Tickets can be bought online here: https://fairytalefarm.digitickets.co.uk/event-tickets/27844?catID=27043&
Nick Laister and Richard Ryan are available for interview. Arrange an interview on 07778 207036.
The farm is open every day except Christmas Day, Boxing Day and New Years Day.
Fairytale Farm is a member of Experience Oxfordshire, Cotswolds Tourism, Shakespeare's England, Tourism South East, Tourism For All and the National Farm Attractions Network.