Art on the Hoof at Blenheim Palace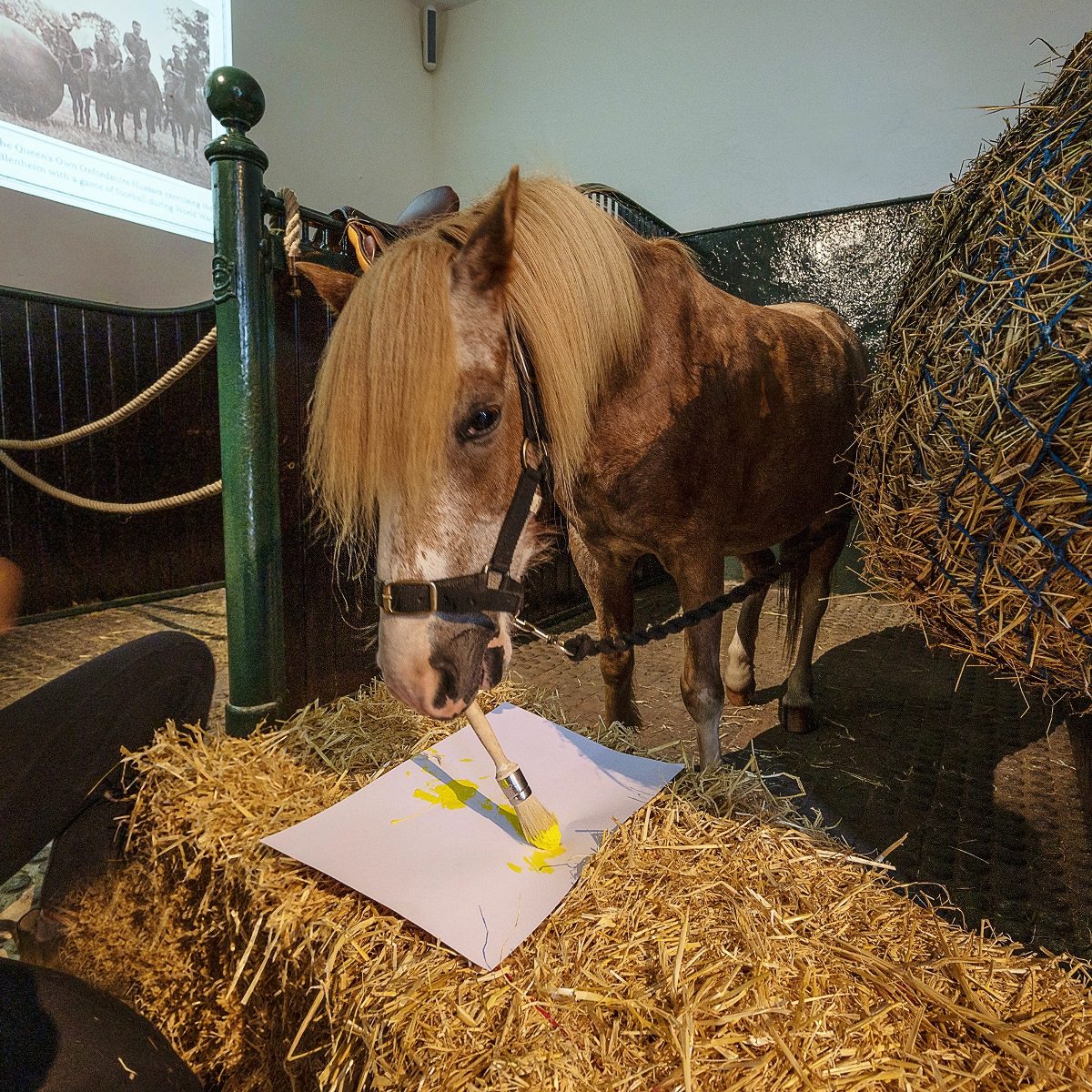 A painting pony called Teddy is delighting visitors to Blenheim Palace's new stables exhibition with his unbridled artistic prowess.
The 14-year-old chestnut roan is the mane attraction in the Oxfordshire UNESCO World Heritage Site's new Stables Exhibition where he is making regular weekend appearances throughout the August holidays.
The picture-perfect pony holds the paintbrush in his mouth and creates his abstract art on canvasses supplied by owner Charlotte Marshall who also runs pony therapy sessions for primary school children.
Teddy's artistic career began in 2019 when Charlotte was contacted by a student at Oxford Brooke's University who was looking to see whether she could teach a horse to paint.
"Teddy has always been a very quick learner with a very sweet nature and he thrives on one-on-one attention," said Charlotte.
"He was holding the paint brush by the end of the first session and ended up completing four portraits that were exhibited at the university," she added.
Teddy is one of 14 hardy native ponies which live together in a mixed herd at Charlotte's Pony Pursuits stables.
"Pony Pursuits was founded in 2008 with the aim of changing the stereotype that horse riding is a sport exclusively for the more privileged members of society," said Charlotte.
"We make horse riding accessible for all regardless of age, experience or ability to pay. We also provide alternative pony therapy to local children with special educational needs.
"The interaction with the ponies is therapeutic in many ways and equines are very intuitive to individual mood and needs.
"Clients quickly build reciprocal relationships with the ponies and Teddy is one of the children's favourites," she added.
It is hoped the artworks Teddy completes during his residency at Blenheim will go on public display and help raise money for local animal-welfare charities.
Opened this year, the Stables Exhibition is an immersive and interactive experience in the Palace's historic stable block showcasing the importance of horses at Blenheim through the centuries.
• For more information and to book go to www.blenheimpalace.com
**ENDS**

Issued on behalf of Blenheim Palace. For more information please contact Samantha Vaughan on 07469 129743 or SVaughan@blenheimpalace.com or Niamh O'Sullivan at NO'Sullivan@blenheimpalace.com.
About Blenheim Palace
Home to the Dukes of Marlborough since 1705, Blenheim Palace was designated a UNESCO World Heritage Site in 1987.
Set in over 2,000 acres of 'Capability' Brown landscaped parkland and designed by
Vanbrugh in the Baroque style, it was financed by Queen Anne, on behalf of a grateful nation, following the first Duke of Marlborough's triumph over the French in the War of the Spanish Succession.
Today it houses one of the most important and extensive collections in Europe, which includes portraits, furniture, sculpture and tapestries.
Blenheim Palace is also the birthplace of one of Britain's most famous leaders, Sir Winston Churchill, and it was his father who described the vista on entering the Estate from the village of Woodstock as the 'finest view in England'.