Bletchley Park's biggest ever exhibition galleries to open in April 2022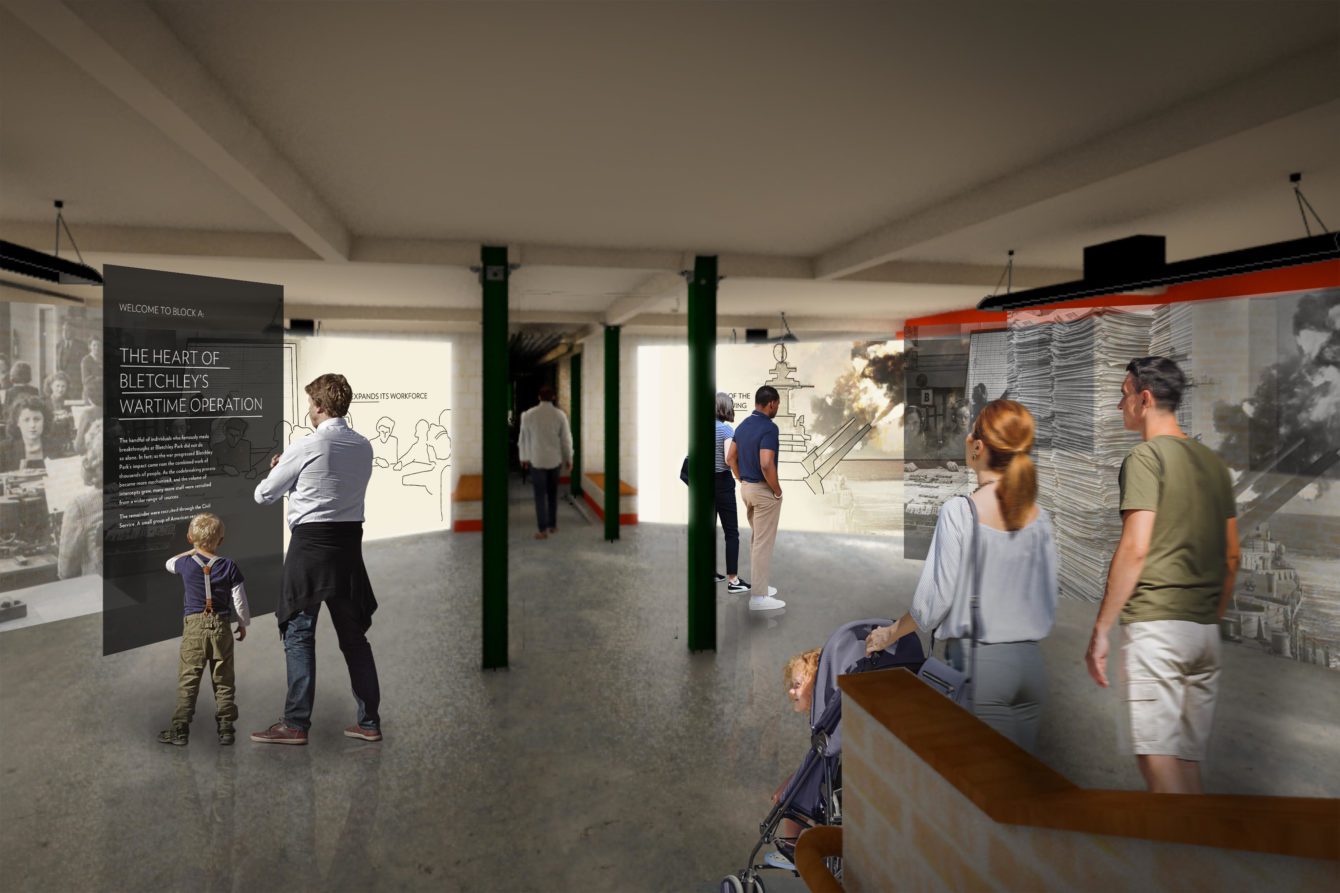 For the first time, visitors will be able to explore a newly restored wartime building at the heart of the historic Bletchley Park World War Two Codebreaking site when the museum's biggest ever exhibition and temporary exhibition galleries open in April 2022.
The Intelligence Factory, a permanent exhibition in Block A, the largest exhibition space on site, will tell a key part of the BP story – how Bletchley Park's potential as an intelligence organisation was unleashed in the second half of World War Two.
Objects, personal stories and thrilling moments of interaction will focus on Bletchley Park's wartime operations from 1942 to 1945, as it rapidly increased its multi-skilled workforce to meet operational demands. The site expanded hugely to a workforce of 9000, seventy-five per cent of whom were women. Staff worked around the clock to supply an ever-growing demand for signals intelligence, converting a mountain of enemy communications into actionable intelligence that would ultimately help win the war.
The exhibition throws visitors into the action at the peak of Bletchley Park's operations, from tracking positions of Allied and enemy vessels to handling vast quantities of information, and recruiting, feeding and housing thousands of staff. Visitors will be able to view Bletchley Park through multiple lenses – from intimate portraits of staff, through the day-to-day environment of the workplace itself, to the challenges involved in keeping the entire operation afloat. Snapshots of the present day will reveal Bletchley Park's enduring relevance and legacy, from tackling cybercrime to supplying intelligence to soldiers in the field today.
Alongside the permanent exhibition The Intelligence Factory, which takes over two spurs of Block A, a third spur has been carefully adapted into a new exhibition gallery that will house temporary exhibitions. An 18 month contemporary exhibition on visualising data will open in April 2022. Taking inspiration from the techniques used by the Codebreakers to manage information at scale, it will focus on how data visualisation helps us to make sense of our world today.
The transformation of Block A is the latest project by Bletchley Park Trust, an independent museum and heritage site, to carefully restore and reopen key wartime buildings. The Bletchley Park Trust plans to open a new learning facility and collections centre in Block E and the Teleprinter Building Extension from late 2022 to early 2023, increasing its learning visit capacity to 50,000+ participants a year, and improving access to Bletchley Park's unique archive for researchers and scholars.
Iain Standen, CEO of Bletchley Park Trust said: "We are delighted to announce another milestone in the ongoing development of Bletchley Park.  'The Intelligence Factory' exhibition will tell a major part of the Bletchley Park story. It will take visitors from the cottage industry of the early days, when the Codebreakers worked in very basic huts, to it becoming the world's first intelligence factory.  Located at the heart of the site, Block A has not been open to the public before. This exhibition gives us the opportunity to present incredible stories and place the spotlight on some of the many people involved in them and do so in the place where they actually worked. We look forward welcoming new and returning visitors to explore the exhibitions from April 2022."
Bletchley Park Trust is pleased to announce the support of the following donors and sponsors of the project.
The Lead Principal Sponsor for the Block A permanent exhibition is BAE Systems, an international defence technology company which delivers cyber security and maritime programmes across the globe. The sponsorship is the latest chapter of a partnership between Bletchley Park Trust and BAE Systems which aims to keep our shared heritage alive.
Mark Phillips, Group Communications Director, BAE Systems, said: "We are delighted to support the Bletchley Park Trust in bringing to life the story of Block A's crucial role in the Allied victory during World War Two. We are proud of the Heritage on which our business is built and we continue to draw inspiration from it as we support our Armed Forces and security services today. The ability to solve problems and turn huge quantities of data into intelligence is what Bletchley Park was renowned for, and these same skills are embodied by our people. Through this sponsorship, we hope we can keep the inspirational work of the Bletchley Park Codebreakers alive."
Bletchley Park Trust is also pleased to have the Thomas L. Kempner, Jr., Foundation, Inc and the FCC Communities Foundation as project Principal Supporters.
Thomas L. Kempner, Jr, President of the Thomas L. Kempner, Jr., Foundation, Inc., said: "As a former student of computer science at Yale University and lifelong fan of Alan Turing, I am very pleased to support the organisation's plans for Blocks A and E. Bletchley Park is a birthplace of computer science and I am delighted to be involved in the future of this important heritage site."
Simon Settle, General Manager of FCC Communities Foundation, said: "We are delighted to be supporting the Bletchley Park Trust with the next phase of development. This is an exciting project to be involved with, as for the first time the visiting public will have access to these unique buildings. The space created in Block A will allow visitors to appreciate the permanent exhibitions, but also appeal to a wider audience visiting the temporary exhibitions. We are looking forward to working alongside the Trust and other funders to further develop what is already a unique visitor attraction that will inspire future generations, whilst recognising the incredible achievements of the past."
Other generous support has also been received from The Post Office Fellowship of Remembrance, The Peter Harrison Foundation, Dr Edmund O. Schweitzer III and Mrs Beatriz Schweitzer, Garfield Weston Foundation, The Foyle Foundation and other trusts, foundations, companies and individuals.
Milton Keynes Council has provided funding used to plan and organise the exhibition. Specific funding for access provision has been supported by funding from the MK Community Foundation.
Ian Revell, Chief Executive MK Community Foundation, said: "Milton Keynes Community Foundation are passionate about supporting local organisations and charities to deliver accessible projects. Accessibility is imperative to creating and promoting equality across all visitors, and we are proud to be involved in this exciting project focusing on inclusivity at Bletchley Park."
The Intelligence Factory has been developed with interpretation consultant Dr Emily Scott-Dearing and exhibition designers Ralph Appelbaum Associates (RAA). The new temporary exhibition is being developed with interpretation consultancy from Nissen Richard Studio.
Emily Scott-Dearing, The Intelligence Factory's Interpretation Lead said: "It's exciting to be shining a spotlight beyond Bletchley Park's most famous staff to the cast of thousands whose combined efforts played a hidden but vital part in turning the tide of World War Two. Visitors to 'The Intelligence Factory' will discover that as Bletchley Park's operations grew, the work happening here went well beyond codebreaking. They will walk in the footsteps of the organisation's booming workforce and try their hand at the work staff did. I'm delighted we'll be able to show visitors what Bletchley Park was like during its busiest years."
Phillip Tefft, Director of RAA London: "It is a privilege to be working on Bletchley Park's largest exhibition to date. This exciting project will bring Block A to life by using media, sound and shadow to create a powerful sense of place and evoke the spirit of those who worked here in the latter half of WW2. By activating Block A in this way, we will illuminate the monumental efforts made by Bletchley Park's staff, including compelling stories of the men and women whose hard work and intelligence made such a huge impact, changed the course of history and heralded the technological world we live in today."
Elin Simonsson, Head of Interpretation, Nissen Richards Studio: "For the first Block A temporary exhibition, Bletchley Park asked us to tell the story of data visualisation and its role in our lives. Taking inspiration from the techniques used by Bletchley Park to make sense of vast amounts of data, the exhibition explores how the visualisations of data help us make sense of our world today, from sports and science, to the social media networks. Bletchley Park is a truly remarkable place and it has been a real privilege to be able to delve into its rich stories."
ENDS
Press previews of Block A available from February 2022.
The exhibitions are suitable for families, aimed at ages 8+. Under 12s visit Bletchley Park for free. General admission tickets act as an Annual Pass giving unlimited free returns within a year.
For further information, images, interview or preview requests, please contact Rosie Burke, Media and Publications Manager, Bletchley Park Trust on +44 (0)7487730193,  rburke@bletchleypark.org.uk
Notes to editors
Bletchley Park is situated in Milton Keynes, Buckinghamshire.
Bletchley Park is open to the public daily, year-round.
Bletchley Park Trust is a registered charity, heritage attraction and independent museum, run by the Bletchley Park Trust. As an independent charity, we rely on our visitors, members and supporters to provide the income to allow us to keep the site open. Our staff and volunteers help make it all possible. Registered charity number: 1012743.
Block A was constructed in 1942, when Bletchley Park began to rapidly expand. It housed among other teams, Naval Section and Air Section and was the site of BP's naval Plotting Room where staff tracked and plotted the positions of vessels around the world through details gathered from intercepted messages.
Block A's first temporary exhibition will focus on how data visualisation can help us help us understand patterns, make decisions, improve performance and help us plan for the future. Showcasing examples from both Bletchley Park and today, the exhibition will be bold, colourful and full of opportunities to participate.
About Bletchley Park 
Bletchley Park is a vibrant heritage attraction and museum, open daily to visitors.
It was the home of British World War Two codebreaking; a place where technological innovation and human endeavour came together to made ground-breaking achievements that have helped shape the world we live in today.
This unique site was previously a vast Victorian estate, where parts including the Mansion still survive, expanding during wartime to accommodate Codebreakers Huts and Blocks.
During World War Two, the Government Code and Cypher School (GC&CS), now known as the Government Communications Headquarters (GCHQ), was based at Bletchley Park. It grew from a small team of specialists to a vast intelligence factory of thousands of dedicated women and men. This extraordinary combination of brilliant and determined people and cutting-edge technology contributed significantly to Allied victory. In tough conditions, they provided vital intelligence and developed pioneering technological innovation that had a direct and profound influence on the outcome of the war.
The site continues to reveal secrets and tell fascinating stories of our national legacy.
The Bletchley Park Trust
Bletchley Park Trust is a registered charity, heritage attraction and independent museum. As an independent charity, we rely on income from our visitors, Friends and supporters to secure the long-term future of the site.
Registered charity number: 1012743.
Social Media 
Join the discussion about Bletchley Park at:
Facebook /bletchleypark1
Instagram @bletchleyparkuk
Twitter @bletchleypark
YouTube /bletchleyparktrust
#BletchleyPark
About BAE Systems
At BAE Systems, our advanced defence technology protects people and national security, and keeps critical information and infrastructure secure.
We search for new ways to provide our customers with a competitive edge across the air, maritime, land and cyber domains.
We employ a skilled workforce of 85,800 people in more than 40 countries, and work closely with local partners to support economic development by transferring knowledge, skills and technology.
For further information, contact David Coates, Senior Communications Advisor, BAE Systems – Air on +44 (0)3300 481443, +44 (0)7525 081575, david.coates@baesystems.com
About FCC Communities Foundation
FCC Communities Foundation awards grants to community projects from funds donated by FCC Environment through the Landfill Communities Fund and Scottish Landfill Communities Fund. FCC Communities Foundation was established in 1997 and has provided over £250m to more than 7,500 projects across the UK.
For further information, contact Simon Settle, General Manager, FCC Communities Foundation on +44 (0)1953 714 113, simon.settle@fcccommunitiesfoundation.org.uk