Broad Meadow to stay until October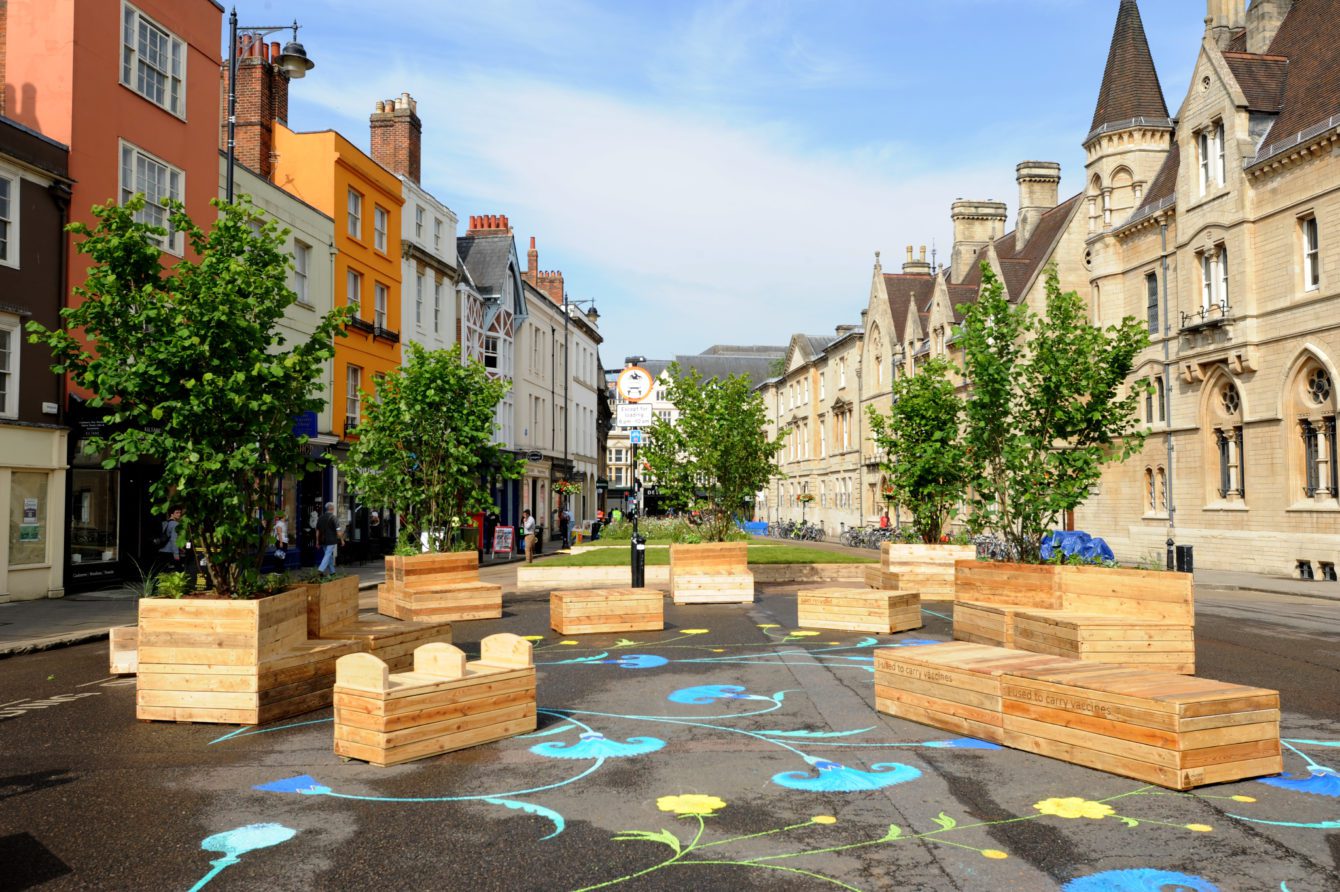 Oxford City Council is to extend Broad Meadow until 10 October 2021. The announcement of the extension is timed to coincide with World Car Free Day, when people around the world leave the car at home to enjoy cycling, walking, and using public transport instead.
Broad Meadow is a temporary pedestrian-friendly outdoor space containing wildflowers, trees and small lawns, and was officially opened on 1 July 2021 for residents and visitors to meet friends and family throughout the summer.
The project has created one of Oxford city centre's largest outdoor public spaces and helped promote the safe use of the city centre over the summer and support Oxford's economic recovery.
The extension means that the annual Arts Market will now take place in Broad Meadow on 2 and 3 October, complementing the extensive programme of high-quality community and arts events that have taken place in the space over the summer weekends. Some of the smaller elements of Broad Meadow will be relocated to accommodate the Arts Market, ahead of the site being returned to its previous state starting on 11 October.
The extension will also enable students, who are now beginning to return to the city, to visit Broad Meadow and give their feedback about it.
The Council wants the experience to inform the development of longer-term options for creating better civic spaces on Broad Street and in other parts of the city. It is encouraging all Oxford residents, workers, students and visitors to visit Broad Meadow and share their views.
A consultation questionnaire is available on the Council's dedicated Citizen Space consultation portal until 29 October. This can also be accessed by scanning QR codes on seating in Broad Meadow.
Public consultation
The public consultation and all other information and feedback gathered over the past few months has given people the chance to comment on the scheme and shape plans to create an outdoor public space on the whole of Broad Street on a permanent basis.
The design of Broad Meadow was developed by landscape architects LDA Design and informed by discussions with technical experts and local stakeholders, as well as local businesses, cycling groups such as Cyclox, and disabled people and representatives of disability groups through the City Council's Inclusive Transport and Movement Forum.
The Council prioritised using local suppliers, recycled materials and is working on re-use plans for the furniture and as much of the infrastructure as possible when the scheme is finished.
Through the Zero Carbon Oxford partnership, the City Council is working with partners to achieve a zero carbon city by 2040. Earlier this summer the partnership approved and published a roadmap which outlines the key milestones that the city needs to reach in order to achieve this target.
As part of this target the roadmap outlines that we need to reduce the use of vehicular transport through increasing cycling, walking, home-working, car sharing and car clubbing. It is predicted that a 15% decrease is needed by 2025; 25% by 2030; 25% by 2035; and 30% by 2040.
Comment
"World Car Free Day is an opportunity to enjoy people-friendly streets and what better day is there to also announce the continuation of Broad Meadow? The wildflower meadow has given us a vision of what pedestrianisation of Broad Street could look like, and this Council is committed to bringing about the pedestrianisation of this street and others. As a listening council, we want to hear from the whole of Oxford, so please do share your views."
– Councillor Tom Hayes, Deputy Leader and Cabinet Member for Green Transport and Zero Carbon at Oxford City Council
ENDS
Notes to Editor
Contact details
Email: pressoffice@oxford.gov.uk (Please note that any replies directly to this Press Release will go to an unmonitored inbox. Please contact email address provided)
Phone: 01865 252096
About us
Oxford City Council is the democratically-elected local authority for Oxford.
In partnership with others, we provide a wide range of services – including planning, housing, community centres, parks and waste collection – for approximately 152,000 residents, 106,000 people who work in Oxford and the millions of people who visit our world-famous city every year.
We have set four key priorities, all of equal importance and all interconnected:
• to enable an inclusive economy, where everyone has access to sustainable business and employment opportunities
• to deliver more affordable housing, including a new generation of council homes to help meet our acute housing shortage
• to support thriving communities, reducing the stark inequality between our city's richest and poorest residents
• to tackle the climate emergency by pursuing a zero-carbon Oxford
Our vision is to build a world-class city for everyone.
Oxfordshire has a two-tier system of local government, which means services are provided by two different councils. Oxford City Council provides local services for the city, while Oxfordshire County Council is responsible for strategic, countywide services such as roads, schools and social care.
Images
Images of Broad Meadow are available on request. Please email pressofficce@oxford.gov.uk