Cadets Help Blenheim Palace's Vintage Fire Engine to Shine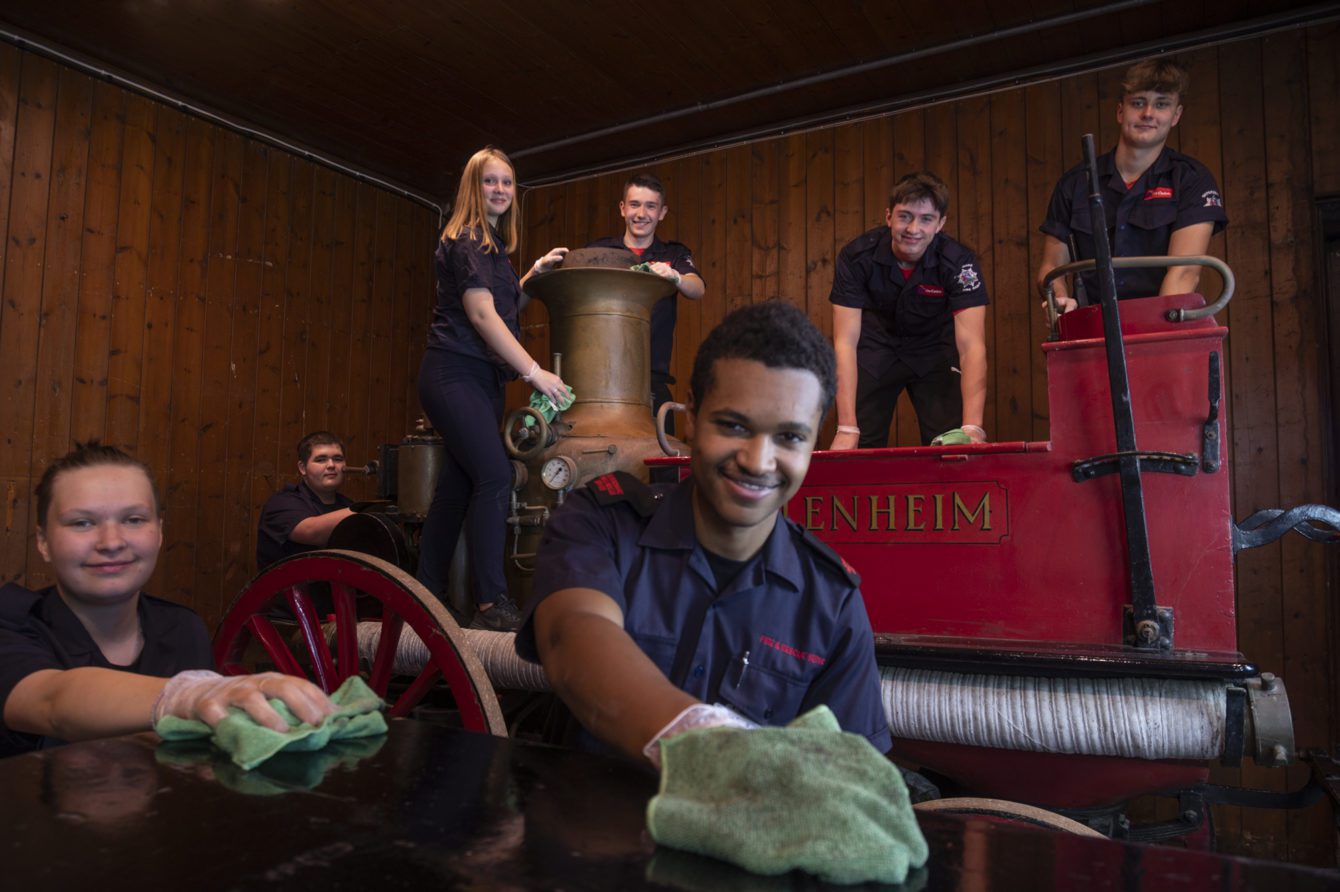 A team of cadets from Kidlington Fire Station has been helping bring the shine back to a Victorian horse-drawn fire engine at Blenheim Palace.
The historic, steam-driven engine returned to the Oxfordshire estate following a years-long search.
The event was organised by Woodstock Fire Station's Watch Manager Nick Mason, who also helped return the vintage engine to the Palace earlier this year.
In 2018 Blenheim Palace's Operations Director, Heather Carter, launched a nationwide search to track the engine down and return it to the Palace.
The Victorian engine now has pride of place in the Palace's new Stables exhibition, alongside two other manual fire engines dating back to the early 18th century.
"The Fire Cadets did an amazing job of getting the old engine looking like new and we'd all like to thank them for their hard work," said Heather.
"Since its return it has proved to be one of the exhibition's most popular exhibits and it's great to think that, after all these years, it's still being looked after by future local firefighters," she added.
Believed to have been built by Merryweather & Sons in 1890, the horse-drawn engine used a steam boiler to create pressure to pump water. It was mounted on a four-wheeled sprung carriage.
After many years of operation, the engine was taken out of service and showcased at various Victorian steam shows around the country before settling at Shipston Fire Station then Nuneaton.
Blenheim Palace incorporated its own brigade in the mid to late 1800s and owned a variety of fire appliances, including the Merryweather. The brigade was still in operating during the Second World War.
ENDS
Issued on behalf of Blenheim Palace. For more information please contact Samantha Vaughan on 07469 129743 or SVaughan@blenheimpalace.com or Niamh O'Sullivan at NO'Sullivan@blenheimpalace.com.
About Blenheim Palace
Home to the Dukes of Marlborough since 1705, Blenheim Palace was designated a UNESCO World Heritage Site in 1987.
Set in over 2,000 acres of 'Capability' Brown landscaped parkland and designed by
Vanbrugh in the Baroque style, it was financed by Queen Anne, on behalf of a grateful nation, following the first Duke of Marlborough's triumph over the French in the War of the Spanish Succession.
Today it houses one of the most important and extensive collections in Europe, which includes portraits, furniture, sculpture and tapestries.
Blenheim Palace is also the birthplace of one of Britain's most famous leaders, Sir Winston Churchill, and it was his father who described the vista on entering the Estate from the village of Woodstock as the 'finest view in England'.